It's Easy Being Green: The Seven C's Pledge to Protect Our Seven Seas
It's Easy Being Green: The Seven C's Pledge to Protect Our Seven Seas
Learn about seven steps you can take to help protect and preserve our oceans on World Oceans Day.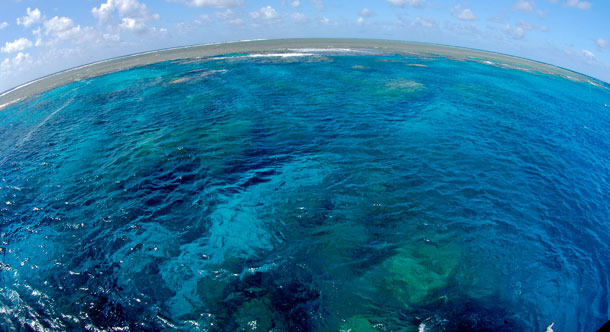 Read more articles from the "It's Easy Being Green" series
We've all heard about the Three R's of environmentalism—Reduce, Reuse, Recycle (or at the very least we've all heard the Jack Johnson song explaining what they are). But today is World Oceans Day, an international celebration of our planet's largest bodies of water, and there's no time like the present to learn about the Seven C's Pledge to protect our seven seas. Next time you hit the beach, you can rest assured knowing you've done what you can to go green to help save the big blue.
Committing to making a real difference
Start out by signing the pledge! Agreeing to be a part of the fight to preserve our oceans is the first step to making things happen.
Conserving in your home
Many appliances we have come to rely on are huge water wasters. Old and leaky toilets and inefficient washing machines are the two biggest water users in the average home, and the two things that are most important to upgrade. Try replacing them with Energy Star appliances, designed specifically to reduce energy output and water usage.
If that's too big of a project for your budget, there are also some easy tips to reduce water usage on a daily basis. When washing dishes, don't run the tap; instead, fill up a sink for wash water and a sink for rinse water. Use a broom instead of a hose to wash off your driveway or sidewalk.
Visit wateruseitwisely.com for more than 100 easy ways to make your home more water conscious.
Consuming consciously
We've all heard the pleas to shop locally or grow your own vegetables to reduce carbon emissions. But it's also important to remember to buy sustainable seafood products. Because of unsustainable fishing practices that have become habits in some fisheries, more than 900,000 metric tons of fish are wasted and thrown overboard each year because they are not the desired species.
Help alleviate the issue by resolving to only shop and eat sustainable seafood, and the best way to do that is to buy American. American fisheries are some of the best-managed ones, and they have effectively ended overfishing practices. It also helps to cut portion size, and if all else fails, ask the person behind the fish counter at your grocery store or the person taking your order at a restaurant.
You can also download the FishPhone app to your iPhone to get instant information about which fish is the most eco-friendly. Don't have a smartphone? Text 30644 with the message "FISH" and the type of fish in question, and you'll get a response within a few minutes.
Communicating your interests and concerns
Talking to people is the best way to spread news. By increasing awareness about ocean conservation and preservation issues among family members and friends, you're taking a big step toward protecting the ocean.
This year's World Oceans Day theme is "Youth: The Next Wave for Change," so it's especially important to involve young people in your daily discourse. Educating youngsters may be the most effective way to protect the Earth's oceans, because they're "the most promising members of the public to reach out to if you want to effect lasting change," according to research done by the Ocean Project. Check your local aquarium to see if it offers aquarium sleepovers (because what kid wouldn't want to sleep next to the dolphins or sing lullabies to the sharks?).
Challenging yourself daily
Making an impact doesn't have to be a burden: It can be as easy as making minor adjustments to a daily behavior so it's more eco-friendly. Try to commit to doing just one thing every day that challenges your habits. Walk, bike, or take public transportation to work. Opt for reusable bags instead of paper or plastic. Also, next time you're tempted to buy a plastic water bottle because the reusable ones are too expensive, keep in mind that plastic products constitute about 80 percent of the trash that accumulates in the oceans. Sometimes it's worth the splurge! Step outside your comfort zone and soon enough, it will be second nature.
Connecting in your community
Volunteering efforts are easy to find if you know where to look! Get trained as a watershed monitor so you can build community awareness about watershed issues, help identify and report problem areas, and advocate for water quality standards. You can be a watershed volunteer even if you don't live near an ocean—training is available for those who live close to streams, estuaries, wetlands, and lakes, too. Find out how to get trained by the EPA here.
Celebrating the ocean
It's easy! Go to worldoceansday.org to find one of the many events scheduled all week across the nation and around the world. Wear blue today, and tell two people you know about World Oceans Day.
And on top of today's activities, President Obama has declared June to be National Oceans Month, so there's plenty of opportunity to pay tribute to 71 percent of the planet's surface. But why put off until tomorrow the difference you can start making today?
The positions of American Progress, and our policy experts, are independent, and the findings and conclusions presented are those of American Progress alone. A full list of supporters is available here. American Progress would like to acknowledge the many generous supporters who make our work possible.