It's Easy Being Green: Laying the Green Cornerstone for 21st Century Architecture
It's Easy Being Green: Laying the Green Cornerstone for 21st Century Architecture
Frank Lloyd Wright would approve of the budding sustainability movement in architecture.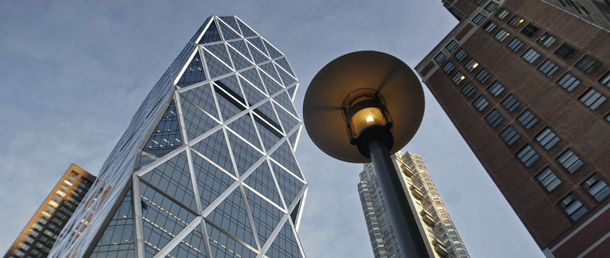 Read more articles from the "It's Easy Being Green" series
Architecture is quickly becoming greener, and architects are taking a variety of multidisciplinary approaches to promote environmental sustainability. Today's architects have the option to make the best use of cutting-edge technology—as well as geology and environmental science—to make sure buildings and public spaces are more sustainable with respect to energy conservation, the versatility of construction materials, and a building's relationship with its natural surroundings. But architects also want their creations to be more than just places people sit in.
Green design in the 21st century aims to engage its inhabitants both psychologically and physically. The modern process of planning and executing structures and public spaces involves new, integration-driven forms of thinking from designers. Fusing buildings with landscapes, for example, creates a scenario in which a building ceases to become a standalone object and instead merges with its natural surroundings, promoting the union of architecture and the environment.
Green architecture doesn't have to sacrifice style and scope in order to promote energy efficiency and sustainability. Commercial buildings such as the Hearst Tower and Bank of America Tower, both located in New York City, represent two prominent examples of architectural projects completed in the last decade that sport environmentally friendly designs. In both structures, rain collected on the roof is stored in the basement to facilitate the building's cooling system. And 85 percent of the steel used to construct the Hearst Tower contains recycled material.
Architect and planner David Pearson unveiled a list of goals for sustainable architectural design in his 2001 book The Breaking Wave: New Organic Architecture. Chief among these goals are to "satisfy social, physical and spiritual needs" and to "be inspired by nature and be sustainable, healthy, conserving and diverse." With green architecture growing in prevalence and practice, these recommendations hold a significant measure of value in the contemporary design world.
The connection between environmental awareness and architecture originated with the concept of organic architecture, which promotes harmony between human society and natural habitats through the visual and physical integration of the structure with the original site of construction.
Many prominent architects of the 19th and 20th centuries were strong advocates of this school of philosophy including Louis Sullivan, known to many as the "father of the skyscraper," and his celebrated mentee Frank Lloyd Wright. One of the latter's signature works, Fallingwater in southwestern Pennsylvania, is a prominent example of the innovative artistic and practical possibilities of organic architecture. Completed in 1935, the renowned design features a private residence situated on top of an active waterfall, with a fireplace hearth made up of natural boulders and glass windowpanes merging with stone walls, suggesting a strong emphasis on creating harmony between man and nature.
Innovative standards for green buildings could play a central role in advancing America's clean energy industries. The Obama administration's ongoing Better Building Initiative is a step in this direction. It proposes "an array of ambitious and achievable energy efficiency savings measures" aimed at creating a substantial number of jobs for construction workers, generating energy savings for commercial-building owners, and limiting the amount of greenhouse gases emitted into the atmosphere. In short, a win-win-win for workers, building owners, and the planet.
The positions of American Progress, and our policy experts, are independent, and the findings and conclusions presented are those of American Progress alone. A full list of supporters is available here. American Progress would like to acknowledge the many generous supporters who make our work possible.