It's Easy Being Green: Cleaner Concerts
It's Easy Being Green: Cleaner Concerts
Musicians are pioneering new ways to keep their concerts environmentally friendly, and their fans are following suit.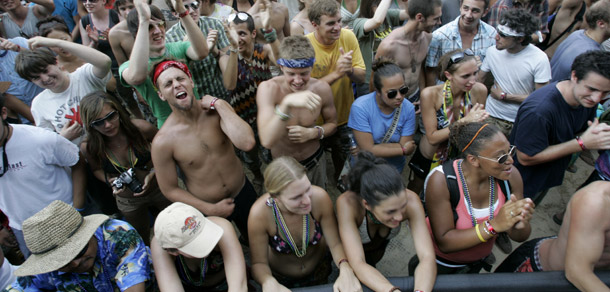 Read more articles from the "It's Easy Being Green" series
Summer is a great time to enjoy live music, and around this time of year droves of musicians hit the road to play shows for their fans far and wide. But the drastic environmental impact incurred by artists' touring practices can easily go ignored, and concertgoers themselves often greatly contribute to live music's carbon footprint. Thankfully, many bands and live music aficionados are acutely aware of their effect on the planet, and they're incorporating alternative, sustainable options into shows.
Transporting musicians, instruments, and sound gear from show to show by car, bus, and plane requires huge amounts of fuel. But musicians such as alternative-country icon Willie Nelson and grunge band Pearl Jam run their tour buses with biodiesel fuel, which significantly cuts down on their carbon emissions.
Still, musicians are only half the equation when it comes to transportation. Getting hundreds, thousands, and sometimes even tens of thousands of music lovers from far-flung locales to the same venue can also spiral into an ecological nightmare. But fans are doing their part to cut down on transportation emissions by carpooling, taking public transportation, and biking to shows. They're also attending shows at venues closer to home instead of traveling long distances to other cities to see a concert, which is a great way to both save money on gas and become more familiar with local music scenes.
Food is another area where musicians are taking steps to reduce their environmental impact. Bands need to eat when they're on the road. But touring presents artists with few options for quality food, and most of the choices don't do the planet much good. The usual touring standby, for example, is to pick up a burger at a fast food joint. A study by Stockholm University, however, shows that the greenhouse gases emitted annually in the U.S. production of cheeseburgers (a fast food staple) can be as high as the equivalent of putting 19.6 million SUVs on the road.
Fortunately, bands have found ways to bypass this wastefulness in a way beneficial to both the earth and their taste buds. Most cities have farmers markets, and artists have found that making pit stops at these gatherings is a great way to load up on tasty, locally sourced produce. Bands that buy food in bulk also cut down on the waste used in packaging.
Musicians also have to stay hydrated in addition to staving off hunger. But fans and band members commonly use disposable plastic water bottles at shows, which has an enormously negative impact on the environment. That's why bands such as Radiohead only use reusable water containers, and even provide water flasks to other bands touring with them so they can do the same. And when bands and concertgoers alike thirst for something other than water—perhaps something from behind the venue's bar—the green-savvy opt for on-tap beer that's preferably locally brewed rather than the imported, bottled options that waste glass and transportation fuel.
Some decisions remain out of artists' and fans' control, such as how club owners choose to power their venue. To offset these activities bands such as Pearl Jam invest money in environmentally conscious programs such as Conservation International, an organization that works to preserve rainforest in Madagascar. Others employ novel ideas such as making their concerts ticketless events in which attendees pay for tickets online and simply show a credit card and ID for entrance, which prevents huge amounts of paper waste.
Being environmentally friendly and having a great time seeing live music are by no means incompatible goals. When artists and fans work together to create a greener concert-going experience everyone wins, including the earth.
The positions of American Progress, and our policy experts, are independent, and the findings and conclusions presented are those of American Progress alone. A full list of supporters is available here. American Progress would like to acknowledge the many generous supporters who make our work possible.