It's Easy Being Green: Bye Bye to Plastic Bags?
It's Easy Being Green: Bye Bye to Plastic Bags?
China's ban, which took effect this week, is one more battle in the worldwide war against plastic bags.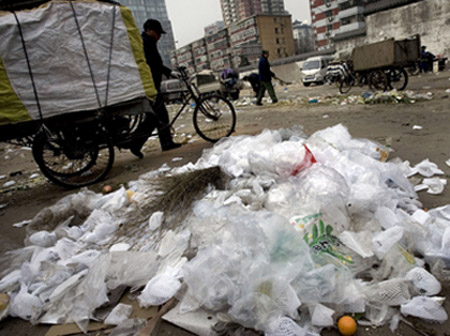 Could plastic bags soon become a thing of the past? In parts of the United States and around the world, they're already on the way out. On Monday, a ban on plastic bags in China went into effect, with supermarkets and large department stores reporting a 90 percent drop in bags consumed. Authorities in Beijing fined one shop 10,000 yuan, or $1,200, for attempting to secretly hand out ultra-thin bags. But most stores have implemented the ban well, and many have handed out carrier bags made of recycled cloth to customers.
China isn't alone in its efforts to cut down on plastic bags and their negative environmental effects. Last year, San Francisco became the first U.S. city to ban plastic bags from large supermarkets and pharmacies. The city ordinance went into effect in November. It charges stores $100 for an initial violation, $200 for a second violation in the same year, and $500 for every violation afterward.
"People are used to getting free bags and thinking there is no real consequence to them, but there is a cost," said Jack Macy, commercial recycling coordinator for the city's Department of the Environment, which implements the policy. After San Francisco passed its ban, the state of California followed suit, passing a law requiring large supermarkets and other retailers to offer recycling for plastic bags.
In March 2002, Bangladesh banned polythene bags after it was discovered that they were blocking drainage systems and had been a major cause of the 1988 and 1998 floods that submerged two-thirds of the country. Italy imposed a levy on plastic bags a decade ago and an outright ban is due to be introduced by 2010. When the Republic of Ireland passed a law in 2002 charging shoppers for every plastic bag, use dropped more than 90 percent. The tax on the bags was 15 percent, and the Environment Minister, Martin Cullen, stated the revenue would be spent on environmental projects.
Plastic bags are an enormous environmental inconvenience. Each year, an estimated 500 billion to 1 trillion plastic bags are consumed worldwide—one million per minute. Billions end up as litter, as much as 99 percent in the United States, according to an Environmental Protection Agency estimate. This is not good news, since the United States consumes over 380 billion plastic bags, sacks, and wraps each year.
What's worse, plastic bags don't biodegrade, they photodegrade—sunlight breaks them down into smaller and smaller toxic bits that contaminate soil and waterways and enter the food web where animals can accidentally ingest them. Bags are among the 12 items of debris most often found in coastal cleanups, and scientists are currently monitoring a giant glob of plastic floating in the Pacific Ocean, estimated to weigh 3 million tons and cover an area twice the size of Texas.
Besides the bans, there are everyday solutions to the plastic bag problem. Using high-quality reusable shopping bags has the potential to eliminate hundreds, if not thousands, of plastic bags over one reusable bag's lifetime. Many locations nationwide also offer drop-off recycling for plastic bags, along with retailers and municipalities, who are increasingly providing designated plastic bag recycling bins. One website, plasticbagrecycling.org, hosts a "find a drop-off location" search to help consumers find a recycling location near them.
Plastic bags can be recycled into composite lumber, but they can also be reprocessed into small pellets, or post-consumer resin, which can become feed stock for a variety of products such as new bags, pallets, containers, crates, and pipe. While it will be difficult to completely eliminate plastic bags and their hazards, the winds of change may be sweeping them away. Soon, customers in supermarket checkout lines may no longer have to choose between "paper and plastic."
To learn more about the Center for American Progress' policies on energy and the environment, please see:
The positions of American Progress, and our policy experts, are independent, and the findings and conclusions presented are those of American Progress alone. A full list of supporters is available here. American Progress would like to acknowledge the many generous supporters who make our work possible.