Is Job Creation in Haiti an Obstacle to Reconstruction?
Is Job Creation in Haiti an Obstacle to Reconstruction?
Country's Employment Challenge Requires Better Labor Market Planning
Current job-creation efforts in Haiti after the earthquake are halting the reconstruction process and need to be re-examined, write Henriette Lunde and Amsale Temesgen.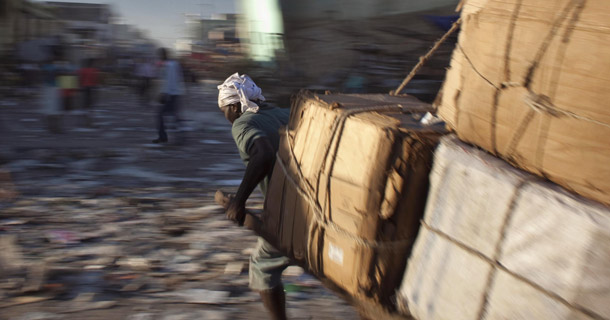 This column is part of the Just Jobs project at the Center for American Progress.
The need for large-scale employment in Haiti after last year's earthquake is undeniable. Several efforts focus on creating jobs, but closer inspection reveals that the jobs being created are wasting space, halting the reconstruction process, and misusing Haiti's educated youth. In sum, the Haiti case is a clear example of the need for a better balance between labor-intensive work, efficiency, and the quality of work. We can start to create this process with a thorough mapping of Haiti's labor market and what will be needed in the reconstruction process and beyond.
Rebuilding Haiti after last year's earthquake will take enormous amounts of labor over decades. A supply of labor isn't Haiti's problem, however. The Haiti Youth Survey conducted by the Norwegian research institute Fafo just before the earthquake hit in 2009 showed that one-third of Haiti's working age youth (15-24) were unemployed. If discouraged workers are included—youth who were able and willing to work but had given up searching—Haiti's unemployment rate exceeds 50 percent. The situation is worsened by the fact that almost three-fourths of working age youth are outside the labor force. Most of them are caught up in an inefficient education system in which they make very little progress.
Many different organizations have implemented jobs programs. The national plan for reconstruction released by the government in March of last year recognized the need for large-scale job creation. And the International Labour Organization and United Nations Development Programme followed up with Cash for Work programs shortly after the disaster. These employed local youth for tasks such as cleaning debris and road construction. A number of nongovernmental and community based organizations did the same.
The Cash for Work teams are easily recognizable in Port-au-Prince in strongly colored T-shirts with the funder's logo. They are doing heavy labor under the burning sun, often with insufficient equipment. It is not unusual to see a group of workers with a wheel barrow and a couple of shovels between them trying to remove collapsed houses amounting to many tons of debris. Heavy machinery is nowhere in sight.
The labor-intensive initiatives have employed tens of thousands. They've absorbed some of the spare labor capacity and inserted money into the local markets. But to what end?
Clearing collapsed buildings is a task for machines, not manual labor. And after one year only 5 percent of the debris has been removed. If the work continues at the current pace it will take decades before the ground is cleared.
This is not just a waste or space management problem. The lack of available space is halting the reconstruction process and the creation of new, more sustainable jobs. Instead of makeshift debris clearing it would add more value to employ Haitian workers in the agricultural sector, where large investments have been made in the past, or in construction projects outside of Port-au-Prince.
There is also the need for better labor market planning over the long term. Haitian youth today are better educated than their parent's generation. A majority of Haitians in their 20s have at least some secondary schooling, but this is the case for only one in every five Haitians in their 40s. Haiti, however, has yet to benefit from the increased educational level of their youth. At the time of the earthquake, unemployment among youth with education beyond primary school was almost twice as high as for youth with primary or less. While agriculture and informal work absorbed a large part of the uneducated youth, opportunities for the educated youth were limited.
The challenge will be matching the competence and skills in the population with what is needed in the reconstruction phase and afterwards. A thorough mapping of the human resources available and gaps to be filled should guide further investments in the education sector.
Henriette Lunde and Amsale Temesgen are researchers at the Fafo Institute for Applied International Studies in Norway.
This column is part of the Just Jobs project at the Center for American Progress.
The positions of American Progress, and our policy experts, are independent, and the findings and conclusions presented are those of American Progress alone. A full list of supporters is available here. American Progress would like to acknowledge the many generous supporters who make our work possible.