IMF's Latest World Economic Outlook Ignores the Need for More and Better Jobs
IMF's Latest World Economic Outlook Ignores the Need for More and Better Jobs
The International Monetary Fund should follow in the steps of the World Bank and focus on the necessity of implementing job creation policies.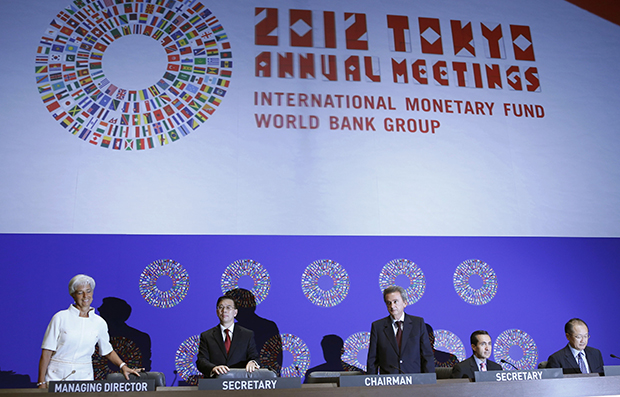 The International Monetary Fund and the World Bank Group wrapped up their annual meetings in Tokyo this past weekend, trumpeting the findings from the newest editions of each organization's marquee product: the World Bank's World Development Report and the IMF's World Economic Outlook. Sadly, the two global financial institutions missed an important opportunity to get on the same page when it comes to global job creation.
As we pointed out earlier this month, the World Bank rightly focused its report on jobs and how employment policies that create good-paying jobs with key employment protections are integral to effective economic development and growth. Unfortunately, the International Monetary Fund relegated employment to a byproduct of economic growth, while hardly acknowledging that growth does not always move hand-in-hand with job creation.
At first glance, IMF Managing Director Christine Lagarde seemed to get it right. In her keynote address for this past weekend's meetings, Lagarde said:
[Economic growth] means focusing on efficiency but also keeping equity in mind when setting fiscal policy. It means fairness in sharing the burden of adjustment, and protecting the weak and vulnerable. It means better financial inclusion, so that all have access to credit and financial markets. It means better transparency and governance, so that the doors of opportunity are open to all—and if they close, one knows why.
Absent from her list, however, was ensuring everyone can find and hold a good job.
Just to keep the share of the world population that has a job in 2020 at the same level that it was in 2005 will require the creation of 600 million new jobs. But that actually understates the magnitude of the challenge. The global economy will also have to generate jobs for the millions of women across the developing world that are pushing the boundaries of social convention to become productive members of the economy and enter the workforce. Add to that the billions of people who are currently working in informal small farms or microenterprises that need to be brought into the formal sector, and you start to have a sense of the monumental task ahead.
The World Economic Outlook certainly painted a sobering picture. The International Monetary Fund now expects the global economy to grow by only 3.3 percent this year and 3.6 percent next year—both lower than its previous estimates. World trade is also expected to grow less quickly. No region of the world was spared the downward revisions.
The World Bank's World Development Report, along with acknowledging the sobering global economic climate, also highlighted the need to create millions of new and better jobs around the world. Globally, there are 200 million people today that want a job but cannot find one. An additional 2 billion people—the majority of them women—are of working age but are neither working nor looking for a job. While the World Bank report is not perfect, it is a step in the right direction.
The International Monetary Fund, in contrast, only seems interested in the rate of growth of gross domestic product—the largest measure of an economy's production. It admits that it may have underestimated the impact of harsh austerity on GDP growth—something emerging market economies could have told its economists long ago—but it does not really grapple with the human effects of its medicine. The International Monetary Fund still generally stands by its usual prescriptions of dismantling labor market protections and sharp cuts in government spending even though those policies tend to hurt workers.
From Egypt to South Africa and India to China, the evidence is clear that GDP growth alone does not necessarily lead to lower unemployment, improved working conditions, or higher wages. Before the 2011 revolution Egypt experienced steady GDP growth but the unemployment rate hardly fell. In India, millions are cut off from the booming cities and still toil in poverty in the countryside. South Africa, Africa's largest economy, suffers from double-digit unemployment and high levels of income inequality that have spurred strikes in recent weeks. Even in China, where at least unemployment is low and wages have risen, labor rights and working conditions are still poor.
To be sure, there is an important relationship between GDP growth and jobs. Over long enough time horizons, job growth and GDP growth tend to move together. But the International Monetary Fund reverses the causality, relying on the mere hope that a growth strategy will bring jobs. Instead, countries ought to craft a jobs strategy if they want GDP growth.
The World Bank recognizes that a jobs strategy is the key to creating the kind of economic growth societies need to flourish. Its World Development Report opens by saying:
Jobs are the cornerstone of economic and social development. Indeed, development happens through jobs. People work their way out of poverty and hardship through better livelihoods. Economies grow as people get better at what they do, as they move from farms to firms, and as more productive jobs are created and less productive ones disappear. Societies flourish as jobs bring together people from different ethnic and social backgrounds and nurture a sense of opportunity. Jobs are thus transformational—they can transform what we earn, what we do, and even who we are.
The world needs billions of new and better jobs, as we face an unemployment and underemployment problem of massive proportions. The International Monetary Fund, hopefully, can take to heart what their World Bank colleagues already realize about the centrality of job creation.
Jordan Bernhardt is a Special Assistant with the Economic Policy team at the Center for American Progress.
The positions of American Progress, and our policy experts, are independent, and the findings and conclusions presented are those of American Progress alone. A full list of supporters is available here. American Progress would like to acknowledge the many generous supporters who make our work possible.
Authors Jordan Bernhardt
Research Assistant