How to Add Hundreds of Thousands of New Scientists, Engineers, and Technicians to Our Workforce
How to Add Hundreds of Thousands of New Scientists, Engineers, and Technicians to Our Workforce
Failing to Pass the DREAM Act Will Rob the United States of Critical Brain Power
Passing the DREAM Act would boost our nation's supply of technological innovators, writes Jorge Madrid.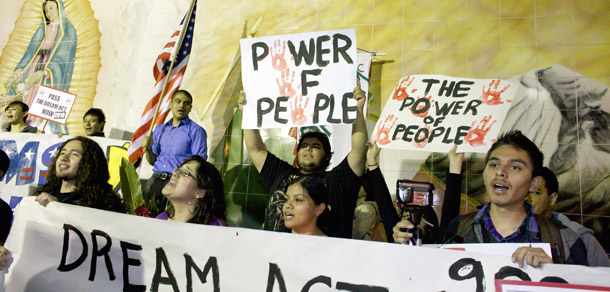 Everything from our food to our phones to our military force—even the very survival of our planet from the threat of climate change—depends on the research and development of the nation's scientists, engineers, and technical workers. The United States, however, is falling behind the rest of the world in producing these valuable people. Legislation sitting in Congress right now, the DREAM Act, would help address this shortage.
Fewer and fewer scientists
Scientists and engineers are the heroes of technological innovation, and they are indispensible drivers of economic growth and job creation. Multiple independent studies, including one by Nobel Laureate Robert Solow, have shown that the "traditional" inputs of capital and labor can only account for 15 percent of measured economic growth. Technological innovation drives the remaining 85 percent.
The United States is well behind the rest of the world when it comes to producing scientists and engineers. A recent article from CAP's Science Progress notes:
In the U.S., fewer than 16 percent of all bachelor's degrees are awarded to scientists and engineers – a significantly lower rate than say China, who awarded nearly half of its first university degrees in these fields (47 percent), while South Korea awarded 38 percent and Germany awarded 28 percent. The U.S. ranks 27th among the top 29 developed countries in this category.
This predicament is compounded by the sobering fact that as of 2006, 26 percent of all U.S. scientists and engineers were over 50 years old. And the average retirement age for science and engineering workers is 61 according to data by the National Science Foundation, or NSF. Likewise, the Tomas Rivera Policy Institute notes that half of all engineers in the United States will retire with the "baby boom" generation.
Enter the DREAM Act
The United States is sitting on a goldmine of potential scientists, engineers, and technicians. Sadly, these future innovators cannot work legally in the United States because they are not citizens.
This week the Senate will vote on the DREAM Act, a bill that would provide a path to citizenship for undocumented immigrants who came to the United States as children provided they meet certain strict conditions. One such condition is the completion of a two- or four-year college degree. Another condition is active military service for at least two years, during which time many students will receive technical education that will strengthen and secure the country, as well as the opportunity to pursue higher education upon discharge.
The National Immigration Law Center estimates that around 800,000 students would benefit from the passage of the DREAM Act. This is contrary to popular conservative rhetoric that this bill constitutes "amnesty" or will "open the flood gates" for all immigrants. Nonetheless, without a path to citizenship, the employment, earnings, and contribution of these gifted young people are effectively eviscerated.
No formal data exists on the exact educational pursuits of these students, but reasonable projections can be made. Latinos, for example, who make up the largest population of undocumented students, were awarded 36,402 degrees in technical fields in 2006 (31.5 percent of total Latino college degrees) according to data from the NSF.
We can roughly estimate, then, that passing the DREAM Act could add as many as 252,000 new scientists, engineers, and technical workers to this country's critically thin supply.* Conversely, failing to pass the bill would rob this country of a critical mass of brain power and technological innovation. An undocumented scientist or engineer has little to no hope of finding a job in their field of expertise—a travesty given their extraordinary sacrifice and intellectual potential.
The DREAM Act is currently co-sponsored by Sens. Dick Durbin (D-IL) and Richard Lugar (R-IN), and it has historically received bipartisan support. The bill also has broad support from leaders in the military, business, education, and faith communities, and is included in the Department of Defense's Strategic Plan for fiscal years 2010-12 to help the military "shape and maintain a mission-ready All Volunteer Force." Seventy percent of likely voters of all political stripes support it.
Passing this bill is crucial for innovation and economic growth
Passing the DREAM Act is a critical component to the nation's economic prosperity and national security. It will reward students who have earned their way into college and worked hard to attain degrees in some of the most challenging fields. Moreover, the United States cannot afford to waste the contribution of future scientists and engineers needed for sustained technological innovation. Congress has the power to put the best and brightest on the path to becoming productive and legal U.S. citizens. It is in all of our best interest that they do so.
Jorge Madrid is a Research Associate for the Energy Policy team at American Progress. This article is cross-posted at the Science Progress website.
* This number was obtained by taking the share of Latino science and engineering graduates in 2006 (31.5 percent) and multiplying it by the number of students who would benefit from the DREAM Act (800,000). Latinos were used as the comparison sample because they make up most of the undocumented students in this country. It operates under the assumption that undocumented Latinos will attain similar degree patterns to documented Latinos given that they have lived here for most of their lives and are basically "normal" American Latinos with the exception of their legal status.
More on the DREAM Act:
The positions of American Progress, and our policy experts, are independent, and the findings and conclusions presented are those of American Progress alone. A full list of supporters is available here. American Progress would like to acknowledge the many generous supporters who make our work possible.
Authors Jorge Madrid
Research Associate & Policy Analyst