How Environmental and Climate Injustice Affects the LGBTQI+ Community
How Environmental and Climate Injustice Affects the LGBTQI+ Community
This Pride Month, policymakers and the environmental movement must consider how environmental injustice affects the LGBTQI+ community.
This article contains a correction.
Fifty-three years ago this month, members of the LGBTQI+ community, many of whom were people of color, stood up against a bigoted police force raiding the Stonewall Inn, a gay bar in New York City. This momentous event helped to kick off the LGBTQI+ rights movement that saw the decriminalization of homosexuality, the legalization of gay marriage, and protections from discrimination in the workplace. The decade of the Stonewall riots also saw key moments in the fight to protect the environment, such as the passage of the National Environmental Policy Act and the Clean Air Act, as well as in the fight for racial equality, such as the passage of the Civil Rights Act of 1964 and the Civil Rights Act of 1968.
While the environmental legislation of the 1960s and 1970s was historic, it did not go far enough in protecting all people from environmental pollution. In response to this clear need for stronger climate solutions, the environmental justice movement grew out of the civil rights movement, promoting the idea that "all people and all communities have the right to breathe clean air, live free of dangerous levels of toxic pollution, access healthy food, and share the benefits of a prosperous and vibrant clean economy." Spearheaded by Black, Indigenous, and other people of color, the environmental justice movement has since made significant strides in bringing racial and economic justice to the forefront of modern-day environmentalism and the fight against the climate crisis. And as these movements evolve over time, they have grown increasingly intersectional in the issues they tackle. For example, in 2019, environmental justice leaders co-authored and launched with national environmental organizations the Equitable and Just National Climate Platform—the first national climate agenda centered on advancing racial, economic, environmental, and climate justice.
While race is the biggest determinant of environmental injustice, environmental justice should be viewed through the lens of the most marginalized communities—in particular, the multiple socioeconomic stressors and the unequal environmental burdens that such communities experience. Environmental injustice disproportionately affects women, low-income communities, and LGBTQ+ people; what's more, people who share more than one of these identities may be even more disproportionately burdened. To help paint a more holistic picture of environmental justice, this column explores the harmful effects of environmental injustice on LGBTQI+ populations in particular.
LGBTQ+ people have long been subject to a disproportionate burden of pollution compared with cisgender heterosexual people.
Exposure to environmental pollution and hazards
A key pillar of environmental justice is the ability to live free of toxic pollution—in the air, water, and land. LGBTQ+ people have long been subject to a disproportionate burden of pollution compared with cisgender heterosexual people—due to discriminatory housing policies, "heteronormative NIMBYism," or the exclusion of LGBTQ+ spaces in certain communities, and higher poverty rates. Studies have found that areas with higher proportions of same-sex couples saw increased amounts of hazardous air pollutants compared with areas with lower proportions of same-sex couples. This has resulted in LGBTQ+ people suffering higher rates of chronic diseases associated with environmental exposure, such as respiratory diseases, cardiovascular disease, and cancer.
While little data exist on this topic, LGBTQI+ people also likely experience disproportionately high exposure to indoor environmental hazards, such as lead paint, lead pipes, asbestos, radon, and other pollutants, due to the many housing challenges these communities face; these hazards are extremely common in substandard housing. LGBTQI+ people are also more at risk of secondhand smoke exposure; smoking rates are higher among these populations, creating higher secondhand exposure where they live, work, and socialize. This exposure can exacerbate the respiratory stress that LGBTQI+ populations may experience from air pollution and chest binding, which is a common practice among transgender men to achieve a flat chest.
Among young adults ages 18–25, LGBT people have a 2.2 times greater risk of homelessness than non-LGBT people.
Vulnerability to extreme weather
The climate crisis, from destructive hurricanes to extreme heat waves, is already disproportionately affecting vulnerable communities—in particular, the unhoused. Studies have found that between 20 percent and 45 percent of homeless youth identify as LGBTQ—at least two to four times more than the estimated percentage of all youth who identify as LGBTQ. And among young adults ages 18–25, LGBT people have a 2.2 times greater risk of homelessness than non-LGBT people. Transgender individuals are especially more likely to be unsheltered due to discrimination in shelter spaces. When disaster strikes, these already vulnerable populations become at risk for hypothermia, hyperthermia, respiratory distress from wildfire smoke, and infectious diseases from floods, among other conditions.
In the event of a disaster response from the local, state, or federal government, LGBTQI+ people may experience discrimination in the distribution of aid. One study found that the lack of legal recognition of LGBTQI+ families by the Federal Emergency Management Agency (FEMA), which is expected to play a more substantial role in responding to the extreme weather emergencies and disasters as the climate crisis intensifies, led to unequal distribution of resources following Hurricane Katrina. FEMA also has a self-admitted history of discrimination against low-income communities and people of color, potentially compounding the effects on intersectional LGBTQI+ communities. While Section 308 of the Robert T. Stafford Disaster Relief and Emergency Assistance Act prohibits discrimination on the basis of race, sex, disability, and economic status in disaster assistance, it does not protect against discrimination of sexual orientation or gender identity.
LGBTQI+ populations are also at higher risk for certain medical conditions that can worsen the health impacts of environmental pollution.
Health and health care
LGBTQI+ populations are also at higher risk for certain medical conditions that can worsen the health impacts of environmental pollution. For example, cisgender gay and bisexual men as well as transgender people are more likely to develop HIV, and studies have shown that exposure to particulate matter with a diameter of less than or equal to 10 micrometers (PM10), nitrogen dioxide, and ozone—all hazardous air pollutants—is associated with an increased risk of pneumocystis pneumonia hospitalization in HIV-positive people. Similarly, LGBTQ+ people experience higher rates of mental health issues, often due to stressful experiences related to stigmatization, prejudice, and discrimination; studies have shown these resulting conditions, such as depression and anxiety, can exacerbate the effects of air pollution. This also puts LGBTQI+ populations at risk during and in the wake of climate disasters, when the stress of rebuilding, displacement, and loss of loved ones and communities takes a toll on mental health.
Learn more about LGBTQ people's experiences with discrimination
Discrimination and Experiences Among LGBTQ People in the US: 2020 Survey Results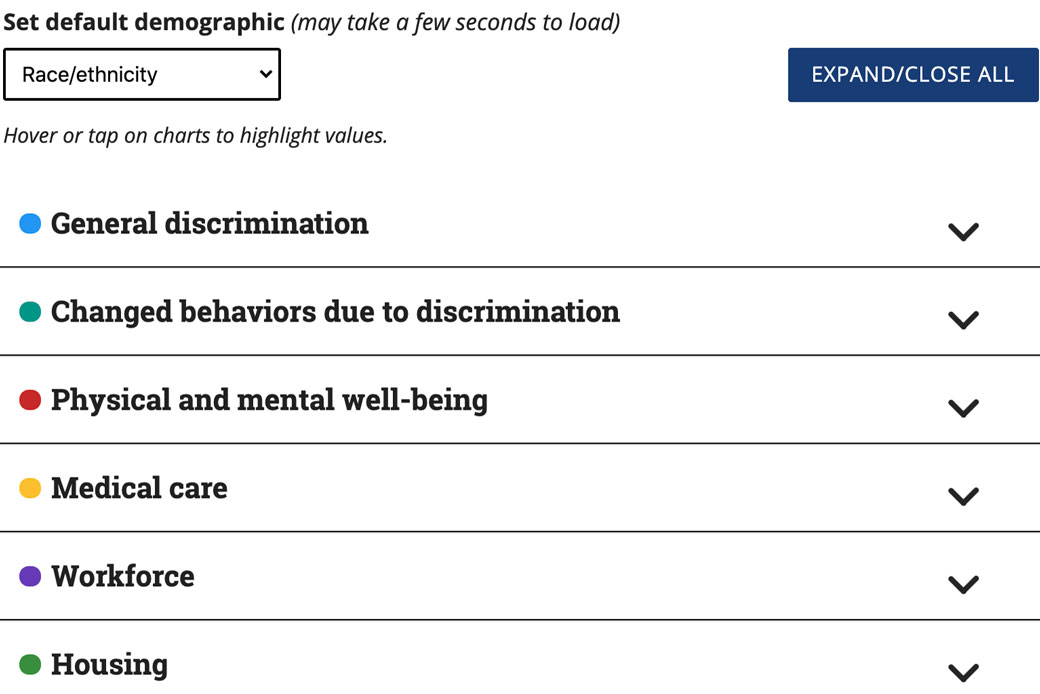 Interactive
Discrimination and Experiences Among LGBTQ People in the US: 2020 Survey Results
---
When accessing medical care, LGBTQI+ people often face discrimination and/or harassment or barriers to pay for services. A 2020 CAP survey found that among those who reported experiencing discrimination in the past year, 37 percent of gay, lesbian, queer, or bisexual people, and 59 percent of transgender people, experienced discrimination from a health care or medical provider in that time.* It also found that around 3 in 10 LGBTQ Americans faced difficulties last year accessing necessary medical care due to cost issues, including more than half of transgender Americans. Another study found that more than 1 in 6 LGBTQ individuals avoided seeking health care for fear of experiencing discrimination. Such discrimination increases the likelihood that LGBTQI+ people receive little to no treatment for health conditions caused by environmental pollution and climate crisis stressors.
Until recently, there has been a gap in our understanding of how environmental and climate injustice specifically impacts LGBTQI+ people. Adding an LGBTQI+ lens to environmental justice work will ensure we are advocating for clean air, clean water, and a livable climate for every community. It's vital that we continue to listen to the stories of all communities that experience multiple systems of oppression to truly deliver on environmental justice Anahí Naranjo, communications manager, Center for Earth, Energy and Democracy (CEED), email to the author
Conclusion
The fight for climate and environmental justice is inextricably linked to the fight for racial justice, economic justice, women's justice, health justice, and LGBTQI+ justice. To combat these compounding crises, policymakers must begin to view them as interconnected and interdependent. As the nation celebrates Pride Month and the progress on LGBTQI+ rights, it must also commit to achieving a just climate and environment for all. 
The author would like to thank Caroline Medina, Lindsay Mahowald, Cathleen Kelly, Justin Dorazio, Shannon Baker-Branstetter, Hannah Malus, and Shanée Simhoni from the Center for American Progress and Sofia Sainz, Anahí Naranjo, and Ansha Zaman from the Center for Earth, Energy and Democracy (CEED) for their thoughtful contributions to this column.
* Correction, June 16, 2022: This column has been corrected to accurately report the results of a 2020 CAP survey.
The positions of American Progress, and our policy experts, are independent, and the findings and conclusions presented are those of American Progress alone. A full list of supporters is available here. American Progress would like to acknowledge the many generous supporters who make our work possible.
Author Mikyla Reta
Former Senior Policy Analyst
Team
It\'s time to build a 100 percent clean future, deliver on environmental justice, and empower workers to compete in the global clean energy economy.