House Leadership Proposes an Expansive Loophole for Abusive Non-Native American Men on Tribal Land
House Leadership Proposes an Expansive Loophole for Abusive Non-Native American Men on Tribal Land
The most recent Violence Against Women Act reauthorization proposal from House Republican leadership abandons those Native American women who are abused by non-Native American men on tribal land.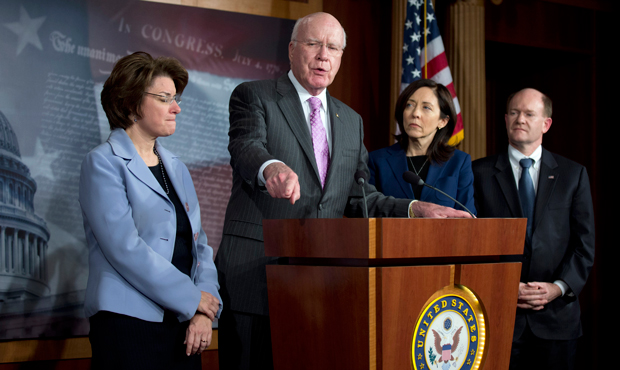 House Republican leadership is expected to hold a vote this Thursday on yet another partisan version of the Violence Against Women Act reauthorization—a bill with a strong bipartisan history that has become the latest casualty of the far-right politics of the House Republican caucus. This latest version of the law has extremely high and troubling stakes for women who suffer from domestic violence and sexual abuse.
In the previous session of Congress, the Senate passed a bipartisan reauthorization bill—68-31—only to have it killed in the House. And at the very beginning of the new 113th Congress this year, the Senate moved quickly to reintroduce and pass an even stronger and more bipartisan bill—by a 78-22 vote. As of yesterday's House Rules Committee meeting, it looks likely that there will also be a vote on the Senate bill tomorrow if the House bill fails.
The latest House version of the reauthorization—put forward by House Republican leadership last week—takes an even more extreme position than it did last Congress with respect to the provisions that protect Native American women, a population that suffers from epidemic rates of domestic violence in tribal communities at the hands of non-Native American abusers. Under the current legal framework in the United States, non-Native American men exploit jurisdictional black holes that allow them to abuse Native American women on tribal land and evade justice. On some reservations—such as the Ft. Berthold reservation in North Dakota—a recent oil and drilling boom has led to an influx of non-Native American oil workers that has more than doubled the community's population. This is a serious concern for tribal communities because these increasing numbers of non-Native American men who may potentially abuse women in their community still have too many avenues to evade justice, especially if the House version of the reauthorization were to become law.
The "get out of jail free" card for non-Native American men
The Senate version of the Violence Against Women Act proposed earlier this year incorporates an important new provision that would restore for the first time since the 1970s the ability of local tribal governments to prosecute non-Native American offenders for a narrow set of domestic violence crimes.  This is a strong and well-reasoned provision that was carefully reasoned and proposed by the Department of Justice to the previous Congress.
Rather than support the Senate reauthorization, however, House leadership has proposed a sweeping new set of special protections for these non-Native American offenders, which amount to a jurisdictional free pass to abuse Native American women in their own communities. Although the Senate version incorporates a full set of constitutional protections for these defendants—including due process, a right to counsel, and other rights—the House Republican bill focuses on further protections for non-Native American suspects of abuse. In all, the House bill shields these suspects in the following ways:
Establishes seven avenues of appeal for suspects of abuse to challenge their prosecution
Limits punishment of non-Native American offenders convicted of domestic violence to a misdemeanor-level punishment, regardless of the extremity of the beating or of their status as a repeat offender
Authorizes suspects of abuse to bring lawsuits against tribal law enforcement, which will only serve to further deter the protection of Native American women
For the Native American women who continue to suffer at the hands of these offenders, the proposal put forward by House leadership is both offensive and dangerous. By removing existing local controls, it will further complicate and exacerbate the maze of injustice that exists on reservations. The last thing non-Native American abusers need is an extra set of tools to game the already-failing criminal justice system in Native American communities.
Ignoring reasonable members and compromises within the Republican Party
Signaling an even more extreme position than it took in the previous Congress, House Republican leadership is also ignoring reasonable voices and compromises coming from its own caucus. There is a growing chorus of House Republicans who are now calling for the leadership to compromise. Last week 17 House Republicans signed a letter calling on House Speaker John Boehner (R-OH) and Majority Leader Eric Cantor (R-VA) to immediately reauthorize a fully inclusive Violence Against Women Act such as the one passed in the Senate last week.
This new movement of Republicans in the House is growing. Since the letter was sent, other House Republicans have signaled their support of the bipartisan Senate version of the reauthorization protecting all victims of abuse. One of the letter's signatories, Rep. Shelley Moore Capito (R-WV) recently told The Hill that, "It is far, far past due to reauthorize VAWA. The Senate version of VAWA achieves the main purpose—helping protect women who are victims of domestic abuse—and for that reason, I would support it if the House decides to bring it up."
But leadership is again ignoring these Republicans and others who have voiced concerns, such as Reps. Darrell Issa (R-CA) and Tom Cole (R-OK), who is an enrolled member of the Chickasaw Nation. Both introduced a far more reasonable standalone bill, which now has 14 co-sponsors, to amend the tribal section in the current House bill. This version responds to some of the caucus's concerns by giving non-Native American defendants a far more limited option to petition federal courts for the removal of their case if they feel their rights are being violated. "The current law enforcement system for Native American women is broken," Rep. Issa told The Washington Post. "Too many victims of domestic violence cannot get access to law enforcement during times of emergency and more will continue to suffer unless Congress acts." Reps. Issa and Cole introduced a nearly identical compromise in the last Congress, but House leadership also ignored it.
It's time to pass the bipartisan Senate bill
Since its original enactment in 1994, one of the Violence Against Women Act's primary purposes was to identify underserved communities of women who suffer from domestic violence. The latest Senate bill passed with a 78-vote supermajority for a reason: It meets this purpose for Native American women, among many other important provisions that identify and protect other populations such as gay* and transgender women and immigrant women. Native American women have waited too long for an answer from Congress to the epidemic violence against them in their own communities, especially at the hands of non-Native American men, who exploit a system of justice that gives them a free pass to abuse.
Providing a new toolkit for non-Native American abusers to get out of jail and further exploit the system actually works against the original purpose of the Violence Against Women Act and, more importantly, hurts the victims its intended to help. The House should stop wasting its time with hurtful alternatives and move quickly this Thursday to vote against the partisan Republican bill, pass the bipartisan Senate bill, send it to the president's desk, and get the ball rolling on improvements to the system of justice in tribal communities.
Erik Stegman is the Manager of the Half in Ten Education Fund at the Center for American Progress.
*In this column "gay" is used as an umbrella term to describe people that identify as lesbian, gay, or bisexual.
The positions of American Progress, and our policy experts, are independent, and the findings and conclusions presented are those of American Progress alone. A full list of supporters is available here. American Progress would like to acknowledge the many generous supporters who make our work possible.
Authors Erik Stegman
Director of Field Outreach and Advocacy, Poverty to Prosperity Program