High Stakes: LGBT Americans Cannot Afford to Lose Unemployment Insurance
High Stakes: LGBT Americans Cannot Afford to Lose Unemployment Insurance
Emergency unemployment insurance is critically important to LGBT Americans, who experience disproportionately high rates of unemployment and poverty.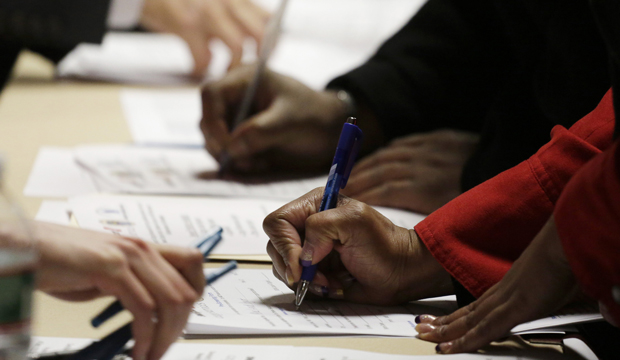 The Senate voted last week to begin debate on whether to extend emergency unemployment insurance for the 3.1 million Americans who have recently lost or are set to lose necessary benefits in the coming months. Without congressional action, an estimated 72,000 unemployed workers are expected to lose benefits each week of 2014. This issue is of critical importance to the country's lesbian, gay, bisexual, and transgender, or LGBT, community, which experiences high rates of unemployment and poverty and includes families that are trying just as hard as others to make ends meet during the economic recovery.
A nonpartisan group of analysts has already confirmed that extending unemployment insurance makes fiscal sense. Other economists predict that enacting such a policy will raise our gross domestic product, or GDP, by 0.4 percent in the first quarter of 2014, and help Americans get back to work. As our economy struggles to add jobs, it's time for members of Congress to ensure that all Americans endeavoring to get back on their feet are able to provide their families with food, shelter, and heat during the peak of winter.
Background
Created during the Great Depression, unemployment insurance provides much-needed compensation to unemployed Americans actively seeking jobs, to help them pay for basic necessities such as food and shelter. In 2008, as America fell into the Great Recession, President George W. Bush signed into law emergency unemployment compensation, which extended the limit on receiving unemployment insurance beyond the previous 26-week ceiling. The move was prescient, as Americans today are experiencing the highest rate of long-term unemployment since the 1940s, with the average unemployed worker spending 37 weeks trying to find a job—a timeframe that is well beyond the 26-week limit that still exists without emergency unemployment compensation.
In addition to providing basic support for the American families still recovering from the Great Recession, economists of all backgrounds, including those in the nonpartisan Congressional Budget Office, have found that unemployment insurance is one of the most effective ways to increase economic growth and decrease unemployment. Failure to extend emergency unemployment insurance would shrink economic growth and sacrifice more than 300,000 jobs this year, according to the Economic Policy Institute.
LGBT people and unemployment
A continued congressional stalemate would leave unemployed LGBT Americans facing dire consequences. LGBT workers, who experience significant rates of workplace discrimination and high unemployment, disproportionately rely on public assistance programs. Coupled with the severe lack of both federal and state employment protections, many LGBT Americans would be left to weather the recession without a necessary safety net and basic protections.
A recent study found that lesbian, gay, and bisexual adults are unemployed at a rate 40 percent higher than the overall average. The numbers get even worse for transgender workers: "The National Transgender Discrimination Survey" from the National Center for Transgender Equality and the National Gay and Lesbian Task Force found that transgender adults report unemployment rates double the rates of the non-transgender population, with transgender workers of color reporting nearly four times the national average.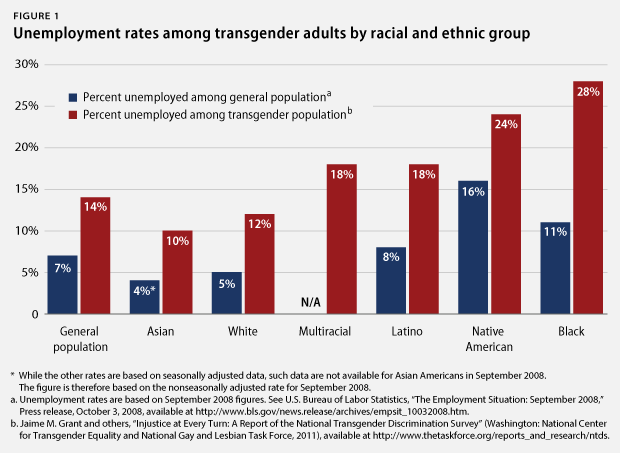 Unsurprisingly, these statistics contribute to higher poverty rates for LGBT Americans, including a poverty rate nearly four times the national average for transgender people.
Conclusion
Allowing emergency unemployment insurance to expire would self-inflict a wound on our fragile economy, reducing economic growth and costing us millions of jobs. Millions of Americans have already lost their unemployment insurance because of Congress's inaction, and another 1.9 million people are scheduled to lose their benefits in the next six months. The American people—including LGBT Americans—cannot afford for Congress to delay any longer.
Sarah McBride is the Special Assistant to the LGBT Research and Communications Project at the Center for American Progress. Katie Miller is a Research Assistant with the project at the Center.
The positions of American Progress, and our policy experts, are independent, and the findings and conclusions presented are those of American Progress alone. A full list of supporters is available here. American Progress would like to acknowledge the many generous supporters who make our work possible.
Authors Sarah McBride
Campaigns and Communications Manager Katie Miller
Research Associate