High Court Ruling on Affirmative Action Will Determine Our Futures
High Court Ruling on Affirmative Action Will Determine Our Futures
College admission policies that embrace diversity and expand opportunities benefit all Americans.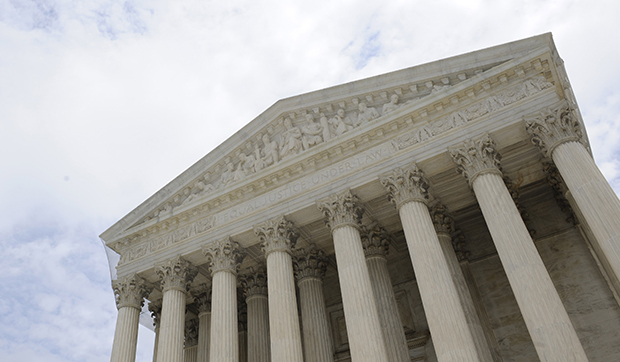 See also: Asian Americans Benefit from Diversity in Higher Education by Julie Ajinkya; 10 Reasons Why We Need Diversity on College Campuses by Sophia Kerby
The U.S. Supreme Court begins hearing oral arguments today in Fisher v. University of Texas, a case that will impact a generation of Latinos and other young people of color seeking higher education. An adverse ruling by the justices—one declaring race-conscious admission policies unconstitutional—could potentially undermine efforts by colleges and universities to expand the opportunity of higher education to underrepresented communities.
First, a little bit of background: Most University of Texas at Austin students of all races are admitted through the state's Top Ten Percent plan, meaning that the university admits all Texas residents who rank in the top 10 percent of their high school class. For the remaining students—those not in the top 10 percent—the University of Texas at Austin considers many different criteria, including essays, leadership qualities, extracurricular activities, awards, community service, family responsibilities, socioeconomic status, languages spoken in the home, and race. The plaintiff in the case, Abigail Fisher, a white student who barely missed being admitted through Texas's Top Ten Percent Plan, contends that she was denied admission because of her race.
The university uses its admission criteria to build a diverse student body, one that includes students of color with a broad range of backgrounds, and a campus that has a "critical mass" of students of color in most classrooms. This criterion is consistent with the Grutter v. Bollinger case, which upheld that the educational benefits of diversity are a compelling interest.
While much of the conversation surrounding this highly charged affirmative action case is on its outcome being a zero-sum game, the true focus of this case should be about what needs to happen in order to expand opportunity and ensure our institutions of higher education reflect the diversity of our citizenry. At the end of the day, access to education is not just about education—which is an important and worthy goal—but it's also about economic opportunity.
I know some are tired of reading about it—and I must admit, I'm growing a little tired of writing about it—but our country's demographic changes urgently compel us to implement policies that expand opportunities for all—not just because it's the right thing to do, but because it's in our collective best interest to do so.
Most kids today under 1 year old are of color, and by 2023 the majority of youngsters under 18 years of age will be children of color. People of color today make up about 36 percent of the workforce and according to Census Bureau projections, by 2050 one in two workers will be a person of color. Yet today 95.8 percent of Fortune 500 chief executive officers and 89 percent of lawyers are white. And our legislative bodies follow a similar trend: 87 percent of Congress is white (85 percent in the House and 96 percent in the Senate). By 2018, 63 percent of jobs will require some college education or better. Yet today only 13 percent of Latinos and 20 percent of African Americans earn that level of degree.
This is the issue at the heart of this case. How can our institutions of higher learning ensure the next generations of Americans are prepared to lead our nation? How can we make sure our leadership—be it corporate, nonprofit, or government—reflects our citizenry?
Business leaders have spoken loudly and made themselves clear on their support for diversity. More than 60 leading Fortune 500 companies in the Grutter case and 57 Fortune 100 companies in the Fisher case came out in support of race-based admission policies in amicus briefs to the Supreme Court arguing that diversity promotes business and provides the American worker with the skills necessary to flourish in their workplaces and to be competitive in an increasingly global market. Likewise, the importance of race-conscious admission policies has been acknowledged by our military leaders, who have stated that a racially and ethnically diverse military is a "strategic imperative, critical to mission readiness and accomplishment, and a leadership requirement."
While this reasoning may be compelling for most, the goal of the Fisher lawsuit is clear: It seeks to have the Supreme Court reverse its narrow decision in 2003 in the Grutter case, in which it affirmed that the educational benefits of a diverse student body are a compelling interest that colleges and universities may pursue through equal opportunity policies.
To be sure we have made a great deal of progress in providing access and opportunities to people of color.    Just take a look at who is sitting in the Supreme Court today: Sonia Sotomayor and Clarence Thomas, the first Latina and the second African American judge, respectively. I doubt anyone would argue that this would have been possible without efforts by institutions to expand the definition of merit and to give young people from disadvantaged backgrounds the chance to truly have a shot at the American Dream. It is a promise we must keep for the next generation of Americans—not just because it is right for them as individuals, but because it is in our collective best interest.
Vanessa Cárdenas is Director of Progress 2050 at the Center for American Progress.
See also:
The positions of American Progress, and our policy experts, are independent, and the findings and conclusions presented are those of American Progress alone. A full list of supporters is available here. American Progress would like to acknowledge the many generous supporters who make our work possible.
Authors Vanessa Cárdenas
Vice President, Progress 2050