Harkin Bill a Big Step Forward for Our Middle Class
Harkin Bill a Big Step Forward for Our Middle Class
Iowa Senator's Bill Will Help Rekindle Our Economy
David Madland details why the Rebuild America Act is a crucial and comprehensive piece of legislation for restoring broad-based prosperity and sustained economic growth.
Part of a Series
Sen. Tom Harkin (D-IA) today introduced one of the more significant pieces of legislation this year: the Rebuild America Act, a bill designed to help restore America's middle class. The wide-ranging bill takes major steps forward in a number of areas to address challenges the middle class faces, including stagnant wages, financial insecurity, rising costs of college, inadequate infrastructure, and an unfair tax code. The bill deserves high praise because it would do more to help the middle class than virtually any other piece of legislation currently before Congress.
The American middle class is the heart of our economy and restoring its strength is key to getting the economy going again. A weakened middle class doesn't just hurt those who are losing ground. It hurts all of us by stifling our country's economic growth, as a growing body of economic research indicates.
Consider that from 1947 to 1979, when the middle class received 54 percent of the nation's total income on average, the economy grew at a steady clip of 3.7 percent per year. That was 1 percentage point higher than the 2.7 percent rate it grew at from 1980 to 2010, when the middle class was weakening to its current share of only 46 percent.
Make no mistake, a 1-percentage-point difference in annual growth rates is a big deal. Over 30 years, an economy increasing at 2.7 percent annually will grow to about two-and-a-quarter times its original size. One growing at 3.7 percent annually will more than triple.
The stated purpose of Sen. Harkin's bill is "to rebuild the American middle class by creating jobs, investing in our future, building opportunity for working families, and restoring balance to the tax code." To achieve this goal, the bill unites together a wide range of policy proposals, including a number that the Center for American Progress champions. By bringing together a number of discrete elements under the framework of helping the middle class, the bill provides a coherent way of thinking about a number of policies that are too often viewed as separate and unrelated. Together this package is essential to rebuilding the middle class.
CAP has not written about every policy proposal in the bill, and in some cases may prefer a slightly different approach, but the core thrust of the bill is so vital to our work and mission that we strongly support this bill. The central elements of the bill are designed to support great teachers, prepare Americans for jobs of the future, improve our infrastructure, modernize workplace standards, and restore fairness to our tax code. Let's look at each of these components in turn.
Support great teachers
The Rebuild America Act would make a major and timely investment in the teacher workforce of our nation's schools. In today's world, students must not only graduate from high school but also graduate with increasingly complex knowledge and skills needed to succeed in college and the workforce. Currently, 45 states, the District of Columbia, and the U.S. Virgin Islands have adopted and are in various stages of rolling out the Common Core state-defined college- and career-ready standards. These standards require more of students than existing standards, and they will require more of teachers to teach them. This represents a new challenge for educators nationally.
Sen. Harkin's legislation would build state-and-local capacity to train and support teachers in helping students master college- and career-ready standards. It would provide a critical bridge between the aspirations of the standards and the realities of teachers and school leaders who must translate them into effective teaching and learning. This investment is necessary to ensure our teaching force and school leaders are equipped to address this new challenge.
The Center for American Progress has a long track record of proposing policies and calling for funding that increase the effectiveness of teachers and school leaders to improve classroom practice and student achievement. The College and Career Readiness Classrooms Act—the education portion of Sen. Harkin's overarching bill—requires that federal funds support effective models of professional development that are goal-driven and focused on college- and career-readiness for students, increase teacher expertise in subject areas, are embedded in the work of the classroom teacher and the school, are sustained, and are conceived and implemented through collaboration with teachers and teacher organizations.
These requirements are among the best practices for effective professional development.
Prepare Americans for jobs of the future
Our nation is currently on pace for a shortage of nearly 5 million workers in middle-skill occupations by 2018. These high-quality jobs in industries such as health care, biotechnology, and advanced manufacturing will go unfilled unless workers get the postsecondary training they require. Community colleges are the ideal place to train middle-skill workers because they have a history of working with local and regional employers to design or adapt programs to current labor market needs.
But to scale their efforts to meet the demands of middle-skill jobs, community colleges need support. That's why sector partnerships such as the one proposed in the Rebuild America Act, and that CAP also has proposed, are essential. The act will provide community colleges with the funding they need to design training programs that are responsive to the local labor market, and it will encourage industry partnerships that ensure the education and training provided is relevant to workforce needs.
Improving our infrastructure
The Rebuild America Act would increase federal infrastructure spending by more than $300 million over 10 years—investments that would go a long way toward improving our highways, bridges, transit, airports, school buildings, wastewater treatment facilities, and energy grid.
In "Meeting the Infrastructure Imperative," CAP proposes and details the case for increasing federal investment by approximately $48 billion per year for the next 10 years. This bill puts more than 60 percent of those funds on the table. An investment at this level would certainly make our infrastructure more modern, and could produce an estimated half a million private-sector jobs in short order.[1]
This level of new investment will improve public safety, save gas, lower household transportation costs and increase the competitiveness of American companies, protect public health, and keep our waterways clean.
The Rebuild America Act also adopts CAP's proposal to establish a federal trust fund in which a set of dedicated revenues are deposited to fund the full array of our nation's infrastructure needs from transportation to water to energy. This approach is a needed improvement to our outdated approach of single dedicated revenue sources earmarked for unique and narrow infrastructure purposes.
The act also echoes on CAP's proposal to increase federal investments in school renovations as a means of putting more Americans to work in the private sector. It makes impressive federal investments of $2 billion a year for 10 years to be matched by states to rebuild and modernize early childhood centers, kindergarten-through-12th-grade schools, and colleges. If states match these federal funds dollar for dollar, then the bill will stimulate $40 billion in needed capital for repairs over the decade.
Sen. Harkin wisely links modernization investments with measures to drive down the $6 billion in annual energy costs incurred by school districts. As a result, his measures mean more school funds spent on classroom instruction, less pressure on local property taxes, and more Americans working in green jobs. The bill also takes a smart approach in distributing funds among the states employing an allocation model based on the relative size of the state's population under 25 years old and the level of poverty of that population. And importantly, it permits that when some states choose not to tap these funds, the Department of Education can reallocate the funds to states that have exhausted their original allocations for school improvements so they can increase the percentage of all buildings modernized in their state.
Modernizing workplace standards
Sen. Harkin's bill zeroes in on perhaps the two most important components of reform to help everyday American families juggle the demands of work and family—child care and paid sick leave. In families with an employed mother, child care costs can eat up a significant portion of the family budget. The poorest families with children are the hardest hit—those below the poverty line ($23,000 for a family of four) spend an astronomical 40 percent of their monthly income on child care. And middle-class families with a child under the age of 5 who earn between 100 percent to 199 percent of the poverty line ($46,000 for a family of four) must devote about 19 percent of their monthly incomes to child care.
While the federal government currently subsidizes child care costs for some families, the subsidies are only available for low-income families—and less than 25 percent of eligible families actually receive assistance because of budget constraints on the program and overly stringent eligibility requirements. In the CAP report "The Three Faces of Work-Family Conflict," we called for child care subsidies that would address both the needs of low- and middle-income families while also acknowledging the needs of child care providers.
Child care workers are often paid relatively low wages, in part due to inadequate current subsidies and the inability of families to pay more out of pocket. Sen. Harkin's bill would address both of these needs by ensuring that funds to states would improve the quality and availability of child care to families as well as support the skills and credentialing process of the workforce. This plan would improve economic security for families who would have access to better, less expensive, and more reliable child care—an important precondition for parental employment—while also improving the working conditions and wages for child care providers, many of whom are working parents themselves.
Then there's the paid sick days component of Sen. Harkin's bill. The United States has the weakest labor protections of any developed nation, and is the only industrialized nation that does not guarantee some form of paid sick leave to workers. While a small number of cities and one state have passed paid sick days legislation, efforts at the federal level have stalled in spite of the negative economic and public health consequences associated with the lack of paid sick leave.
The aftermath of the Great Recession has cultivated a fear that policies that support workers and their families will subsequently constrain business profitability and cause employers to lay off workers or close their doors entirely. Contrary to fears from the business community, the passage of paid sick days legislation in San Francisco (the first city to enact such a law) did not hamper job growth. In fact San Francisco created more jobs and experienced more economic growth after passing the law than the surrounding counties without such legislation.
CAP has supported the Healthy Families Act (the text of which is included in the Harkin bill) for years, and has been part of a larger coalition of progressive organizations calling for paid sick days as an important component of work-life polices to benefit working families.
Raising pay for middle-class Americans
The minimum wage, which is currently $7.25, has not kept pace with inflation and is now well below its peak value in 1968. If the minimum wage had kept pace with inflation, it would currently be $10.52. Raising the minimum wage and indexing it for inflation, as CAP has called for, would help ensure that hard work pays.
Similarly, too many modestly paid, white-collar workers are largely unable to collect overtime due to unreasonably low income limits ($455/week). These limits render many workers earning more than about $24,000 per year ineligible for overtime. This cuts into these workers' earnings and provides little incentive for firms to reduce workloads on overburdened workers by hiring additional workers. Sen. Harkin's bill would raise this too-low cap and index it for inflation, as we have also called for.
Critically, Sen. Harkin's bill would help workers join together to collectively bargain for better pay and working conditions by raising the fines for employers that violate the law and undermine worker rights. Currently, fines are so low that some companies view them as merely a cost of doing business—so much so that right now, every 18 minutes a worker is illegally fired or discriminated against by their employer for their union activity.
Enabling workers to freely join unions is essential for rebuilding the middle class. Dollar for dollar, strengthening unions is just about as important to the middle class as boosting college graduation rates, according to a Center for American Progress Action Fund study.
Restoring fairness in the tax code
For too long, our tax policies have been based on the flawed idea that tax cuts for the rich will magically create economic growth that would trickle down to everyone else. That hasn't happened. Instead, our tax policies have contributed mightily to the growing inequality between the 1 percent and the middle class, and encouraged the outflow of jobs overseas. They have also left us deeper in debt.
The Rebuild America Act restores fairness and fiscal responsibility to the tax code in the following ways. It institutes the "Buffett Rule," ensuring that no millionaire pays lower taxes as a share of income than middle-class families. And it addresses the unfairness of taxing investment income more favorably than wages by raising the top rate on capital gains, which are received overwhelmingly by the richest Americans, to 25 percent.
Investing in America also requires ending tax breaks that reward the offshoring of jobs. Accordingly, the Rebuild America Act shuts down four specific loopholes identified in President Obama's budget proposal for fiscal year 2013 starting in October—current loopholes that encourage companies to locate investment and jobs overseas instead of in the United States.
The Rebuild America Act also asks Wall Street, which has benefited from substantial government support in the wake of the financial crisis that it caused, to contribute its fair share. The bill adopts the president's proposal for a "financial crisis responsibility fee" paid by large financial institutions whose excessive risk-taking threatens the broader economy. And it enacts a modest financial transactions tax, which would raise significant revenues while deterring harmful speculation.
CAP has supported all of these policies and has emphasized that they are essential to sustainable fiscal policies that invest in the middle class.
Conclusion
Sen. Harkin's bill is essential for helping restore our middle class. It combines a number of key elements—each of which would make a significant difference in the lives of everyday Americans—into a single, comprehensive bill that would go a long way toward strengthening a broad swathe of American families. Rebuilding the middle class is the central challenge our country faces. Indeed, our country's economic growth depends upon doing so. The Rebuild America Act is a critical component of doing so.
David Madland is the Director of the American Worker Project at American Progress.
Endnotes
[1]. Author's estimate based on the models produced by infrastructure subsector in: Robert Pollin, James Heintz, and Heidi Garrett-Peltier, "How Infrastructure Investments Support the U.S. Economy" (Washington: Alliance for American Manufacturing, 2009).
The positions of American Progress, and our policy experts, are independent, and the findings and conclusions presented are those of American Progress alone. A full list of supporters is available here. American Progress would like to acknowledge the many generous supporters who make our work possible.
Authors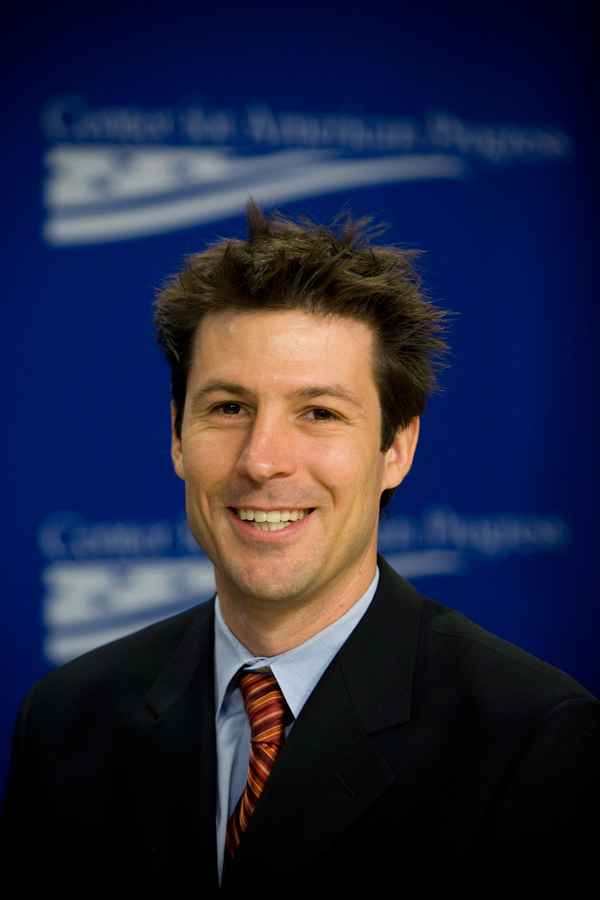 Senior Fellow; Senior Adviser, American Worker Project
Explore The Series
Previous
The Origins of Prosperity

The Origins of Prosperity
Next
The Federal Tax Code and Income Inequality
The Federal Tax Code and Income Inequality