Fifteen Years After Black Hawk Down: Somalia's Chance?
Fifteen Years After Black Hawk Down: Somalia's Chance?
Just as the Somali insurgency is intensifying, a possible window of opportunity has swung open in the form of a power-sharing agreement to end the war.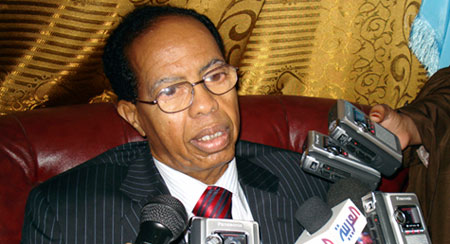 Read the full report (pdf)
Note: This is the first in a series of strategy papers by ENOUGH that will explore the complex situation in the Horn of Africa. The series will examine the human rights crises in Somalia and the Ogaden, the damaging standoff between Ethiopia and Eritrea, and the roles that terrorist organizations and U.S. counter-terrorism policy play in the region. There are widely divergent views on how to interpret the facts on the ground. We hope that this series will provide readers with the chance to look at different sides of this spiraling regional crisis, and we hope that our suggestions for action will help shed some light on the way forward.
It has been almost 15 years since Somali militias shot down two U.S. Black Hawk helicopters over the capital Mogadishu and killed 18 American servicemen in a battle that also killed more than 1,000 Somalis. Since that fateful day in 1993, which had followed decades of American involvement that contributed directly to Somalia's brokenness, the United States has largely turned its back on the fate of the Somali people. U.S. involvement has been rooted in counter-terrorism efforts in which the suffering of the Somali people has barely been factored beyond the sending of humanitarian band-aids to cover gaping human rights wounds. The crucial requirements for reconstructing a state—which are the basic elements, on paper, of U.S. counter-terrorism policy— have received little beyond rhetorical support.
Somalia, a failed state marked for nearly two decades by conflict and humanitarian crisis, is poised at a crucial crossroads—between a further descent into an ever more intense civil war and likely famine or an opportunity to reverse the decline through a transparent process of negotiations and internationally-supported state reconstruction. Just as the Somali insurgency is intensifying, a possible window of opportunity has swung open in the form of an offer by the Prime Minister of the embattled Ethiopian-backed Transitional Federal Government for a power-sharing agreement to end the war. This is the first real sign of flexibility from an entity that until now has ruled by exclusion and divisiveness.
The cost of failure is exceedingly high. Fighting this past week between Ethiopian troops and Islamic militants in Mogadishu killed at least 81 people and injured more than 100. In one instance, Ethiopian troops seized control of a mosque and, according to news reports and observers on the ground, massacred ten people inside, including 6 members of a Muslim sect not involved in the conflict. The situation on the ground is at its worst since 1991, and UN humanitarian officials warn that Somalia is heading toward a, "massive, massive crisis."
If the international community quickly fills the peacemaking vacuum by supporting a process for real dialogue, then Somalia may have a chance to end its long and costly war. If it does not, the insurgency will expand further and the human rights and humanitarian crisis will deepen, strengthening an Islamist movement that could pose a grave regional and international threat.
The Horn of Africa is home to not just one of the worst humanitarian crises in the world today, but two: Somalia and the Ethiopian Ogaden region. A third crisis is looming in the form of a potential return to war between Ethiopia and Eritrea. Like the catastrophe in Darfur, the Somali crisis has been characterized by massive abuses against civilians, collective punishment, cleansing of entire communities, and obstruction of relief efforts. Since Ethiopian forces invaded Somalia in December 2006 with U.S. support, roughly one-third of Mogadishu— home to 1.5 million people before the fighting—has been destroyed and an estimated 60 percent of the city's inhabitants—nearly 700,000 people—have fled. Thousands have been killed.
Across the border, Ethiopia has conducted a scorched earth campaign and imposed an economic embargo on much of the Ethiopian Somali region (known as the Ogaden). Aid agencies warn that insecurity and government obstructions in both Somalia and the Ogaden are preventing them from reaching those most in need: Together, nearly 3 million ethnic Somalis in the Horn of Africa are said by the United Nations to be at risk. This report will focus on Somalia, and a future ENOUGH Project report will address the Ogaden.
There is little international awareness or action on behalf of war-affected Somalis. On the contrary, a small A.U. force in Mogadishu is supposed to protect the government, not the population. Instead of denouncing war crimes and other violations of international humanitarian law, the United States and other Western governments have shielded their perpetrators. Fundamental human rights and the international "responsibility to protect" principle have been sacrificed on the altar of counter-terrorism, but in so doing, U.S. engagement in Somalia is actually fostering the rise of Islamist radicalism across the region and playing into the hands of extremists.
Just as in Iraq, a purely military solution will not yield the desired result. A sustained, internationally-driven peace initiative, coinciding with a negotiated withdrawal of Ethiopian forces and reinforcement of the A.U. peacekeeping force, must be mounted to achieve a political accommodation between the Ethiopian-backed transitional government on the one hand and the Islamist insurgents and disaffected clans on the other. Such an international peace effort should involve an organized mechanism of support for the initiative of U.N. Special Representative Ahmedou Ould-Abdallah, with formal backing of the African Union, the Arab League, the European Union, and the United States. Given its long history of involvement and influence with key regional actors and Somalia itself, America has a responsibility to play a central role.
To provide leverage to peace efforts, the U.N. Security Council should:
Impose targeted sanctions against any Somali leader clearly fomenting further violence and the small percentage of the Somali diaspora that is financing the fighting
Establish a commission of inquiry to investigate violations of international law
Refer the case of Somalia to the International Criminal Court for investigations into war crimes and crimes against humanity. Until the cycle of impunity is ended, there will be no hope for peace in Somalia.
At this juncture, debate should not focus on sending further international forces—either from the African Union or United Nations—to Somalia. They would end up as cannon fodder for the competing armed groups. Now is the time to establish a significant peace process and to begin to create accountability measures. Only then would peacekeeping troops potentially play constructive protection and stabilization roles in Somalia.
Finally, there must be an aggressive response to the developing humanitarian crisis in Somalia. A famine is in the making in Somalia that might be as deadly as the 1991–92 famine that triggered the U.S. intervention and led to a third of a million deaths. The humanitarian response cannot be a substitute for political action, but it must occur on parallel tracks with the peace effort, or else hundreds of thousands of Somalis could perish.
Read the full report (pdf)
Information About the Enough Project:
ENOUGH is a project of the Center for American Progress to end genocide and crimes against humanity. With an initial focus on the crises in Sudan, Chad, eastern Congo, and northern Uganda, ENOUGH's strategy papers and briefings provide sharp field analysis and targeted policy recommendations based on a "3P" crisis response strategy: promoting durable peace, providing civilian protection, and punishing perpetrators of atrocities. ENOUGH works with concerned citizens, advocates, and policy makers to prevent, mitigate, and resolve these crises. To learn more about ENOUGH and what you can do to help, go to www.enoughproject.org
The positions of American Progress, and our policy experts, are independent, and the findings and conclusions presented are those of American Progress alone. A full list of supporters is available here. American Progress would like to acknowledge the many generous supporters who make our work possible.