Domestic Disservice: Homeless Women Veterans Need More Help
Domestic Disservice: Homeless Women Veterans Need More Help
Growing Numbers Are on the Street
There's a largely underreported rise in veteran women's homelessness that we need to address, writes Folayemi Agbede.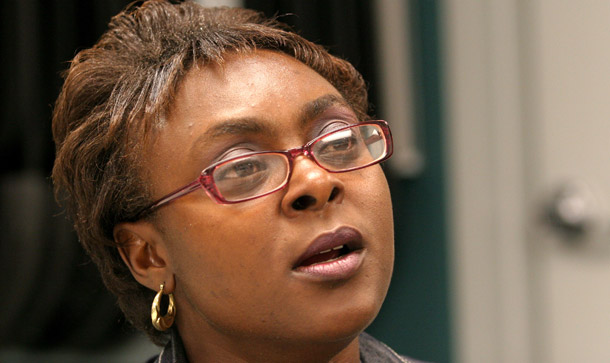 Veterans who lose their lives in the line of duty or return home in need of the most basic supports both deserve our honor. And part of honoring veterans is helping those struggling to reintegrate into society. An estimated 107,000 veterans were without a home in 2009. About 10 percent of those were women. This group is greatly underresearched but their plight should be a significant issue on the national agenda.
The overall number of homeless veterans is steadily declining. But the percentage of women among them is definitely on the rise. Their numbers are growing, too, as troops return from tours in Iraq and Afghanistan. The unprecedented number of homeless veteran women raises some questions and concerns, including whether there's gendered homelessness or gender-specific reasons for homelessness. And with many military women responsible for children the stakes are high.
This issue recently went mainstream when the "Oprah Winfrey Show" discussed specific challenges faced by homeless female veterans. National Guard veteran Mickiela Montoya spoke about her homelessness as a single parent. She became homeless when she was released from the military because she lacked child care support for her tour of duty. When she was discharged she lost her primary source of income—a dire situation for a single mother. Since that time she and her child have been living in temporary housing situations.
Her experience contradicts assumptions that homeless veterans are older, single, and male, and it is by no means unique. Young veteran mothers are the core group facing housing risks among former service members. Montoya's experience also confirms that veteran women disproportionately lack the economic safety nets needed to support them after service.
Veteran women experience higher unemployment rates than their male counterparts as they are less likely to attain work that earns them enough money for permanent housing. The number of families like Montoya's will only continue to rise without policies working in their best interest.
Women re-entering civilian life face other challenges, too, many of them the same as their male counterparts, including posttraumatic stress disorder, traumatic brain injury, and substance abuse. But some of their challenges are clearly gender specific. Many women veterans, for example, are psychologically traumatized, survivors of military sexual trauma, and without appropriate coping resources. These untreated traumas often result in increased emotional instability, depression, self-medicating, and broken social ties that spiral into economic crises.
All these factors should be taken into account when working to prevent veteran homelessness. Appropriately dealing with servicewomen's disproportionate sexual trauma, difficulties with single parenting after service (or single parenting that results in discharge), and the dearth of accessible services can and should be coordinated around veteran housing programs.
In dealing with this problem we should be encouraged by the fact that veteran homelessness has received some past attention mainly because many consider homelessness among our vets a grave moral contradiction considering what they've done for our country. The near 20 percent decrease in veterans without housing between 2008 and 2009—despite spiked housing instability among civilians—can be attributed at least in part to the recognition that it's egregious to allow former servicemen and women to be without homes.
A look at the decline in the estimated number of homeless veterans over the last six years (see graph) also shows that the issue enjoys bipartisan support. Both presidential administrations in office during this time made legislative gains for veterans a priority.
The Obama administration and Congress have begun responding to increased homelessness among female veterans and their children. The Veterans' Benefit Act of 2010 was signed into law by President Obama on October 13, 2010. The act effectively authorized $1 million per year from fiscal year 2011 to fiscal year 2015 for dedicated services to homeless veteran women and families. These services include safe affordable housing and employment services.
The administration has also introduced "Opening Doors: The Federal Strategic Plan to Prevent and End Homelessness," which seeks to reduce homelessness more generally but also includes veteran-specific recommendations. The "Opening Doors" strategy aims to ensure comprehensive services for supportive permanent housing, economic security, integrated health care, and related support services. The plan makes a commitment to end homelessness among veterans within five years. Swiftly implementing these service provisions are critical to women and men's successful return from duty.
But other steps need to be taken to fully address this problem. Veteran-specific resources are critical to combating veteran homelessness but increased access to civilian antipoverty programs are also necessary. Many veterans rely on broader services that reach poor people, so continuing sufficient funding for antipoverty and housing programs including McKinney-Vento Homeless Services would help veterans, particularly women veterans, who may find themselves accessing these benefit services.
Congress should also reauthorize the Temporary Assistance for Needy Families program and its affiliated programs next year. These improve economic supports for low-income women and they would be a boost for parenting veterans in dire straits. Finally, policymakers should reshape currently existing marriage and fatherhood services, like the Fatherhood, Marriage, and Innovation Fund, to include supports for mothers who face significant barriers to self-sufficiency including mental health problems and physical disabilities. These services stand to benefit a broad array of women, including those who have been involved in military service.
Veterans put their lives on the line for this nation and when they return home they need substantial help to get back on their feet. As part of a larger strategy to tackle economic stability we should thus commit to helping veterans and women veterans in particular struggling with economic insecurity and homelessness. We owe it to those who have honorably served our nation.
Folayemi Agbede is the Special Assistant for Progress 2050, a project of the Center for American Progress that develops new ideas for an increasingly diverse America.
The positions of American Progress, and our policy experts, are independent, and the findings and conclusions presented are those of American Progress alone. A full list of supporters is available here. American Progress would like to acknowledge the many generous supporters who make our work possible.