Doing What Doesn't Work
Why Scared Straight Programs Are a Waste of Taxpayer Dollars
Jitinder Kohli outlines the importance of government agencies focusing resources on programs that work, not ones like this criminal-justice program run amok.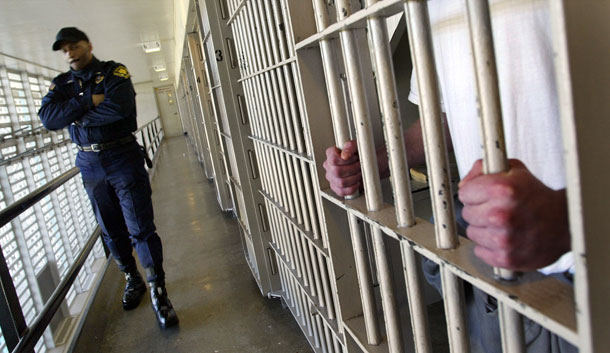 This is the first of a three-part series that looks at how public agencies can invest resources in programs that work.
"When you get in here, you gonna wash my clothes," shouts the inmate. "And I'm gonna take your food." A look of fear creeps across Amberly's face. Another inmate shouts at a nearby girl, Keandra, "This is not fun, putting y'all in uniforms and shackles. I'm a grown woman and I still break down now." Tears start running down Keandra's cheeks.
Amberley, 17, and Keandra, 14, are visiting Western Tidewater Regional Jail in Suffolk, Virginia, and they both look very scared. That's supposed to be a good thing because they are both participants in a Scared Straight program. By exposing teenagers at risk of criminality to prison up close, these programs seek to deter them from offending. Inexpensive to run at about $60 a person, Scared Straight programs would seem to be a small price to pay given the enormous costs associated with crime.
The American public knows about Amberly and Keandra because Scared Straight programs also make great television. A&E TV featured the girls in an episode of "Beyond Scared Straight" that aired on December 29. More than 2 million people watched the episode, making it one of the most popular cable television shows that night.
There is only one problem: Scared Straight programs don't actually work. Far from reducing crime, research shows that participants in Scared Straight programs are about 7 percent more likely to commit crimes afterward than those who don't participate. This finding is not even new—repeated studies carried out since the 1960s show that Scared Straight programs have no positive effect. In fact, a 2002 paper published by the Campbell Collaboration summarizing the results of nine studies concluded these programs lead to greater offending behavior.
On average, every dollar spent on a Scared Straight program costs government agencies more than $100 as a result of increased future crime costs such as incarceration, policing, and court time. So if a government agency invests $10,000 in a Scared Straight program it is just a sophisticated way for it to throw $1 million down the drain. But the costs don't stop there because the victims of crimes committed by Scared Straight program participants also suffer. Studies estimate that costs to victims of crime are even greater than those to government.
Even if government agencies had spare cash, it would be irresponsible for them to invest in a program that does more harm than good. But with budgets tight it is more important than ever that agencies focus resources on programs that actually work.
It's hard to know for sure why the programs increase crime, but Anthony Schembri, who served as secretary for the Florida Department for Juvenile Justice and as Corrections Commissioner in New York City, explains that one reason might be that delinquent youth realize that prison is a place where they might fit in. Another reason could be while they appear scared during the visit, they feel pressure from peers to show that they were not scared and therefore engage in criminal activities to "prove" it.
Whatever the reasons, I don't like it that A&E screens a television show that glamorizes government programs that increase crime. But if it attracts lots of viewers, I know why they choose to do so. After all, the channel is trying to maximize its profits, and more viewers mean more advertising revenue. It's not the channel's job to reduce crime—that's the job of government agencies.
But what's galling is seeing state and local governments around the country wasting taxpayers' money on programs that do not work. It's very rare that a public servant will actually want to waste taxpayer dollars, so why do they invest in Scared Straight programs?
One part of the answer is that many simply don't know that the research shows the programs don't work. The programs sound like they should work, and they are relatively cheap to administer so surely it's worth trying them out. Few public officials would stop to think that the programs might actually do more harm than good.
Another part of the answer is that government agencies might face political pressure to run these programs. In some cases legislators might direct appropriations to these kind of programs even when the agency is unclear of the merits of doing so.
Thankfully, there are ways to do what works. Researchers find numerous effective programs focused on teenagers at risk of re-offending. The WayOut program, for example, administered in Snohomish County, Washington, works with teenagers and parents. They attend a two-day educational seminar focused on helping young people build a future without crime. The program costs around $200 to administer (four times as expensive as Scared Straight) but it reduces a participant's chances of engaging in crime by more than 2 percent, saving taxpayers more than $10 per dollar of investment.
Another effective program is Aggression Replacement Training. This program works with young people to help them overcome anger-management problems. It is an intensive program, with teenagers spending 30 hours over 10 weeks learning how to overcome their aggression. And at around $900 per participant, it is 15 times more expensive than the average Scared Straight program, but it is also much more effective. Research shows that participants are around 7 percent less likely to engage in crime as a result of the program, saving taxpayers more than $7 per dollar of investment.
Public officials that want to reduce crime would be much more successful if they invested taxpayer dollars in approaches such as these. And if they are currently supporting a Scared Straight program, they should close down the program and replace it with something that works. Agencies should also consider innovative financing mechanisms such as pay-for-success bonds that ensure taxpayer dollars are only focused on approaches that actually work.
Jitinder Kohli is a Senior Fellow on the Doing What Works program at the Center for American Progress.
The positions of American Progress, and our policy experts, are independent, and the findings and conclusions presented are those of American Progress alone. A full list of supporters is available here. American Progress would like to acknowledge the many generous supporters who make our work possible.
Authors Jitinder Kohli
Senior Fellow