Cronyism and Corruption
Rep. Henry Waxman joined CAP to discuss how to clean up the federal contracting process, which has been marred by waste, fraud, and abuse.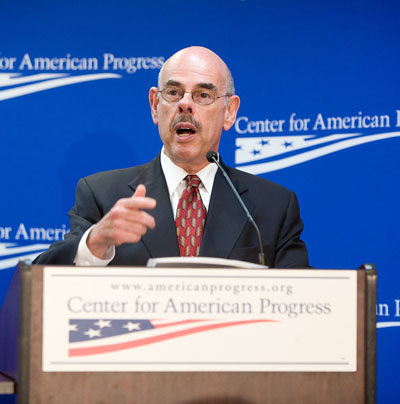 "We need to restore transparency, accountability, and efficiency to government contracting," Rep. Henry Waxman (D-CA) said at an event at the Center for American Progress today titled "A Return to Competitive Contracting." Waste, fraud, abuse, and mismanagement have overtaken the federal contracting process to such a degree that, Waxman said, there is a "crisis in federal procurement."

Waxman, chairman of the House Committee on Oversight and Government Reform, was the keynote speaker at the event, which accompanied the release of Scott Lilly's report, "A Return to Competitive Contracting: Congress Needs to Clean Up the Procurement Process Mess." Presentations followed Waxman's speech by panelists including Lilly, a Senior Fellow at CAP; Danielle Brian, Executive Director of the Project on Government Oversight; Margaret Daum, Counsel of the House Oversight and Government Reform Committee; and Angela Styles, Former Administrator for Federal Procurement Policy at the Office of Management and Budget.




The sale of products and services to the federal government is a large and growing industry in the United States: in 2005, its value reached $377 billion, an 86 percent jump from 2000. The market for contracts should be fair, open, and competitive to ensure that taxpayer dollars are used efficiently and that the quality of the crucial programs and services the government provides—homeland security and Hurricane Katrina relief, for example—are of high quality.




Unfortunately, the market for contracts falls far short of that ideal. Non-competitive contracting has more than doubled since 2000. "While government contractors are getting richer, taxpayers are getting soaked," Waxman said. And in just the last three years more than five federal officials have been convicted of crimes involving federal contracting. Lilly cited indications that these officials were part of a system run through with fraud and waste and did not represent a few bad apples in an otherwise blemish-free barrel of them.




A lack of adequate personnel to execute contracts, lack of effective oversight, and general politicization of the government itself all created ample opportunities for abuse throughout the system, Lilly said.





Waxman and the panel addressed these flaws in the system when discussing how the procurement process can be cleaned up.

"A lack of accountability and oversight is an invitation to abuse," Waxman said. He cited the need for more contract managers and government overseers and proposed that 1 percent of federal procurement spending be set aside for procurement management and oversight. That funding would ensure that the government has sufficient manpower to oversee government contracting.

Styles cited the importance of transparency: "the more transparent the system, the better it'll actually work." Changes that took place during the 1990s, such as the reduction in the acquisition workforce and decreased transparency that made contracts easier to manipulate. And, Daum said, "rigorous competition and transparency means better value for taxpayers' dollars."

Daum also suggested that more money be allocated to the training of the acquisition workforce, which has decreased in number in recent years as the number of contracts going through the system has risen. It's "not surprising," she said, that acquisition workers take shortcuts when reviewing contracts it they lack adequate training and time.

The closest thing we have to a "silver bullet," according to Brian, would be to reintroduce the taxpayer-protection checks and balances that were removed from the contracting system by the Federal Acquisition Streamlining Act of 1994 and thee Federal Acquisition Reform Act of 1996.

Brian also noted that only 7 percent of government contracts are currently subject to full and open competition. Styles reminded the panel, however, that "it's the federal government that decides whether [the contracts] are going to be competed or not."

Lilly stresses in his report that a path back to accountability and transparency in the procurement system must include efforts by Congress to monitor and limit the use of non-competitive contracts. Congress is taking a step in the right direction with its close examination of the contracts in the Iraq war supplemental spending bill, but the body must maintain its hands-on approach if the procurement process is to be cleaned up on a wider scale.

For more information, see:
The positions of American Progress, and our policy experts, are independent, and the findings and conclusions presented are those of American Progress alone. A full list of supporters is available here. American Progress would like to acknowledge the many generous supporters who make our work possible.