Congress Needs to Act to Keep Job Growth Going
Congress Needs to Act to Keep Job Growth Going
Congress should pass the rest of the American Jobs Act to help strengthen the economy and provide some relief to Americans still struggling in an uncertain job market, write Heather Boushey and Adam Hersh.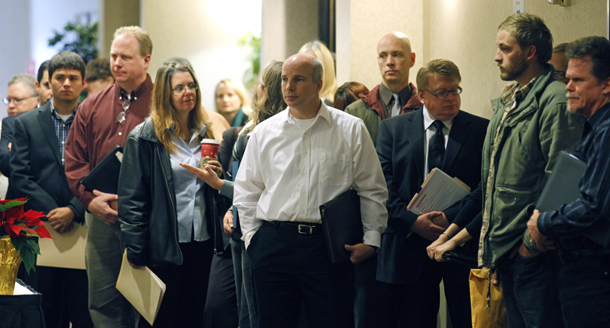 This article was originally published on MarketWatch.
First, the good news: The U.S. labor market continued making modest gains in November as private employers added 140,000 jobs and the unemployment rate fell 0.4 percentage points to 8.6 percent. Evidence of a strengthening jobs situation is reinforced by upward revisions to the number of new jobs added by employers in September and October, which were 72,000 jobs higher than initially measured. Households also reported an additional 278,000 people working in November, which could be due to a higher-than-usual number of new firms being created.
That said, this month's Labor Department report raises concerns about whether we can build on the momentum we're seeing. For one thing, about half of the declining unemployment rate was due to workers exiting the labor force. Government budget austerity is still hurting job creation, and workers' assessment of labor market conditions as well as employers' confidence in their business outlook evident in the data do not bode well for future hiring.
These concerns should be reason enough to spur Congress to action, overcoming political obstructions to job-creating legislation. But with Europe's currency union troubles, which threaten to spiral out of control and spill into the U.S. economy, the impetus to act is even more pressing.
Enacting the full basket of policies in the American Jobs Act would be a good way to get our economy on track, especially in face of the uncertainty over Europe. This includes renewing unemployment insurance benefits and extending and expanding the payroll tax cut by cutting workers' share of the Social Security payroll tax in half, to 3.1 percent for 2012. This would boost the paychecks of 160 million American workers, giving the typical family around $1,500 next year.
Taking a closer look at today's numbers reveals that job gains were concentrated mainly in low-productivity, low-wage sectors of the economy. The retail sector added nearly 50,000 of the total 120,000 new jobs in November, and food services and drinking places added another 33,000.
The remaining job gains were spread thin across other sectors of the economy. The pace of job creation in manufacturing slowed markedly. Over the past three months, manufacturing has only added an average of 2,300 jobs per month, whereas from January to April of this year, manufacturing was growing at an average of 34,500 jobs per month.
Retrenchment of public services and investments continued weighing on private hiring. State and local governments shed another 16,000 public workers in November. Local governments have laid off 512,000 since their peak in September 2008, while state governments have laid off 136,000 since their peak in August 2008. Since then, state and local governments have shed over 634,000 jobs, including 226,000 teachers and education professionals.
If employers were seeing economic conditions that warranted hiring in future months, we would typically see a rise in temporary-help employment or an increase in hours worked. Both of these steps indicate an uptick in demand for labor that employers have not yet hired new, permanent workers to help them meet. Temporary hiring increased by a mere 22,000 jobs in November. In contrast, in November 2009 when the American Recovery and Reinvestment Act was working strongly, temporary hiring was nearly three times the pace. Average weekly work hours for production and nonsupervisory employees actually contracted 0.1 hours in November to 33.6.
About half of the decline in November's unemployment rate is due to labor-force contraction, and the shrinking labor force was due entirely to an exodus of women from searching for work. Optimism among workers about labor-market conditions remains mixed. Fewer people were working part time for economic reasons, meaning they couldn't find full-time employment. But 315,000 people exited the labor force in November, the number of people re-entering and newly entering the labor force declined slightly, and the number of "discouraged" unemployed workers increased 129,000.
Even those lucky enough to have jobs are being affected by high unemployment. Nominal wages grew at an annualized quarterly rate of 1.7 percent. This is lower than the 3.5 percent rise in prices over the past year measured by the consumer price index. Wages are typically lower when unemployment is high, all else equal, which is clearly dampening consumer demand.
Unemployed workers face daunting odds finding employment in this labor market. The employment rate—the share of Americans with a job—is 58.5 percent, and it remains just 0.4 percentage points higher than the near-30-year low point reached this July.
Employment has fallen especially sharply for male workers. Prior to the Great Recession, the employment rate for men had never fallen below 70.5 percent. In November, we are still well below that low with only 67.3 percent of men employed. Employment rates also fell in November for African Americans (down 0.8 percentage points to 51.7 percent) and Latinos (down 0.2 to 59.1 percent).
As is expected alongside high long-term unemployment, the labor-force participation rate has been generally falling since late 2008. In November, 64 percent of the population aged 16 and over was in the labor force. This is only one-tenth of a percent higher than the low point of 63.9 percent hit in July of this year.
Long-term unemployment continues at near-record highs. In November, 5.7 million workers had been out of work and searching for a new job for at least six months, shy of the peak of 6.7 million workers in May 2010. Among those unemployed, the same share of men and women are long-term unemployed, indicating that neither gender holds an advantage in getting back to work.
Long-term unemployed aren't concentrated in a single industry, either. While the median weeks spent unemployed is highest in the manufacturing industry (29.6 weeks), the lowest is in leisure and hospitality (14.2 weeks), which is still higher than the median weeks unemployed at any point prior to the Great Recession (12.3 weeks in May 1983).
Unless Congress acts before the end of December, 2.2 million unemployed workers will lose their unemployment benefits by February. In 22 states, more than 30,000 unemployed workers will lose benefits. Congress has never cut off benefits to the long-term unemployed when the unemployment rate was above 7.2 percent. There's no good reason to do so now.
The bottom line is that Congress should pass the rest of the American Jobs Act to help the economy find a sure footing and provide some relief to the large numbers of Americans still struggling in an uncertain job market.
Heather Boushey and Adam Hersh are Economists at the Center for American Progress.
This article was originally published on MarketWatch.
The positions of American Progress, and our policy experts, are independent, and the findings and conclusions presented are those of American Progress alone. A full list of supporters is available here. American Progress would like to acknowledge the many generous supporters who make our work possible.
Authors Heather Boushey
Senior Fellow Adam Hersh
Senior Economist