Can We End Child Hunger by 2015?
Can We End Child Hunger by 2015?
The Senate child nutrition bill doesn't go far enough in achieving the president's bold goal of ending child hunger in five years, writes Joel Berg.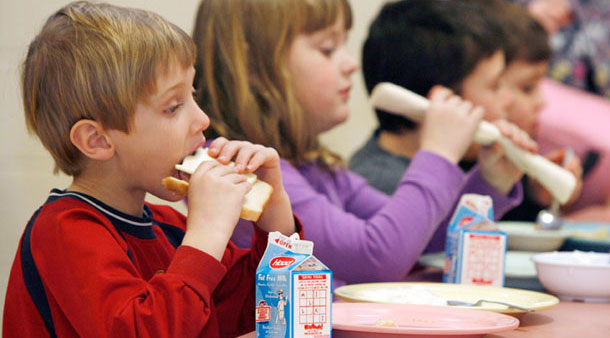 Read also: Food Access Five Years After the Storm by Amara M. Foster
President Barack Obama made a courageous but realistic pledge in the early days of his presidency to end child hunger in the United States by 2015 as a first step toward ending all hunger in the country. The president's fiscal year 2011 budget provides a down payment on meeting that promise by proposing an additional $10 billion in spending over 10 years to strengthen the Child Nutrition and Women, Infants, and Children reauthorization bill under consideration in Congress. Yet the Senate isn't exactly picking up the ball and running with it. The version passed by the Senate Agriculture Committee last Wednesday includes too little money and too few reforms.
Action on this issue is needed urgently. Even before the worst of the economic downturn in 2008, 16.6 million American children lived in homes that couldn't afford enough food for their families. Child hunger in the world's wealthiest nation is morally unacceptable, and it costs the U.S. economy at least $28 billion per year because poorly nourished children perform less well in school and require far more long-term health care spending.
The bipartisan Healthy, Hunger-Free Kids Act of 2010 that just unanimously passed the Senate Agriculture Committee does include a $4.5 billion funding increase over 10 years for new child nutrition programs—significantly larger than the last funding increase of $500 million over 10 years. Yet it still provides less than half of the $10 billion over 10 years requested by the president's budgets.
U.S. Department of Agriculture Secretary Tom Vilsack issued a statement in response saying, "The framework … makes progress toward both goals [fighting hunger and reducing obesity]. Though we believe that additional access and nutrition goals can and should be accomplished by passing a more robust bill that supports the President's request of $10 billion in additional funding, the bipartisan announcement today is a very positive step forward."
Fully $3.2 billion in the bill is slated to improve the quality of meals in child nutrition programs, including school lunches and breakfasts. The bill also takes the long-overdue step of allowing USDA to regulate junk foods and other so-called "competitive foods" sold in schools in competition with the federal school meals programs. These are highly worthy goals that, if properly implemented, will reduce obesity and improve the health of tens of millions on American children.
Yet only $1.2 billion of the bill's additional funding goes directly to ending child hunger over the next 10 years. That means that the bill would invest only eight additional antihunger dollars annually for each U.S. child living in a household that experiences hunger and food insecurity. Such limited investments do not place the United States on a track toward ending child hunger within five years, and the money is so meager that, if enacted as proposed, child hunger and food insecurity might actually increase.
The bill falls far short of its "hunger-free kids" label, but it does advance a number of promising antihunger initiatives and expands key best practices in feeding low-income kids, including getting rid of paper applications in high-poverty areas and creating a grant program to reward states for implementing innovative antihunger strategies. Yet limitations on funding pose significant additional costs for states, local programs, and families in some cases.
For example, federal reimbursement rates for school meals are limited within the bill, which would place additional financial burden for the programs on currently cash-strapped states and districts. And many of its advancements are limited in geographical scope or the number of participating children. Such improvements have demonstrated success and are ready to be rolled out nationally, but that would be more costly. The bill also mandates additional years of study, instead of proven fixes, in some areas such as paperwork improvements for organizations sponsoring after-school snacks or child care meals. And because the bill seeks to increase what schools nationwide charge for so-called "full-price meals," many lower- and middle-class families struggling just above the poverty line would need to pay higher prices for school meals, even if their families current suffer from food insecurity of hunger.
There are also dangers in some of the offsets reportedly being considered by Senate Agriculture Committee Chairman Blanche Lincoln (D-AR) in order to pay for the bill, such as cutting funding from nutrition education for recipients of Food Stamp-SNAP benefits and slashing the Environmental Quality Incentives Program, a conservation program that often aids small farmers. Funding one antihunger program by cutting another just doesn't make sense.
Given that child hunger costs our economy at least $28 billon per year, the $1 billion requested by the president to start ending the problem is a wise investment indeed. When the full Senate takes up the bill, it should provide this vital funding without slashing other programs of proven effectiveness.
Joel Berg is the executive director of the New York City Coalition Against Hunger.
Read also:
The positions of American Progress, and our policy experts, are independent, and the findings and conclusions presented are those of American Progress alone. A full list of supporters is available here. American Progress would like to acknowledge the many generous supporters who make our work possible.
Authors Joel Berg
Senior Fellow