Before the Bush Recession
Before the Bush Recession
Supply Side Tax Cuts Failed to Deliver Jobs and Growth Between 2001 and 2007
Supply side tax cuts failed to deliver jobs and growth between 2001 and 2007, writes Joshua Picker.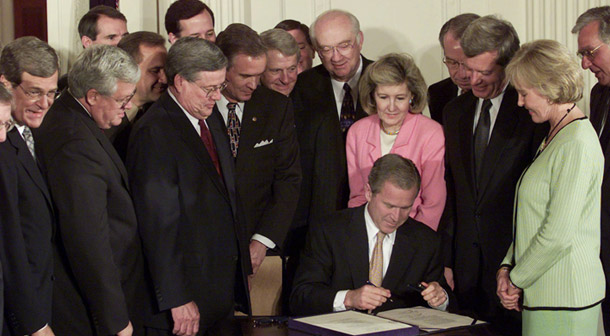 Download this report (pdf)
In his final days in office, President George W. Bush told the American Enterprise Institute:
[T]he benefits of the tax cuts have been obscured by the recent economic crisis, no question about it. But when they finally take a look back at whether or not tax cuts were effective or not, it's hard to argue against 52 uninterrupted months of job growth as a result of tax policy. And so my hope is, is that after this crisis passes—and it will—that people continue to write about and articulate a public policy of low taxes.
This and other efforts of the "Bush Legacy Project" to rehabilitate the last administration's job creation image and defend its tax cuts ignore the stark reality that the Bush administration's tax policies fostered the weakest jobs and income growth in more than six decades, and ignored alarming labor market trends in minority communities. This record of anemic job creation was accompanied by sluggish business investment and weak gross domestic product growth that characterized the period after the Bush tax cuts of 2001 and 2003 went into effect.
Yet conservatives continue to argue for another round of permanent tax cuts similar to those of the Bush administration. Even if all of the Bush tax cuts are allowed to expire as scheduled, the projected cost of the Bush tax cuts to the federal budget over the next ten years is $3.9 trillion, an average of 1.4 percent of the country's total economic activity (GDP) per year. Those asking for more permanent tax cuts continue to justify the cost, claiming tax cuts create jobs.
But their analysis ignores what actually happened during the economic cycle that began in March 2001 and ended in December of 2007—which almost exactly coincides with the Bush presidency and the implementation of the Bush tax cuts. This period registered the weakest jobs and income growth in the post-war period. Overall monthly job growth was the worst of any cycle since at least February 1945, and household income growth was negative for the first cycle since tracking began in 1967. Women reversed employment gains of previous cycles. And for African Americans, the worst job growth on record was matched by an unprecedented increase in poverty.
Given this incredibly weak record, it is astounding that some conservative members of Congress held up—and eventually voted against—the Obama administration's economic stimulus and recovery package because it did not contain additional permanent tax cuts. The anemic Bush economic cycle directly contradicts the idea that those tax cuts delivered broad-based economic growth and job creation—never mind the promise of long-term economic growth so quickly squelched by the onset of the recession beginning in December 2007.
This paper will examine the jobs, income and poverty legacy wrought by supply-side ideology over the course of the Bush presidency. This review is important not least because conservatives continue to pitch supply-side remedies as valid alternatives to the Obama recovery package amid a worsening recession. And beyond the economic recovery, the upcoming fiscal 2010 and 2011 federal budget debates will prominently feature questions about whether to extend some or all of the Bush tax cuts. The evidence in this paper demonstrates that conservative rhetoric about the job creation potential of supply-side tax cuts does not match up to the anemic Bush-era record.
Download this report (pdf)
Also from CAP:
The positions of American Progress, and our policy experts, are independent, and the findings and conclusions presented are those of American Progress alone. A full list of supporters is available here. American Progress would like to acknowledge the many generous supporters who make our work possible.