Apprenticeship Expansion in England
Apprenticeship Expansion in England
Lessons for the United States
England demonstrates that there are policies lawmakers can enact to dramatically expand apprenticeships, win industry support, and improve outcomes for workers and businesses.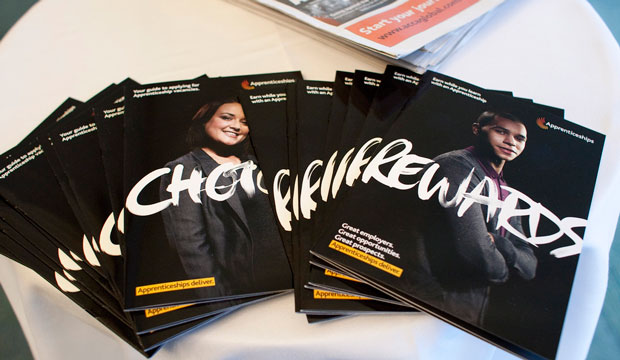 From 2009 to 2012, England more than doubled the number of people starting apprenticeship programs each year, while also expanding the gender and occupational reach of apprenticeships. As the United States looks to significantly expand its own apprenticeship system, policymakers can learn from England's experience. In particular, England demonstrates that by increasing marketing, establishing business outreach, and creating financial incentives for businesses to sponsor apprentices, it was able to create new apprenticeship opportunities that boost worker's employment outcomes, improve businesses' productivity, and generate new economic growth.
Apprenticeship is a form of paid worker training that incorporates on-the-job training and classroom-based instruction; it has been shown to both raise workers' earnings and improve companies' bottom lines. Although the training model is a central element of the education and workforce development systems in many countries, few American businesses or workers are familiar with the idea of an apprenticeship. As outlined in a recent Center for American Progress report, "Training for Success: A Policy to Expand Apprenticeships in the United States," a large-scale expansion of the U.S. apprenticeship system will boost our economy by helping businesses meet the demand for skilled labor and by connecting workers to well-paying jobs.
Compared with other countries, the number of apprentices in the United States is relatively small. In 2012, the U.S. Department of Labor's Office of Apprenticeship registered 147,000 new apprentices, more than 90 percent of whom were men and a majority of whom were employed in the traditional skilled trades, such as pipefitting and plumbing. In England, more than 510,000 workers started apprenticeship programs in 2012. After adjusting for population size, this would be the equivalent of the United States starting about 3 million new apprentices each year. Significantly,more than half of these new English apprentices were women, and many of them entered occupations that do not typically incorporate apprenticeships, such as business, administration, and law.
But England has not always had such an expansive apprenticeship program. This issue brief explores the origins of England's apprenticeship system, highlights recent policies enacted to expand apprenticeships, and discusses the results of these efforts. It also suggests some implications for apprenticeship expansion in the United States.
Note that while there have been efforts in recent years to expand apprenticeships throughout the United Kingdom, each country operates its own apprenticeship system. For example, as we have written previously, Scotland doubled the number of new apprenticeships from 10,600 in 2008 to nearly 26,000 in 2012. In this brief, we focus exclusively on the apprenticeship expansion in England.
Origins of modern apprenticeships in England
Apprenticeship has existed in England in some form since at least the Middle Ages, but only in recent years have lawmakers embraced the training model as a key element of the country's education and workforce development strategy. Indeed, the number of apprenticeship starts grew from about 65,000 in 1996 to more than half a million in 2012. The Conservative government first introduced Modern Apprenticeships in 1994 as part of a new competitiveness agenda, promising to "provide a major boost to work-based training and increase substantially the number of young people obtaining the technical and craft skills which not only employers but trade unions agree the country has been lacking." The goal was to address a growing skills gap by both improving upon and scaling up existing apprenticeship programs, while also expanding them into new economic sectors. In particular, lawmakers aimed to address criticism that earlier job-training initiatives required too little of businesses in terms of training, portable credentials, and employment. They established an accredited qualification for apprenticeships and made sure they focused on skills development rather than seat time. Lawmakers also ensured that apprentices were considered employed and received a wage. The government set a goal of increasing the annual number of completed apprenticeships by 150,000 per year, of which 40,000 would be highly skilled "Level 3" apprenticeships.
Following a change in power in 1997, the Labour government went on to expand the range of apprenticeship qualifications offered. By 2001, in response to employer demand for more entry-level workers with prerequisite skills, the government designated Modern Apprenticeships as "advanced" and established a new "Level 2" for lower-skill apprenticeships. Furthermore, it established technical certification for apprentices in addition to the apprenticeship diploma, created incentives for younger workers to choose apprenticeships, established a minimum skills threshold that apprenticeships must achieve, and implemented a £16 million marketing campaign to improve employer engagement.
Expanding the modern apprenticeship program
In 2009, in an attempt to address high levels of youth unemployment following the global financial crisis, the government initiated a comprehensive effort to dramatically increase the number of apprenticeships. As part of this effort, it created the National Apprenticeship Service, which has full responsibility for English apprenticeships, and set out to increase the number of apprentices by 50,000 by the end of fiscal year 2010–2011. The government has launched a national marketing campaign, improved business outreach, and created financial incentives for employers to sponsor apprenticeships. Recently, as part of an announcement introducing new apprenticeship reforms, Prime Minister David Cameron affirmed that increasing apprenticeship is "an absolutely vital part of our [the United Kingdom's] long-term economic plan."
Marketing
A major goal of the most recent apprenticeship reform agenda has been to boost awareness among workers and businesses. In this spirit, the National Apprenticeship Service, or NAS, launched a national marketing campaign in 2013 called "New Era for Apprenticeships" to better promote apprenticeships to students, their families, and employers. Through mechanisms such as videos, direct mail, social media, and digital media, the National Apprenticeship Service engages and informs the public on the benefits of apprenticeships.
The marketing campaign aims to boost public awareness of apprenticeship and educate employers and individuals on the benefits of apprenticeship. One poster aimed at young people announces that "Eight out of ten apprentices rate their training as good or very good," while another ad encourages employers to "Invest for the future," highlighting that "82% of employers take on apprentices to build skills in their business." This "New Era for Apprenticeship" marketing campaign can be seen nearly everywhere in England, including on London Underground posters, Facebook pages, and the supersides of taxis, as well as in newspapers, magazines, and brochures. The next marketing campaign is meant to further change perceptions of apprenticeships among young people and their parents, focusing on the range of careers available through apprenticeships, apprenticeships offered by blue-chip companies, and the ability to get a high level master's degree equivalent through some apprenticeships.
The NAS has also established a comprehensive web interface that offers potential applicants a bevy of user-friendly tools to assist them in their search. Apprentice.tv provides informational videos to assist prospective apprentices in the application process, and the online Apprenticeship Support Pack walks the applicant through the complete process. In a similar vein, the NAS has worked to create a mobile app called App-renticeships, which provides a set of tools to both assist people in finding the right apprenticeship and to improve candidates' interview skills and applications. In addition, the NAS has set up a sophisticated apprenticeship-vacancy matching tool to assist employers and prospective apprentices. Furthermore, the Apprenticeship Ambassadors Network engages new employers through business-to-business promotion, facilitating conversations between current employers and prospective employers of apprentices.
The NAS also coordinates a National Apprenticeship Week, an extensive promotional effort that aims to publicize the value apprenticeships provide for both individuals and businesses.Throughout the week, there are hundreds of events to increase apprenticeship awareness and demand. According to the NAS's "pledgometer"—an initiative launched this year to measure the number of apprenticeship commitments employers make during the week—the 2014 National Apprenticeship Week resulted in 20,000 new apprenticeship openings, nearly half of which were created by small and medium businesses.
Business outreach
Through comprehensive outreach to businesses, England makes it easy for employers to start or expand their apprenticeship programs. A company that is interested in sponsoring an apprentice can download a detailed "toolkit" from the National Apprenticeship Service's website and call a hotline to speak with someone who can walk them through the process. Larger companies with more than 250 employees are assigned their own regional account managers, who help them develop their apprenticeship programs.
The government has also designed a clearinghouse called the Apprenticeship Vacancies System to better match employers and apprentices. Employers use the online recruitment program either themselves or through an intermediary to update their vacancies. They can also review applications and select final candidates for apprenticeship positions. Individuals can use the system to search for apprenticeships. Searches can be narrowed by geography, key words, and job descriptions, among other things. In 2012, more than 30,000 new employers posted apprenticeship vacancies to the system.
As part of an effort to attract "new and hard-to-reach" employers, the government is developing innovative approaches to facilitate the establishment of new apprenticeship programs. For example, Apprenticeship Training Agencies, or ATAs, aim to reduce the administrative burden for companies looking to set up an apprenticeship program; ATAs essentially act as the apprentice's employer—recruiting candidates, arranging registration with the NAS, and placing the apprentice with an employer. In return, the employer pays the ATA a fee based on the apprentice's wage and the ATA management fee.
Financial incentives
England has established a number of financial incentives for employers who sponsor apprentices, including paying for training costs, a £1,500 grant, and an apprentice minimum wage. The government's dedication to apprenticeship is clear from its growing investment in apprenticeship. Even as overall spending has been cut, funding for apprenticeships has increased year over year, from £1,072 billion in 2009 to £1,566 billion in 2013. And these investments are not going away anytime soon; the 2015–2016 spending review projects an increase in apprenticeship spending even as the resource budget for businesses, skills, and universities will be cut by 6 percent.
One way the government supports apprenticeship is by paying for all or some of an apprentice's training costs, depending on the age of the worker. In order to promote apprenticeship among the youngest workers, the Department for Education currently pays for the full cost of training apprentices ages 16 to 18. The Department for Business, Innovation and Skills, or BIS, pays for exactly half the training costs of apprentices ages 19 to 23. The size of the government contribution decreases for apprenticeship programs that serve those over age 24.
The Apprenticeship Grant for Employers, or AGE, provides £1,500 for employers who have the hardest time affording the startup costs of sponsoring an apprentice. The grant serves medium and small employers—those with less than 1,000 workers—that employ workers under age 25 and that have not had an apprentice for at least a year. An employer can receive up to 10 AGE grants and is paid once its apprentice finishes 13 weeks of work.
The government has also established a lower apprentice minimum wage to incentivize hiring. Apprentices ages 16 to 18 or any apprentice in their first year can be paid a minimum wage of at least £2.68 per hour, significantly lower than the national minimum wage of £5.03 per hour for workers ages 18 to 20 and £6.31 per hour for workers ages 21 and older.
Results
As a result of these efforts, England has been able to significantly expand its number of new apprentices, as well as the number of businesses that offer apprenticeships. In doing so, the country has also grown the occupational and gender diversity of its apprenticeships. Moreover, researchers have found that apprenticeships offer significant economic benefits to workers, employers, and the country as a whole.
Since the Great Recession, the number of apprentices in England has risen sharply. There are nearly twice as many apprentices today as there were in 2009. In the early 1990s, 65,000 new workers started an apprenticeship program each year. By 2009, this number had grown to 279,000, and it reached 510,000 just three years later. And in FY 2012–2013, there were 228,700 workplaces employing apprentices, an increase of 82 percent since 2009–2010.

Greater occupational diversity
England has sought to establish apprenticeships in new high-growth, high-demand occupations, including—but not limited to—information technology, finance, legal services, and digital media. Barring a few exceptions, the recent growth in apprenticeships has occurred across all sectors of the U.K. economy. Apprenticeships in the business administration, retail, and health care sectors have seen the most growth, making up around three-quarters of apprenticeship starts in the 2012 academic year. The engineering sector made up 13 percent of all new starts. In 2012, the top five sector frameworks for apprenticeship starts in England were health and social services, including such careers as health care assistants and social services officers; customer service, including customer support officers; management, including floor managers and helpdesk managers; business administration, including legal secretaries and office supervisors; and hospitality and catering, including receptionists and hotel managers.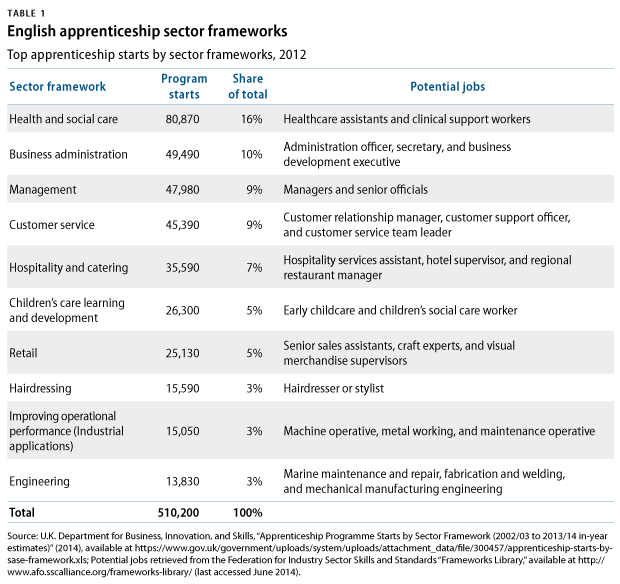 Greater gender diversity
Over the past decade, the growth of apprenticeships overall has been relatively balanced. In fact, since 2010, women have started more apprenticeships than men, making up more than 55 percent of apprenticeship starts in the 2012 academic year alone.
Economic benefits
Apprenticeships have been shown to offer significant benefits to workers, employers, and the economy as a whole. The benefits for apprentices include higher wages and more hours, and studies show that, on average, they make a weekly wage 10 percent higher than their peers. Apprenticeship completers are 4 percent to 6 percent more likely to be employed than workers who have not completed an apprenticeship.
For businesses, apprenticeships have been shown to supply a skilled and consistent labor force, reduce recruiting costs, and boost employee retention. According to a 2012 IFF Research survey, nearly three-quarters—72 percent—of employers said that apprenticeships increase productivity.
Apprenticeships also make an important contribution to the overall U.K. economy. An apprenticeship is estimated to raise an employer's economic output by £214 per week. According to the Centre for Economics and Business Research, assuming that an estimated 3.8 million people in England will participate in an apprenticeship program, apprenticeships are set to contribute an additional £3.4 billion to the gross domestic product of the whole United Kingdom over the next decade.
Moreover, apprenticeships have been shown to be a smart public investment. The Department for Business, Innovation and Skills and the National Audit Office of the United Kingdom determined that for every pound spent by the government, the United Kingdom gets a return of between £18 and £28. This gain holds true for apprenticeships of both Level 3 and Level 2 skill levels.
Challenges
To be sure, England's apprenticeship expansion has not been without challenges. Specifically, the apprenticeship system has faced criticism for the low quality of its programs, its lack of racial and ethnic diversity, gender segregation, and its failure to benefit younger workers.
Critics have questioned the quality of apprenticeship training and the extent to which apprentices engage in learning that they would not have completed otherwise. England currently offers more than 200 different frameworks that encompass at least 13 different sectors, but some training requirements are more demanding than others. A 2012 audit found that close to one-fifth of programs lasted less than six months. It also found that the share of advanced apprenticeships in England is lower than that offered by other European countries. In 2010, only 33 percent of England's apprenticeships were considered advanced. In comparison, 60 percent of France's apprenticeships were either advanced or higher, and almost all of the apprenticeships in Austria, Germany, Switzerland, and Ireland were advanced.Additionally, surveys show that as recently as 2011, apprentices believed they received less on-the-job and off-the-job training than apprentices reported receiving in 2007.
Another challenge is the representation of people of color and women in apprenticeships. Despite improvement in recent years, England's apprenticeship system still fails to offer equal benefits to these groups. As of 2012, people of color constituted only 10 percent of new apprentices, despite being about 14 percent of the population. And people of color made up only about 9 percent of those who completed apprenticeship programs in 2012.
While the overall participation rates for women and men in apprenticeship programs are equally balanced, many sectors and occupations are segregated by gender. For example, men dominate apprenticeship programs in construction and engineering, while women dominate apprenticeships in health care. Not surprisingly, women are disproportionately employed in lower-wage occupations, and men are disproportionately employed in higher-wage occupations. This occupational gender segregation has been shown to increase the gender wage gap.
Finally, although one of the goals of England's apprenticeship expansion was to boost employment prospects for the youngest workers, much of the growth in apprenticeships has been among workers over age 25. Since 2010, workers ages 25 and older have made up more than 40 percent of those starting apprenticeship programs annually. Although the government has made a concerted effort to target a younger cohort through a comprehensive media campaign and the Apprenticeship Grant for Employers, this disparity continues to persist.
Next steps: Aggressively improve quality
Now that England has seen a major, successful expansion of apprenticeships, lawmakers are seeking to aggressively address quality concerns. In a major speech at the BMW MINI plant in Oxford in October 2013, Prime Minister Cameron announced new reforms designed to improve the quality of British apprenticeships. He proposed, "If you want an apprenticeship, we're going to make sure you do the best apprenticeship in the world. The reforms we're announcing today will put employers in the driving seat and ensure that we deliver rigorous training that supports you and our economy for years to come."
A key element of the reforms is to engage employers to boost the quality of English apprenticeships. Through a program called "Trailblazers," leading companies in targeted sectors are joining together to develop national standards and requirements for apprenticeships in key occupations. The aim of the Trailblazer initiative is to improve current apprenticeship standards by engaging companies to establish industry-driven standards that reflect employer needs. Apprentices will have to demonstrate their competence through rigorous independent assessments designed by employers. Crucially, while the groups of employers receive support from the government through regular workshops, the initiatives are employer led.
In 2013, the first set of Trailblazers began their work to improve current apprenticeship frameworks for occupations in eight sectors. The first set of targeted sectors and occupations included aerospace, such as aerospace manufacturing fitters; automotive, such as mechatronics maintenance technicians; digital industries, such as software developers and network engineers; electrotechnical, such as installation electricians and maintenance electricians; energy and utilities, such as power network craftspeople; financial services, such as financial services administrators; food and drink manufacturing, such as food and drink maintenance engineers; and life sciences and industrial sciences, such as laboratory technicians and science manufacturing technicians. In early 2014, the government announced a second phase of Trailblazers that involves leading employers in 29 additional sectors.
In addition to the new frameworks, the government is working to improve the quality of English apprenticeships by establishing a new grading system and new English and math requirements and by setting a minimum apprenticeship length of one year. To date, it has instituted a Minimum Levels of Performance criteria, as well as a statutory requirement for the Specification of Apprenticeship Standards for England, or SASE, to ensure that all apprentices are employed and are working a minimum number of hours and months. The government also plans to reform how it funds apprenticeship programs in order to better serve employer needs while ensuring high-quality apprenticeships.
England is also focusing on widening access to higher-skilled apprenticeships to help meet growing employment demand in highly skilled industries. These occupations range from banking to sustainable resource management, and these "higher apprenticeships" will offer a nationally recognized qualification equivalent to Level 4 or higher. According to the National Apprenticeship Service, a Level 6 apprenticeship is equivalent to a bachelor's degree, and a Level 7 apprenticeship is equivalent to a master's degree. In 2011, the government started a Higher Apprenticeship Fund, and recently announced it will invest £40 million through 2014 to support an additional 20,000 higher apprenticeships.
Lessons for the United States
Although apprenticeships are uncommon in the United States compared with many other countries, it is possible to facilitate a large-scale expansion of the apprenticeship system. As England's experience has shown us, comprehensive marketing campaigns, dedicated outreach to businesses, and financial incentives serve to bring employers to the table. Furthermore, giving employers a degree of control over the system, as England has done with the Trailblazers program, ensures that apprenticeships are meeting the needs of industry.
Bringing employers to the table is key: We know from research and state experiments that once employers have the opportunity to sponsor apprentices, they overwhelmingly find them valuable and recommend them to other employers. According to one survey, 87 percent of U.S. employers recommend apprenticeships to other companies, with no reservations. As was discussed in more detail in the report, "Training for Success," by introducing new marketing, business outreach, and a relatively modest employer tax credit of $1,000 per apprentice, South Carolina has increased its number of employer apprenticeship sponsors by more than 500 percent since 2007—from 90 to 604.
As CAP proposes in that report, the United States should improve marketing by creating a national apprenticeship website with a vacancy matching service; engage the Department of Commerce to conduct business outreach; and establish financial incentives, including an employer tax credit and grants to support the development of new apprenticeship programs.
Another lesson from England is that developing industry-recognized apprenticeship standards is key to ensuring that apprenticeships are valuable and useful to employers. While U.S. employers are increasingly looking to establish uniform, competency-based credentials that certify a worker's skillset, few current apprenticeship programs incorporate industry-recognized credentials into a competency-based qualification model. In England, the move to establish employer-designed standards and qualifications ensures apprentices are developing the skills that employers need. Of course, only in the past year has the government been able to engage employers through the Trailblazers program; employers first needed to buy into the benefits of the apprenticeship model of worker training. This suggests that boosting employer participation in the U.S. apprenticeship system will be crucial to developing rigorous, industry-led national standards to ensure high-quality apprenticeships.
Conclusion
Countries across the globe have created far-reaching, high-quality apprenticeship programs that connect young people to well-paying careers. The German system of education and training is renowned, and around 70 percent of Swiss young people enter the labor market through some form of vocational apprenticeship training. We can learn a great deal from those long-established apprenticeship and vocational education systems, but we can also learn from the experience of a country that has only recently expanded its apprenticeship system.
President Barack Obama recently proposed an ambitious goal—to double the number of apprentices in the United States over the next five years. This is exactly what England has accomplished by increasing marketing, conducting business outreach, and creating financial incentives for companies to hire apprentices. To be sure, apprenticeships in England are not as high quality as those in Germany and Switzerland, nor do they reach as many young people. However, after securing a critical mass of leading employers who now recognize the value of offering apprenticeships, England has been able to engage industry to develop high-quality standards and ensure that every apprentice gains the right skills for the job.
It remains to be seen whether England's apprenticeship system will achieve the reach and quality of those in countries with long histories of apprenticeship. But England shows us that there are policies lawmakers can enact to dramatically expand apprenticeships, win industry support, and improve outcomes for workers and businesses.<
Sarah Ayres is a Policy Analyst on the Economic Policy team at the Center for American Progress. Ethan Gurwitz is a Special Assistant with the Economic Policy team at the Center.
The positions of American Progress, and our policy experts, are independent, and the findings and conclusions presented are those of American Progress alone. A full list of supporters is available here. American Progress would like to acknowledge the many generous supporters who make our work possible.
Authors Ethan Gurwitz
Policy Analyst