Anti-Choice Efforts to Divide Women
Anti-Choice Efforts to Divide Women
Politicians must not be allowed to continue to divide women into groups in order to limit reproductive rights step by step. All women are deserving of respect and the right to make the best decisions for themselves and their families.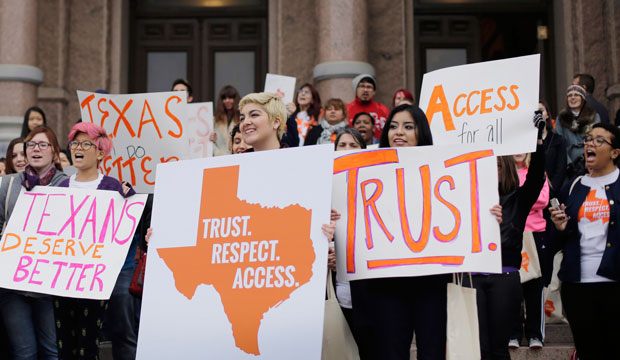 For decades, anti-choice politicians have sought to erode women's reproductive rights by structuring legislation in a way that allows some women to access comprehensive reproductive care, while blocking others from doing so. These efforts implicitly divide women into distinct groups in order to help many opponents of choice advance their ultimate goal of ending access for every woman in an incremental, more politically palatable manner.
Two cases that went before the U.S. Supreme Court this past term—Zubik v. Burwell and Whole Woman's Health v. Hellerstedt—also demonstrate the anti-choice movement's systematic efforts to divide women into groups and limit each group's rights step by step.
Zubik was yet another challenge to the Affordable Care Act's requirement that insurance plans must cover birth control. The case was a continuation of ongoing—and largely successful—efforts by anti-choice business owners to dodge their responsibility to provide this coverage for their employees. Women who work for such businesses do so knowing that their boss has the right to disapprove of their decision to use birth control and interfere in their insurance coverage as a result. Even though the Supreme Court has already gone so far as to grant some for-profit corporations license to carry out such meddling in Hobby Lobby, anti-choice litigators continue to seek further exceptions and caveats. The Court did not issue a decision on the merits of Zubik, but instead remanded it back to the states for continued proceedings.
Whole Woman's Health, however, resulted in a significant victory for women's rights. It was a successful challenge to restrictions on abortion care in Texas—restrictions, incidentally, that failed to advance women's health and that health care experts opposed. Designed to shut down safe clinics and therefore restrict access to comprehensive care, the laws acted to restrict the availability of abortion in Texas to only those women with the means to travel significant distances, take time off work, and pay for extra trips to a doctor's office. By dividing women by socioeconomic status, Texas politicians hoped to eliminate many women's right to choose. But the Court ruled the laws unconstitutional.
Although anti-choice efforts were struck down in this instance, the economic focus of Texas's anti-choice scheme should feel familiar—it is alive and well in the health insurance arena as well. Since the 1970s, the Hyde Amendment has prohibited insurance coverage of abortion care in almost all circumstances for women who receive insurance through Medicaid. Many women with the means to purchase private insurance have access to plans that include abortion care coverage, but women with limited incomes are forced to pay out of pocket—a double penalty for both choosing an abortion and being poor.
Of course, the direct harm of the longstanding acceptance of this division of women has not been isolated to those who receive insurance from the government. Instead, anti-choice politicians have taken the principles of the Hyde Amendment and infiltrated the private market with similar restrictions. Currently, 10 states have laws that prohibit abortion care coverage in most circumstances under all private plans, while 25 states restrict coverage in plans offered through private insurance exchanges.
All women, not just those who make decisions for a certain reason or who belong among the wealthy few, deserve access to comprehensive reproductive health care. Efforts to divide women must be called out and rejected. Women's reproductive rights will cease to be a reality if politicians are allowed to keep dividing women into groups and prohibiting some from exercising their right to choose.
Maggie Jo Buchanan is the Associate Director of the Women's Health and Rights Program at the Center for American Progress.
The positions of American Progress, and our policy experts, are independent, and the findings and conclusions presented are those of American Progress alone. A full list of supporters is available here. American Progress would like to acknowledge the many generous supporters who make our work possible.
Authors Senior Director and Senior Legal Fellow, Women's Initiative