A Question of Priorities
Bush Administration Favors Scofflaw Employers Over Latino Workers
The Bush Labor Department focuses on immigration enforcement while ignoring protections for Latino workers.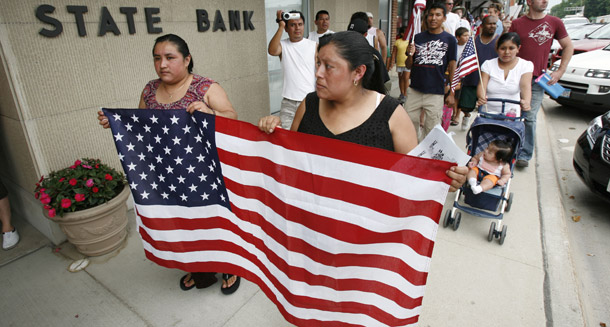 The American workplace is a treacherous area for Latinos: They are far more likely than white workers to be killed on the job and are too frequently abused by lawbreaking employers who pay wages far below the federally required minimum. Laws exist to shield all workers from these workplace hazards. However, President George W. Bush's Department of Labor has failed to effectively police low-road employers and increasingly workers do not receive the protection they need and deserve. Latinos often bear the brunt of these failures.
The recent Agriprocessors, Inc. meatpacking scandal highlights the contradiction between the administration's aggressive pursuit of undocumented immigrant workers and its indifference when it comes to enforcing workplace protections. Federal agents targeted Agriprocessors' undocumented workers, but they ignored the unsafe and abusive conditions at its Postville, Iowa plant. While the federal raids ended in 300 undocumented workers being sentenced to five months in jail, it was left up to Iowa's attorney general to pursue the company's significant child labor, workplace safety, and wage theft violations.
The findings of Iowa's attorney general are shocking: Agriprocessors faces criminal charges for over 9,000 child labor law violations and over $100,000 in fines for safety violations. (In March, Iowa's Labor Department cited Agriprocessors with another $182,000 wage theft fine that it later reduced to just under $43,000).
Federal laws are supposed to shield workers from these unsafe working conditions and employer wage theft. Minimum wage, overtime, and workplace safety standards create a guaranteed floor for American jobs, regardless of a worker's immigration status. In order to be effective, these laws require the Department of Labor to police American workplaces and penalize scofflaw employers.
However, Bush's Department of Labor has shirked its role as top labor cop. Irresponsible employers know that they will be rarely penalized for workplace abuses, and when they are, penalties will likely be so low they will not hurt the firm's bottom line. In 2007, the median—meaning half are more and half are less—Occupational Health and Safety Administration penalty for fatality cases was $3,675. Moreover, in recent years, wage theft investigators assessed fines on only 6 percent of known lawbreakers.
The risk of employer abuse is especially high for Latino workers. Every year nearly 6,000 American workers are killed on the job, but Latino workers face the highest risk of fatal workplace injuries. In 2006, when the death toll of Latino workers on the job reached an all-time high of 990, the fatality rate was 25 percent higher among Latino workers than white workers. Since 1992, when data on Latino on the job death rates was first collected, the number of fatalities among Latino workers rose 86 percent. Meanwhile, the overall number of workplace fatalities decreased by nearly 8 percent.
As the largest portion (50 percent) of the foreign-born workforce, Latino workers are frequent victims of employer wage theft, and often work in industries where wage theft is rampant. All totaled, victims of wage theft are bilked out of an estimated $19 billion in wages every year.
Moreover, when wage theft occurs, immigrant workers are less likely to report the complaint to labor officials, often out of fear of losing a family-supporting job, employer retaliation, or simply ignorance that workplace protection laws exist. Undocumented immigrants, who make up 27 percent of the nation's drywall workers, 22 percent of the nation's maids and housekeepers, 22 percent of the nation's meat and poultry workers, and an estimated 70 percent of the nation's farm workers, are highly unlikely to report these abuses out of fear that their employer will retaliate by reporting them to immigration officials.
Under Bush's watch, little has been done to reach out to Latino populations. Raids like the one on Agriprocessors confirm Latino workers' fears that the federal government cares more about immigration enforcement than workplace safety. The administration has cut training and outreach programs targeted at immigrant workers, and recent reports have found that calls to bilingual wage theft hotlines that provide valuable counseling and information often go unanswered. Furthermore, when immigrants do come forward to report workplace abuse, Department of Labor investigators are frequently ill-equipped to receive their complaints. Farm workers, for example, are often prime victims of labor violations, and a large number frequently don't speak English; yet only 14 percent of workplace safety investigators speak Spanish.
During Hispanic Heritage Month, let's focus on what this administration and the Labor Department can and should do to fight for better conditions for all the workers who are building our economy today. We need to do a better job of enforcing the workplace laws by aggressively targeting and penalizing scofflaw employers and reaching out to all workers—regardless of ethnicity or immigrant status.
Learn more from the Center for American Progress Action Fund's American Worker Project.
The positions of American Progress, and our policy experts, are independent, and the findings and conclusions presented are those of American Progress alone. A full list of supporters is available here. American Progress would like to acknowledge the many generous supporters who make our work possible.
Authors
Senior Director, Employment Policy