7 of the Top Immigration Lies From the Trump Administration
7 of the Top Immigration Lies From the Trump Administration
From its first day in office, the Trump administration has consistently peddled an anti-immigrant narrative built on lies and misinformation.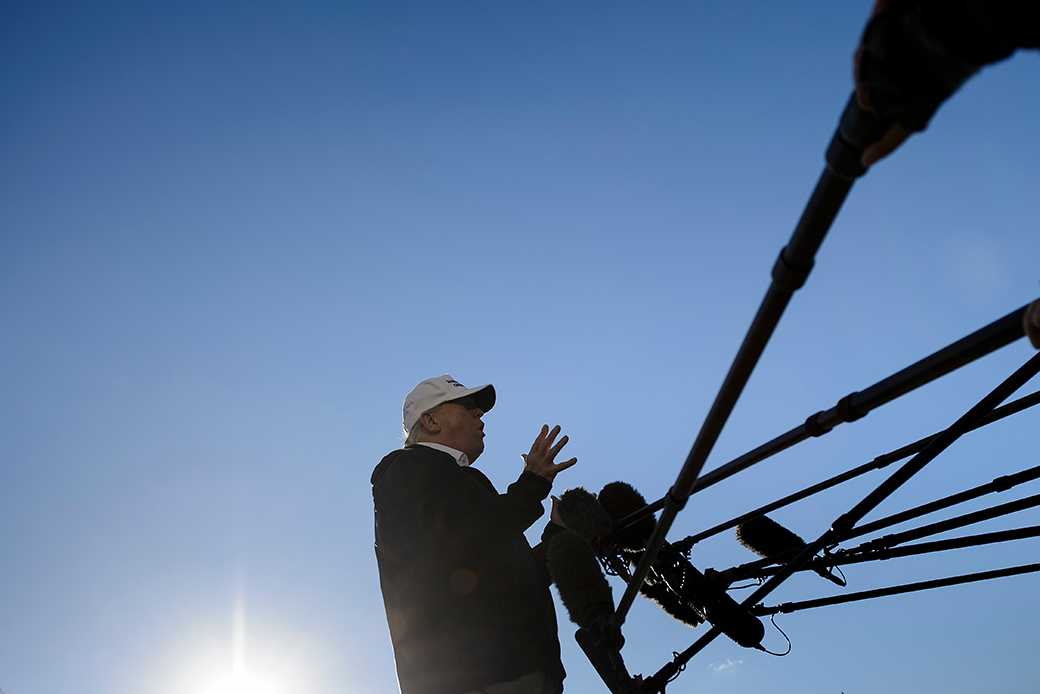 This column contains corrections.
This evening, President Donald Trump will deliver his annual State of the Union address to a joint session of Congress. In last year's address, Trump spent more time talking about immigration than any other issue, and he used the speech to attack immigrants by spreading lies and instilling fear in the American people. Given the horrific events of the past two months—including the longest-ever partial government shutdown over an unnecessary and unpopular border wall, the deaths of two children in Border Patrol custody, the tear-gassing of asylum seekers at the border, and more—he will undoubtedly come back to the same themes in this year's State of the Union address.
Here are 7 of the top immigration lies that President Trump and his administration have spread since taking office:
"[T]here is a growing humanitarian and security crisis at our southern border." – Donald Trump
Data from U.S. Customs and Border Protection (CBP) show that apprehensions at the southern border have declined more than 75 percent since 2000. The individuals still arriving at the border are largely asylum seekers fleeing violence in Central America—most of whom are children and families. So while President Trump is correct that there is a humanitarian situation at the border, it is not a security crisis. As such, the situation requires not the heavy-handed response the administration has proposed but instead a humanitarian response that takes into account the need to protect children and families arriving at the border, allows individuals to exercise their legal right to apply for asylum, and lives up to the values of freedom and refuge upon which America was founded.
"Our southern border is a pipeline for vast quantities of illegal drugs including meth, heroin, cocaine, and fentanyl." – Donald Trump
The president insists that a border wall is needed to stop the entry of dangerous drugs along the southern border. However, the Justice Department's Drug Enforcement Administration has concluded that most drug trafficking occurs through ports of entry into the United States, not in between them. CBP drug seizure data confirm this finding. Additionally, the purest form of fentanyl, an extremely strong opioid, is often transported into the United States through the mail. A wall would do little to stop this. In an effort to halt the trafficking of these dangerous drugs into the country, the Democratic House members appointed to the conference committee currently considering the fiscal year 2019 Homeland Security appropriations bill have proposed far more effective solutions: investing in new screening equipment "at the land ports of entry" and purchasing "new equipment at mail processing facilities."
"We love the Dreamers. We think the Dreamers are terrific." – Donald Trump
The Trump administration terminated the Deferred Action for Childhood Arrivals (DACA) program in September 2017, throwing the lives of hundreds of thousands of recipients into chaos. Since then, President Trump has walked away from multiple compromises and has repeatedly used Dreamers as bargaining chips to try to put forth his anti-immigrant legislative agenda, which includes cutting legal immigration, gutting family reunification, criminalizing undocumented immigrants, and eliminating protections for asylum seekers and children fleeing persecution and torture—all while stopping short of actually delivering real protections for Dreamers.
"The memo reads like one person who strongly supports extending TPS for Sudan wrote everything up to the recommendations section, and then someone who opposes extensions snuck up behind the first guy, clubbed him over the head, pushed his senseless body out of the way, and finished the memo. Am I missing something?"* – Lee Francis Cissna, Director of U.S. Citizenship and Immigration Services
The Trump administration terminated the Temporary Protected Status (TPS) designations for Honduras, El Salvador, Haiti, Nicaragua, Nepal, and Sudan—among other countries. This affects more than 300,000 TPS holders, many of whom have made the United States their home for decades. Government documents released in a lawsuit challenging several TPS termination decisions show that political appointees ignored the recommendations of career staff and stretched the truth to make the case for the termination of TPS. They also disregarded former Secretary of State Rex Tillerson's concerns that ending TPS for Honduras and El Salvador would worsen conditions in the region.
"They're bringing drugs. They're bringing crime." – Donald Trump
In 2015, Donald Trump started his presidential bid by insulting Mexican immigrants and describing them as criminals.** Since then, the president has consistently equated immigrants to criminals, regardless of the facts. Research collected by the Cato Institute shows that immigrants do not increase local crime rates and are less likely to be convicted of crime than native-born Americans. When comparing native-born Americans to undocumented immigrants, the Cato Institute found that undocumented immigrants across the nation have lower rates of incarceration and "are less likely to be incarcerated" overall.
"They never show up for the trial. So by the time their trial comes, they're gone. Nobody knows where they are." – Donald Trump
President Trump and Secretary of Homeland Security Kirstjen Nielsen have both stated that immigrants going through removal proceedings—particularly those applying for asylum—simply do not appear at their court dates, instead choosing to remain in the United States unlawfully. However, the Department of Justice's own statistics show that nearly three-quarters of all immigrants appear at their hearings, including nearly 90 percent of those seeking asylum. As various organizations have pointed out, in many of the remaining cases, it's the government that withholds important information that leads to unjust deportations. Just last year, the U.S. Supreme Court ruled that notices to appear in immigration court filed by the U.S. Department of Homeland Security (DHS) must provide a specific date and time for an immigrant to appear. Previously, DHS was filing notices without that information, which set people up for failure in an already backlogged court system. In response to the ruling, DHS began filing thousands of notices with arbitrary dates and times that it likely didn't intend to keep because DHS officials didn't show up for court on the dates specified. There are also times when immigrants do not show up because they have moved and are unaware that they must change their address with the immigration court—therefore failing to receive the court notice to appear. What the administration consistently fails to realize is that the single best way to ensure appearance is to ensure that immigrants are represented by legal counsel. Data analyzed by the American Immigration Council found that immigrants who had counsel were far more likely to attend their immigration court hearings and avoid removal orders caused by missing court dates.
And counsel is not just critical to appearance rates: A national study in the University of Pennsylvania Law Review on access to counsel in immigration proceedings found that immigrants with counsel were 15 times more likely to apply for relief, and five times more likely to receive it, compared with those without counsel. Analysis by the American Immigration Council found that detained immigrants with counsel were 10-and-a-half times more likely to succeed compared with detained immigrants who did not have counsel.
"I will have Mexico pay for that wall." – Donald Trump
Perhaps the biggest lie the president has told is that Mexico will pay for the wall along the southern border, the same wall that nearly 60 percent of Americans oppose. If Mexico is paying, then why did the president shut down the government over more than $5 billion for a down payment on the wall? The truth is that American taxpayers would be the ones to fund the wall, not Mexico, as has been fact-checked multiple times.
And it's not just taxpayers who will suffer. Landowners on the border will lose their property to eminent domain if the Trump administration builds the wall.
Conclusion
As the president gives his State of the Union address this evening, it is imperative that the American people recognize fact from fiction. The president has used lies to attack immigrants since the beginning of his presidential campaign and has continued to use this reprehensible tactic while in office. As the American people listen to President Trump's speech, they should remember that contrary to what the president peddles as the truth, poll after poll shows that the American public supports immigrants and immigration reform and rejects the Trump administration's lies and nativist agenda.
Laura Muñoz Lopez is a special assistant for Immigration Policy at the Center for American Progress.
* Correction, February 5, 2019: The fourth quote has been corrected to include its reference to extending TPS for Sudan.
** Correction, February 5, 2019: This column has been corrected to state that Donald Trump began his presidential campaign in 2015.
The positions of American Progress, and our policy experts, are independent, and the findings and conclusions presented are those of American Progress alone. A full list of supporters is available here. American Progress would like to acknowledge the many generous supporters who make our work possible.
Authors Laura Muñoz Lopez
Policy and Advocacy Assistant