5 Ways to Increase Voter Turnout in Latinx American Communities
5 Ways to Increase Voter Turnout in Latinx American Communities
Discriminatory voting laws and lack of voter engagement prevent Latinx Americans from leveraging their full political power at the polls.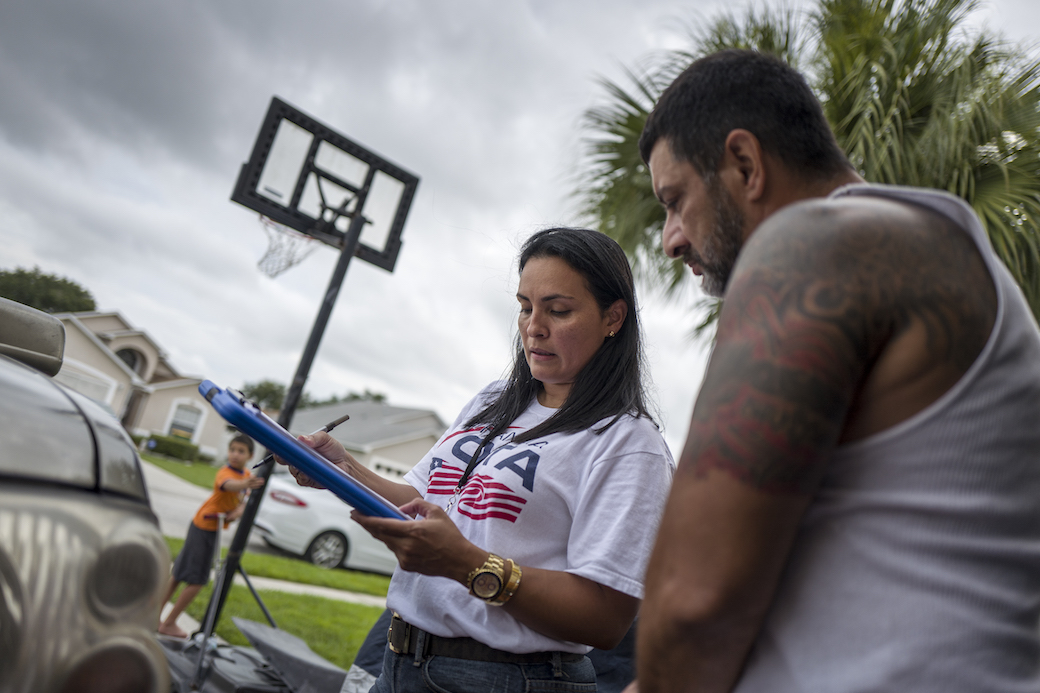 See also: "5 Ways to Increase Voter Turnout in American Indian and Alaska Native Communities" and "5 Ways to Increase Asian American Voter Turnout"
By 2060, Latinx Americans will account for more than one-fourth of the U.S. population. As one of the fastest-growing and youngest demographic groups in the United States, Latinx Americans possess tremendous potential to influence public policy. Yet voter suppression tactics, systematic barriers to registration and voting processes, and neglect from partisan and nonpartisan organizations have undercut Latinx political participation and depressed voter turnout.
For three decades, these forces have preserved a nearly 20 percentage-point gap in voter turnout between Hispanic and white Americans. Less than half of all eligible Latinos voted in the 2016 presidential election, compared with 65 percent of eligible white Americans. In 2014, just 27 percent of eligible Latinos voted—the lowest rate ever recorded for Latinos in a midterm election.
Tens of millions of Latinx American citizens are systematically excluded from their nation's electoral process. It is past time to empower this group to leverage its full political power. Here are five ways to increase voter turnout in Latinx American communities.
1. Eliminate voter purging policies
Earlier this month, conservative justices on the U.S. Supreme Court gave states the green light to engage in one of the most insidious forms of voter suppression: discriminatory voter purging. Voter purging is the process of removing individuals from voter rolls due to clerical errors, reliance on inaccurate data, or largely unsubstantiated suspicion that an individual recently voted in another state or has not voted recently. Lawmakers claim this process is necessary to protect against voter fraud, despite evidence that true occurrences are extremely rare. In actuality, this tactic is used to target Latinx Americans and other people of color. In 2012, for example, Florida Gov. Rick Scott (R) attempted to remove 180,000 individuals—a majority of them Latinx—from the state's voter rolls under the guise of preventing noncitizens from voting. Gov. Scott's list of people eligible for purging was riddled with errors and would have barred thousands of citizens from voting.
Roughly 30 other states are currently using the Interstate Voter Registration Crosscheck Program, one of the most dangerous tools enabling voter purges. This discriminatory and unreliable system generates lists of potential double voters using first and last names. As a result, it unfairly targets people of color with common last names—including Latinx Americans with last names such as Garcia and Hernandez. In fact, 1 in 6 Hispanics living in Crosscheck states has been found on lists of potential duplicate voters.
With a stamp of approval from conservative justices on the U.S. Supreme Court, anti-voting advocates across the country are expected to ramp up efforts to pass discriminatory voter purge laws in their states. To protect the right to vote for Latinx Americans and other people of color, lawmakers must aggressively combat these efforts as well as dismantle existing voter purge policies.
2. Prohibit strict voter ID requirements
Another common voter suppression tactic is strict voter ID requirements. Like voter purges, this tactic is employed under the guise of protecting against voter fraud. In actuality, these unfair laws are designed to target low-income people, elderly people, and people of color.
In Texas, for instance, lawmakers engaged in a "pattern of conduct unexplainable on grounds other than (the) race factor" as they sought to enact one of the strictest voter ID laws in the country. In 2016, the 5th U.S. Circuit Court of Appeals struck down the state's first proposal due to its "discriminatory effect" on Latinx Americans and African Americans. Experts found that eligible Latinos are "242 percent more likely to lack an accepted voter ID than are non-Hispanic whites." Instead of abandoning these efforts to suppress voter turnout, however, Texas lawmakers doubled down and passed a second iteration. Current law forces voters to present one of the state's limited forms of photo ID or an alternative form of ID as well as sign a declaration of their identity and reason for not possessing one of the limited forms of photo ID under threat of perjury.
Other states—including North Carolina, Wisconsin, and Kansas—have attempted to enact similar measures, at times targeting people of color with "almost surgical precision." This pattern undermines democratic participation and has created a situation in which more than 1 in 10 Latino voters "reported encountering problems with identification needed to register or vote" during the 2016 election cycle. This is not accidental. A recent study found that elected officials who advocate for strict voter ID laws are less likely to respond to the concerns of Latino constituents. Rather than perpetuating the myth of voter fraud to justify voter suppression, lawmakers should be making it easier for citizens to vote.
3. Reform voter registration procedures
Voter registration is a significant barrier to political participation for Latinx Americans. In fact, just 57 percent of eligible Latinx Americans are registered to vote, compared with 74 percent of white Americans. But data show that when Latinx Americans are registered to vote, as many as 83 percent turn out on election day. Therefore, state policymakers should consider reforming laws to make registration easier and more convenient.
One way to make registration more convenient is to allow young people to register early so that they are eligible and prepared to vote when they reach voting age. Known as preregistration, this policy is known to increase turnout among young voters of color by 8 percentage points. This could be particularly beneficial for Latinx Americans, who are the youngest of the nation's largest racial and ethnic groups overall.
Same-day registration and automatic voter registration (AVR) are also promising pro-voter policies.  Same-day registration allows voters to register and vote on election day, while AVR automatically registers individuals when they visit government agencies, unless they opt out of the system. More research is necessary to determine the full benefits of these policies, but early indicators suggest that they may increase voter turnout. Ultimately, increasing voter registration in Latinx American communities is an essential way to increase turnout on election day.
4. Address language barriers to voting
Language barriers prevent millions of American citizens from exercising their fundamental right to vote. This is particularly problematic in Hispanic communities. While English proficiency among Latinos has increased significantly over the past 30 years, almost 1 in 3 Latinos cannot speak English "very well."* And while Latinos make up just 18 percent of the U.S. population, they are 63 percent of the limited English-proficient population. The Voting Rights Act requires that certain jurisdictions provide language assistance at the polls, yet 1 in 6 Latino respondents to a 2016 survey reported "lack of Spanish-language assistance or materials" as a barrier to voting.
Also in 2016, the Mexican American Legal Defense and Education Fund identified dozens of Texas counties that failed to provide bilingual voting information on their websites ahead of the presidential election. And this year, a coalition of voting rights organizations have identified multiple Florida counties that have neglected their responsibility to "provide bilingual voting materials" for a growing number of Puerto Rican residents. All Americans deserve the opportunity to vote, regardless of English proficiency. Lawmakers everywhere should ensure that language assistance is available to any American citizen interested in voting.
5. Prioritize Latinx American outreach in political campaigns
Data show fewer than 1 in 3 Latinos had any election-related contact ahead of the 2016 election, compared with 46 percent of whites. Less than half of eligible Hispanics ultimately turned out to vote—the lowest rate among the country's four largest racial and ethnic groups. Voter contact is an underutilized but effective method for increasing Latinx turnout. For example, during the 2017 Virginia gubernatorial race, partisan and nonpartisan organizations devoted significant resources toward Spanish-language advertisements, polling, and canvassing in Latinx American communities. And compared with the 2013 gubernatorial race, there was a 114 percent increase in early and absentee voting among Latinos. Election day turnout also increased by 5 percentage points in "heavily Hispanic districts."
Yet even in Virginia, just 44 percent of Latino voters ultimately reported contact with a campaign or community organization ahead of the election. Political parties and other nonpartisan organizations must do more to engage with Latinx American communities. This includes listening to, learning from, and crafting targeted solutions for this population. Important groups such as Voto Latino, NALEO Education Fund, and Mi Familia Vota Education Fund have shown the way forward to increasing voter engagement in Latinx communities. Now other organizations must follow their lead.
Conclusion
For far too long, voter suppression, systemic barriers, and lack of engagement have stifled political participation in Latinx American communities. The nearly 20 percentage-point gap in voter turnout between Latinx and white Americans needs to be addressed. Policymakers must devote resources toward addressing this persistent problem because for a democracy to thrive, the voices of all citizens must be heard.
Connor Maxwell is a research associate for Progress 2050 at the Center for American Progress.
* Author's note: This number does not distinguish between citizens and noncitizens.
The positions of American Progress, and our policy experts, are independent, and the findings and conclusions presented are those of American Progress alone. A full list of supporters is available here. American Progress would like to acknowledge the many generous supporters who make our work possible.
Authors Connor Maxwell
Senior Policy Analyst