RELEASE: Analysis Finds Public Lands Are the Source of 4.5 Times More Carbon Pollution Than They Can Absorb
RELEASE: Analysis Finds Public Lands Are the Source of 4.5 Times More Carbon Pollution Than They Can Absorb
Washington, D.C. — A new analysis released today by the Center for American Progress finds that carbon pollution resulting from mining and drilling on America's forests, grasslands, and other public lands has completely canceled out those same lands' ability to absorb carbon from the air. In fact, the scales have now tipped, with public lands doing more harm than good when it comes to carbon pollution because of land management practices that favor energy production.
Using data from the U.S. Geological Survey and Stratus Consulting, the CAP analysis determined that fossil fuels extracted from public lands in the continental United States are the source of 4.5 times more carbon pollution than those same lands are able to absorb through natural processes.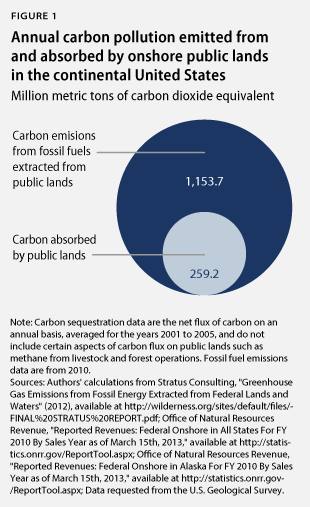 To address this growing problem, CAP recommends that the Obama administration, as part of President Obama's Climate Action Plan, implement a carbon-emissions reduction plan for public lands. The plan would include measures both to increase the ability of public lands to naturally sequester carbon and decrease carbon pollution from fossil fuels extracted from them.
"America's forests and public lands have long been seen as a carbon sink—capable of absorbing vast amounts of carbon pollution from the air—but that sink now appears to be clogged," said Matt Lee-Ashley, Senior Fellow at Center for American Progress and coauthor of the analysis. "Taxpayers deserve a carbon plan for their public lands that restores some balance between the carbon pollution coming out of the ground and the capacity of those lands to absorb it."
Read the analysis: The Clogged Carbon Sink by Jessica Goad and Matt Lee-Ashley
Related resources:
For more information, contact Anne Shoup at ashoup@americanprogress.org or 202.481.7146.
###