What the Fiscal Showdown Means for Science
What the Fiscal Showdown Means for Science
The coming austerity crisis could set us back years in science research. Here's an overview of where cuts will hurt the most.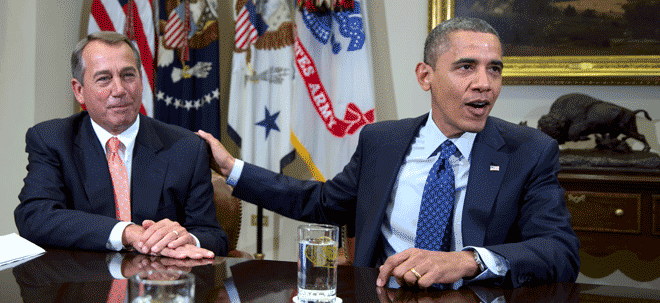 You can also read this article at Science Progress, CAP's online science and technology policy journal, here.

We've all heard by now about the fiscal cliff—the January 1 deadline for budget reform that, without action, will trigger automatic and indiscriminate spending cuts and tax increases in an effort to put a dent in the government's ever-growing deficit.
The biggest reductions, known as the sequestration cuts, would trim about $1.2 trillion in spending off the budget over the next 10 years. If the sequester goes into effect, federal domestic and defense programs will see across-the-board cuts of 8.2 percent and 9.4 percent, respectively.
Among the programs facing major budget reductions is federal research and development spending, which according to the American Association for the Advancement of Science could be cut by $57.5 billion over the next five years. That number includes the $35.6 billion cuts on defense R&D spending—nondefense research and development spending could be cut by $29.5 billion over the next five years, leaving the budgets for many agencies at the lowest they've been in a decade.
Amanda Jezek, government relations director for the Infectious Diseases Society of America, noted one of the major problems of the cuts is that agencies aren't given autonomy over where the cuts are made. "It's not as though CDC is told 'you have to cut 8% from your budget and you decide how to do it.' It's an 8% cut to each program and activity that has its own budget line," Jezek told Medscape News.
Here's what the sequestration cuts will look like, according to numbers from the Office of Management and Budget, to individual agencies:
The National Institutes of Health will have about $2.5 billion less each year to spend on research—a total reduction of $11.3 billion over five years. According to NIH estimates, these cuts would mean 2,300 fewer biomedical research grants would be awarded in fiscal year 2013, and more than 33,000 jobs would be lost. According to an editorial by representatives from the Lupus Foundation of America, these cuts would most drastically affect "lesser-known but chronic diseases" like lupus, which already struggle to receive federal research funding. In response to the OMB projection, the group United for Medical Research said a cut of 8.2 percent would "jeopardize the entire medical research ecosystem, from research labs to private industry jobs to patients' health. … adequate annual funding is critical to ensuring the next generation of biomedical research advancements and a cut of this magnitude, following a decade of flat funding for NIH, will devastate the biomedical research enterprise."
The National Science Foundation would lose about $551 million, reducing its budget to about $5.9 billion. Research!America estimated earlier projected cuts of $536 million would cause the National Science Foundation to fund 1,500 fewer science research and education grants. Four out of five proposed science research projects are rejected each day, but these cuts would bring the figure to below one in six. NSF director Subra Suresh said the cuts would result in fewer grants being awarded to scientists and would ultimately challenge the country's economic future. "The nation's well-being and global competitiveness depend, more than ever, on the steady stream of new ideas and the highly skilled science, technology, engineering and mathematical talent supported by the National Science Foundation and other federal science agencies," he said.
The Department of Energy's Office of Science—a key agency that operates and maintains expensive, unique, and critical research equipment used by academia and industry alike—would lose $400 million, jeopardizing critical infrastructure and programs. The DOE Office of Science is the largest supporter of basic physical science research in the United States and much of the most cutting-edge research in biomedical fields—such as genetics, proteomics, and cancer research—would be in jeopardy. For scale, a cut of $400 million to the Office of Science would be the equivalent of wiping out the entire climate and environmental science research programs budget.
The Centers for Disease Control and Prevention would lose $464 million in nondefense spending. That's more than the CDC spent on cancer prevention and control in 2011, and is more than all CDC funding to Louisiana, Missouri, Tennessee, and Virginia in fiscal year 2011. "This is no time to let down our guard," said CDC director Thomas Frieden. "An 8 percent to 10 percent reduction, on top of 50,000 front-line public health professionals already lost at the state and local levels, will risk costly and deadly spread of disease and failures to prevent tragic and expensive health problems."
The National Oceanic and Atmospheric Administration's research, operations, and facilities account would lose $257 million, bringing its budget to $2.9 billion. Ninety percent of all weather data generated for NOAA forecasts comes from government satellites, and over the last few years, many of these satellites have approached or surpassed their life expectancies. Cuts to these and other programs will impair NOAA's ability to provide accurate data to communities to predict and prepare for storms and other extreme weather events.
NASA's science programs would lose $417 million, bringing that budget to about $4.7 billion. These cuts would jeopardize key programs studying the climate and geology of Mars, Jupiter, Saturn, and of course, our own planet Earth. On top of that, a $309 million automatic cut to the exploration account would significantly trim budgets for the International Space Station, the Orion Capsule, the space launch system and other key engineering objectives.
The Environmental Protection Agency's science and technology account would lose $65 million, bringing its budget to about $730 million, jeopardizing critical research, testing, and verification science needed to effectively safeguard public and environmental health.
The U.S. Geological Survey would get an $88 million cut to about $1 billion.
These cuts, should they be enacted, will have rippling ramifications for research across the country, in labs and universities in every state. Major research institutions like Duke—the 13th-highest federally funded university in fiscal year 2010—are already preparing for what the sequester would mean for their programs.
"Given the size of the federal deficit, we're prepared for some cutbacks, especially in research," Chris Simmons, associate vice president for federal relations at Duke, told the Duke Chronicle. "If funding is cut, the University will have to compensate for that in some way."
Raymond Dingledine, a dean at Emory University's Medical School, said since the school gets the majority of its research funding from the National Institutes of Health, it could stand to lose $30 million to $32 million if sequestration goes into effect. "We're developing new drugs to prevent rejection of kidney transplants. We're studying the link between inflammation and major depression," Dingledine told Georgia Public Broadcasting. "There are a variety of important health-related issues that are going to be compromised when and if sequestration comes into play."
Research organizations and universities are coming together to voice their concerns over the impacts of sequestration—they're sending letters to Congress, writing editorials, and launching websites such as ScienceworksforUS.org. The site, created by the Association of American Universities, the Association of Public and Land-grant Universities, and The Science Coalition, provides data on the impact that sequestration will have on academic research across the United States. The group also created a map that outlines the projected amount each state is set to lose in research funding, and links to the major research institutions in the state that will suffer from sequestration cuts.
Scientific research is, at least on the surface, a largely bipartisan issue. Both President Barack Obama and Republican presidential candidate Mitt Romney touted their commitment to R&D during the presidential debates, with President Obama speaking about the need for basic research investment as key to keeping the United States competitive with China in energy and high-technology fields.
Other aspects of the budget, unfortunately, are not so agreed upon by Democrats and Republicans, but with the House and Senate largely unchanged after this month's election, a bipartisan solution will need to be reached if Congress is to prevent the pain posed by these harsh and indiscriminate cuts.
Katie Valentine is a graduate of the University of Georgia and an intern at the Center for American Progress.
The positions of American Progress, and our policy experts, are independent, and the findings and conclusions presented are those of American Progress alone. A full list of supporters is available here. American Progress would like to acknowledge the many generous supporters who make our work possible.
Authors Katie Valentine
Deputy Climate Editor, ThinkProgress