UK-Style Welfare Reform
The United Kingdom Shouldn't Try to Emulate Early U.S. Welfare Models
Kate Bell explains why the British government should look to its own poverty success rather than the United States' early failures for welfare reform help.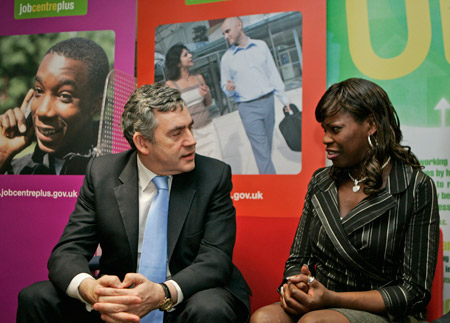 Politicians from both sides of the Atlantic are often keen to hop across the pond with a shopping list for new and innovative policy ideas. The UK's Labour Secretary of State James Purnell recently heeded Conservative calls for "U.S.-style welfare reform" and put forward a set of tough proposals in a new green paper, "No One Written Off: Reforming Welfare to Reward Responsibility."
But the proposals fail to take into account the fact that U.S. policy has moved on since welfare reform in 1996, or the UK's own considerable success in tackling child poverty. Rather than importing the U.S. system, the UK should be aiming to export that success back across the Atlantic.
Purnell's report announces plans to introduce "work for the dole" programs, tighten up benefit sanctions on jobseekers who fail to comply with job search and other requirements, remove benefits from those with drug problems who fail to seek treatment, and compel participation in training for single parents with young children.
The report seems to have missed the insights that have emerged since the early successes of U.S. welfare reform. The United States has learned that having a job doesn't mean escaping poverty, yet there is little in the green paper about poverty reduction for working families, or how to help low-wage workers retain jobs and move upward. The United States has also learned that overly punitive regimes can lead families to become totally disconnected from support; yet Purnell appears not to have taken this into account either.
Purnell seems to have decided that you can't be too tough on welfare, perhaps spurred on by a report published by the Conservatives in January proposing a not dissimilar set of proposals. Conservative leader David Cameron has enthusiastically embraced the green paper, pledging to help get legislation passed through Parliament. But by accepting the Conservative argument that welfare is broken and needs fixing, Purnell has made it much harder to talk about the fact that the UK has achieved comparable successes on employment with a more subtle approach, at the same time lifting children out of poverty.
The welfare-to-work system has undergone a fairly permanent revolution since Labour came to power. Significant problems remain in helping the very long-term unemployed transition into work, but there is evidence of considerable success within the UK system. For example, the dramatic rise in the single-parent employment rate in the United States—13 percent in 16 years—is usually cited as evidence that the UK should take an American route. But using a voluntary approach, the UK itself achieved a comparable 12 percentage point rise in just 11 years.
There are some grounds for progressive optimism within the green paper. Purnell has sought to distance himself from the Conservatives by highlighting the government's impressive goal to halve child poverty by 2010 and abolish it entirely by 2020. Since 1997, 600,000 children have been lifted out of poverty, and the green paper announces plans to help another 200,000 by allowing parents to keep all of the child support payments they receive, rather than having these offset against other entitlements.
The child poverty target has clearly galvanized action; signs that progress is slipping have led to a 1 billion pound additional investment provided in the extremely tight budget this year. By setting a target, Labour has been forced to talk about success rather than failure, and to make sure that success happens. Perhaps that's an idea for the shopping list for policy makers from the American side.
Kate Bell is a Visiting Fellow at the Center for American Progress. She is the Head of Policy and Research for One Parent Families, a London-based non-profit organization that works toward "a fairer society for all families, in which lone parents and their children are not disadvantaged and do not suffer from poverty, isolation, or social exclusion."
The positions of American Progress, and our policy experts, are independent, and the findings and conclusions presented are those of American Progress alone. A full list of supporters is available here. American Progress would like to acknowledge the many generous supporters who make our work possible.