Two Years of Health Care Reform: Millions Benefited, Millions Saved
Two Years of Health Care Reform: Millions Benefited, Millions Saved
The Affordable Care Act Is Getting Results, With Much More to Come
Emily Oshima details the many successes of the Affordable Care Act to date.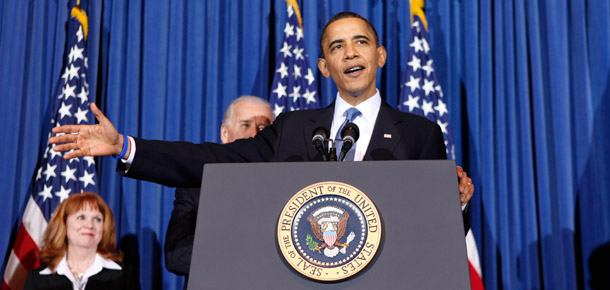 Just two years after President Barack Obama signed the Patient Protection and Affordable Care Act into law on March 23, 2010, millions of Americans have already benefited from its sweeping reforms. While the new law's provisions will not be fully implemented until 2014, it is making a difference by drastically improving access to higher-quality care, addressing rising health care costs, and protecting consumers.
We document its progress to date below.
Improving access to care
Millions of Americans can now get the health insurance coverage they need thanks to the Affordable Care Act.
The act's provision allowing young adults to remain on their parents' insurance until age 26 has been particularly important to American families as the economy struggles to get back on its feet. Because of the law 2.5 million additional young adults including 1.3 million minorities—many of them new college graduates—had access to coverage even if they were unable to find a job right away. Notably, this demographic's coverage gains are wholly attributable to increases in private coverage with no change to Medicaid coverage. Now, 73 percent of young adults have insurance coverage as a result of the dependent provision, and their families benefit from this economic security, too.
Meanwhile, many Americans with a pre-existing medical condition—including asthma, heart disease, previous injuries, and cancer—would not have access to necessary, affordable care without health reform. The health law prohibits insurance companies from charging higher premiums, limiting benefits, or denying coverage to those who need it starting in 2014. But to ensure those with pre-existing conditions can access the care they need immediately, the Affordable Care Act created the Pre-existing Condition Insurance Plan, which includes coverage for primary and specialty care, hospital services, and prescription drugs. To date, more than 50,000 Americans have enrolled in PCIP, a nearly 400 percent increase in enrollment since November 2010.
Additionally, the act created more than 350 new community health centers in 2011 alone to provide critical health care services to the 50 million Americans living in medically underserved areas. Importantly, the community health center provision of the law also creates nearly 19,000 new jobs, including positions staffing the new facilities. The Affordable Care Act provides a total of $11 billion to support and expand community health centers nationwide.
The law is increasing Americans' access to care in other important ways, too. It includes more than $200 million in funding to support and expand school-based health centers, which provide primary care, dental care, behavioral health services, and substance abuse counseling to youth nationwide. In 2011 the Department of Health and Human Services awarded $95 million to these centers across the country to improve children's health through important screenings and disease prevention activities. An additional $14.5 million in funding is slated for 2012.
Lowering health care costs
The Affordable Care Act is also improving the quality of our health care while controlling rapidly rising costs.
Health care reform requires insurance plans to cover important preventive services, including critical immunizations, numerous health screenings, and counseling services, with no cost-sharing by women. In 2011 alone more than 85 million people—32.5 million Medicare beneficiaries and 54 million Americans with private insurance—including seniors, women, and persons with disabilities, accessed these critical preventive services for free. Millions of women will take advantage of more comprehensive preventive care beginning in August 2012, including free mammograms, well-woman visits, contraception, and breast-feeding support and counseling.
Seniors and persons with disabilities enrolled in Medicare saw significant savings thanks to the law. The Affordable Care Act works to close the Medicare Part D prescription drug coverage gap, also known as the "donut hole." In 2011 alone, nearly 4 million seniors saved more than $2.1 billion on prescription drugs—an average of $604 per person—and will save even more in the years ahead. The average Medicare patient will save $4,200 from 2011 to 2021 while those with higher prescription drug costs will save as much as $16,000 over the same period.
Further, the Affordable Care Act will strengthen Medicare benefits while controlling its costs in other key ways. Medicare Advantage (Part C) enrollees benefited from 16 percent lower monthly premiums since 2010. Enrollment in the Medicare Advantage program also increased 17 percent since 2010 with more beneficiaries in higher quality four- and five-star plans, reflecting the act's commitment to giving seniors choices for quality, affordable care. In February 2012 enrollment in Medicare Advantage was more than 2 million people higher than the Congressional Budget Office previously projected in 2010.
Thirty-two leading health care organizations across the country are also participating in an initiative to provide better, more coordinated care to Medicare patients with potential savings of $1.1 billion. The Pioneer Accountable Care Organizations initiative rewards care providers for improving Medicare patients' health and lowering costs through improved care coordination. The payment models the participating organizations are piloting will allow providers to move away from a volume-based, fee-for-service payment system to one based on the quality of care provided.
The Affordable Care Act's Partnership for Patients: Better Care, Lower Costs public-private initiative brings together leaders of major hospitals, employers, physicians, nurses, and patient advocates along with state and federal governments in a shared effort to make hospital care safer, more reliable, and less costly. The initiative aims to reduce preventable hospital-acquired conditions and preventable readmissions by 40 and 20 percent, respectively, by 2013.
And in 2011, the Department of Health and Human Services and the Department of Justice cracked down on fraud and abuse in Medicare, saving billions for taxpayers. The departments' joint efforts halted $4.1 billion in fraudulent claims, which is the largest sum ever recovered in a single year from individuals and companies attempting to defraud seniors and taxpayers.
Strengthening the health care workforce and infrastructure
The Affordable Care Act includes $10 billion in government funding to support efforts to expand and strengthen the primary care workforce and to improve public health through the Prevention and Public Health Fund. The fund, designed to help create the necessary infrastructure to prevent and detect disease and manage chronic conditions, creates additional primary care residency slots and increases the number of nurse practitioners trained, among other things. Since the act was passed in 2010, the Department of Health and Human Services awarded $1.25 billion across the country to promote wellness, prevent disease, and protect against public health emergencies. Additionally, the capacity of the National Health Services Corp, a program of the Department of Health and Human Services that supports health care providers serving medically underserved communities, tripled in the last three years due to combined earlier investments made through the Affordable Care Act, the American Recovery and Reinvestment Act, and annual appropriations.
Protecting consumers nationwide
Importantly, the health reform law contains far-reaching consumer rights and protections. For instance, it already eliminated lifetime coverage limits for 105 million Americans, ensuring those who need coverage the most cannot max out their health insurance. Without the Affordable Care Act the Department of Health and Human Services estimated that nearly 40 million women and 28 million children would be in plans with lifetime limits.
Thanks to the law, insurers will also be required to provide consumers with easy-to-understand information about their health plans and costs by September 2012. Insurers will make available two key documents to help consumers evaluate their health care choices: a short summary of benefits and coverage, and a standardized glossary of terms commonly used in health insurance such as "deductible" and "co-payment."
And consumers now enjoy greater protection from unreasonable private insurance premium hikes through strengthened rate-review laws that bring greater transparency and accountability to private insurance rate increases. Forty-two states, the District of Columbia, and five U.S. territories improved their rate-review processes under the Affordable Care Act. Several states, such as Connecticut and Oregon, saved consumers money by rejecting a 20 percent rate increase and halving the rate increase by a large insurer, respectively.
Additionally, the Affordable Care Act prohibits insurance companies from spending more than 20 percent of premium dollars on nonmedical expenses such as administrative costs and marketing. If insurers violate the 80/20 standard—also called the Medical Loss Ratio—they must return the money to patients through rebate checks. In 2012, patients will receive up to $323 million in rebates from insurance companies that spent less than 80 percent of consumers' premium dollars on health care in 2011.
Conclusion
The results are clear: Health care reform works, and we must protect our care from those who want to eliminate protections for those with pre-existing conditions, seniors, women, children, and young adults. If at two years the Affordable Care Act is already helping millions of Americans access quality, affordable health care, we have a lot more to look forward to.
Emily Oshima is a Research Associate and Policy Analyst for Health Policy at the Center for American Progress.
See also:
The positions of American Progress, and our policy experts, are independent, and the findings and conclusions presented are those of American Progress alone. A full list of supporters is available here. American Progress would like to acknowledge the many generous supporters who make our work possible.
Authors Emily Oshima Lee
Senior Policy Analyst