Trump's Shutdown Threatened the American Dream, Especially for People of Color
Trump's Shutdown Threatened the American Dream, Especially for People of Color
More than 228,000 people of color were furloughed or forced to work without pay because of the president's decision to shut down the government in an effort to gain funding for a border wall.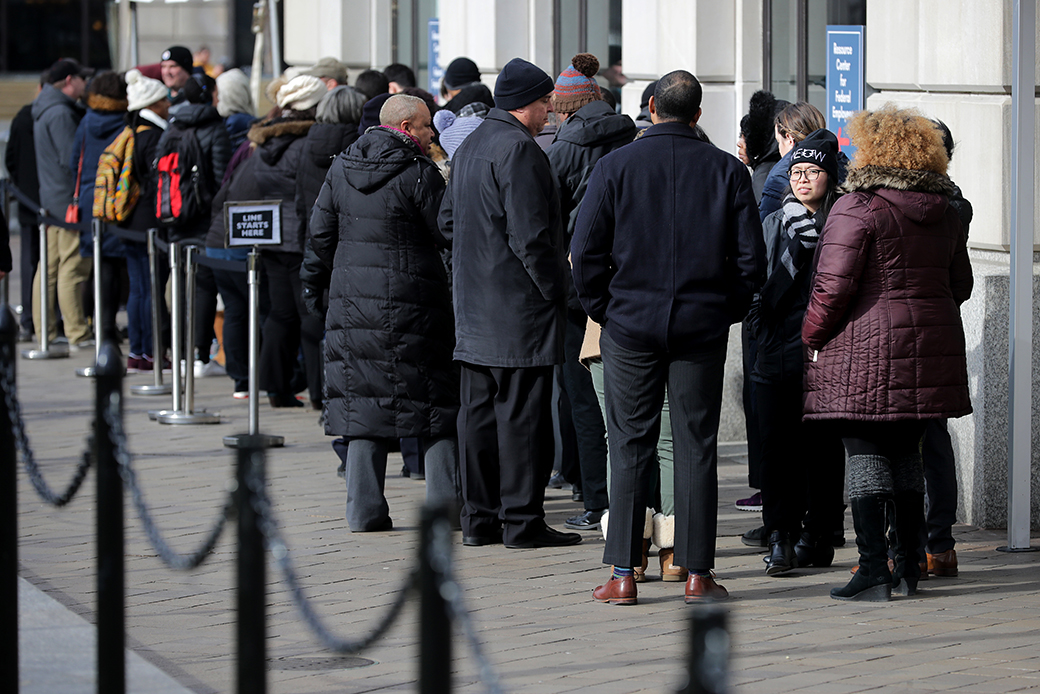 Federal employment has long provided a pathway to the middle class for families of color, especially African American families. The 1960s saw a resurgence of federal employment for people of color. The reversal of former President Woodrow Wilson's segregationist policies, the equal employment initiatives of the Johnson administration, and other important victories of the civil rights movement made holding a job with the federal government an opportunity to move into the middle class.
These jobs provided people of color with an opportunity to serve the country while receiving competitive pay and some measure of protection against racial discrimination. Today, people of color are almost 37 percent of federal executive branch employees. While they remain underrepresented in senior positions in the federal government, these jobs have helped countless families build wealth and gain access to the American dream.
Shutdown jeopardized the financial security of more than 228,000 federal employees of color
President Donald Trump and Republican Senate leadership held hundreds of thousands of federal employees hostage to force taxpayers to pay for a southern border wall that Americans do not want. The shutdown, which was the longest in U.S. history and ended on January 25, 2019—cost the economy tens of billions of dollars and jeopardized the financial security of those who work in the service of this country. According to new Center for American Progress analysis, more than 228,000 federal employees of color were furloughed or working without pay during the shutdown, including approximately 2,000 Native Hawaiian or Pacific Islanders; 9,000 American Indians or Alaska Natives; 9,500 people of more than one race; 29,500 Asian Americans, 77,700 Hispanic/Latino Americans; and more than 101,000 Black/African Americans.*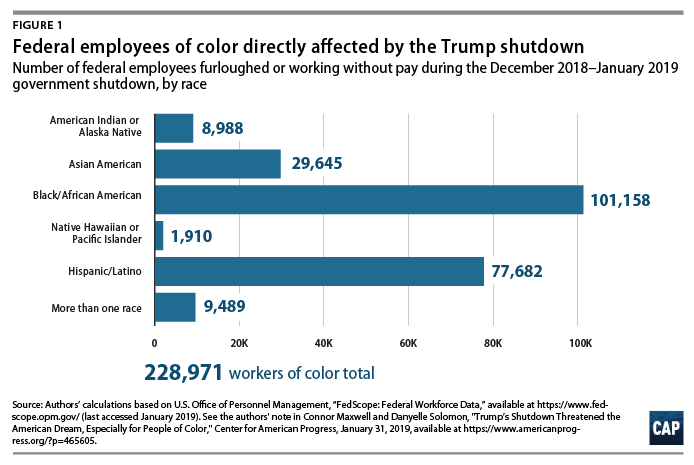 The United States is facing a stark racial wealth gap, stagnant wages, and mounting inequality, while the billionaire president and his wealthy allies tell hardworking Americans to "sacrifice." The administration used one of the few employers providing people of color with a livable wage, quality benefits, and savings vehicles as a bargaining chip. According to one recent analysis, the white-black wage gap is smallest in federal employment, and black federal employees earn $10,000 more at the median than those who work for private employers or state or local government. But the Trump administration chose to put these opportunities under threat.
During the shutdown, hundreds of thousands of federal employees were forced to either stay home or work long hours without pay. As they struggled to make ends meet, they were told that the shutdown "is so much bigger than any one person," and the president stated he "can relate." While some households rely on savings to get through emergencies, centuries of structural racism and barriers to opportunity have resulted in African American and Latinx households having little wealth to get through tough times. In fact, in 2016, the median African American and Hispanic households had a net worth of just $13,460 and $20,700, respectively, compared with $142,180 for white households. Much of Americans' wealth is also illiquid—tied up in home equity or other investments. As a result, just 36 percent and 38 percent of black and Hispanic households, respectively, have access to $400 in case of an emergency, compared with 60 percent of white households. After missing out on pay, these families had to choose between going hungry and allowing bills to pile up—or rely on costly payday loans or credit cards to make ends meet. This dangerous alternative was suggested by Commerce Secretary Wilbur Ross, who is a multimillionaire. The president has dismissed Americans' concerns, saying that "people that are on the receiving end will make adjustments" and indicating that he was willing to extend his shutdown for months or even years until taxpayers give him what he wants. Fewer than 24 hours after reopening the government, the administration threatened to shut it down again if the wall is not funded.
The president's wall would not serve a national security purpose
President Trump has wanted to build a border wall for more than two years. But experts agree that it would serve no actual national security purpose. For Trump, the wall is merely a campaign slogan—a talking point grounded in racism that was never a serious effort to ensure American border security.
White nationalism and xenophobia were hallmarks of Trump's presidential campaign—and they were effective. The campaign's success ensured that stoking white fear would remain a core component of Trump's administration. As president, he continues to smear asylum seekers and lie and misrepresent data about violent crime, terrorism, and drug and human trafficking. Now, he has taken this a step further by creating and maintaining the longest government shutdown in U.S. history. He is even reportedly considering violating his own presidential powers by declaring a national emergency to force taxpayers to pay for his wall if a deal is not reached in three weeks.
Conclusion
The shutdown is another example of the Trump administration's efforts to undermine full participation in the American economic and social systems. Time and time again, the administration has stripped rights, protections, and opportunities from people of color. Health care, the right to vote, and clean air and water—all are disposable in Trump's quest to further concentrate wealth and power in the hands of a select few. The evidence is clear: When given the choice, the administration will always put racist and xenophobic policies, greed, and societal division above the safety and prosperity of communities of color.
Connor Maxwell is a research associate for Race and Ethnicity Policy at the Center for American Progress.
The author would like to thank Danyelle Solomon and Saharra Griffin for their thoughtful input and contribution to this column.
* Author's notes on terminology and estimates: This column uses "Latino" and/or "Hispanic" when the underlying source uses such terminology.
The total number of affected employees of color is based on the U.S. Office of Personnel Management's (OPM) June 2018 FedScope status data on diversity. The Center for American Progress assumed that the racial demographics of the affected workers by agency reflected the overall racial demographics of the agencies. Therefore, totals were calculated by applying the racial and ethnic demographics of employees at agencies funded by the seven federal appropriations bills that had not been enacted due to the shutdown to the total number of affected employees from these agencies. The bills that had not been enacted at the time of this analysis include agriculture; commerce, justice, and science; financial services and general government; homeland security; interior; state, foreign operations (the State Department is excluded from this analysis due to data limitations); transportation; and housing and urban development. Due to data limitations, these estimates also exclude contractors, employees of agencies or subagencies whose funding will not lapse because they are financed by sources other than annual appropriations, and the numbers of employees that agencies have identified as exempt in shutdown contingency plans.
The positions of American Progress, and our policy experts, are independent, and the findings and conclusions presented are those of American Progress alone. A full list of supporters is available here. American Progress would like to acknowledge the many generous supporters who make our work possible.
Authors Connor Maxwell
Senior Policy Analyst