The State of the Progressive Blogosphere
The State of the Progressive Blogosphere
The Progressivism on Tap series hosted a discussion this week on the progressive blogosphere's evolution and its ability to affect politics in the future.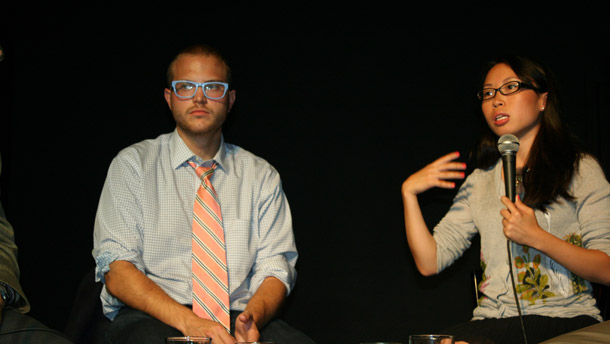 Listen to the audio from this event (mp3)
For more on this event please see its event page.
The Progressivism on Tap series discussed the progressive blogosphere this week with two prominent bloggers: Amanda Terkel, Managing Director of Think Progress, and Tim Fernholz, a blogger and journalist at The American Prospect. Terkel and Fernholz described a media form evolving rapidly from its advocacy-based roots to a fuller form of investigative journalism, opinion making, and policy-based reporting.
The progressive blogosphere of today has changed dramatically since its inception in the early years of the new millennium. Originally, progressive bloggers coalesced around their opposition to the Iraq war and the Bush administration—but now they are much more divided. Terkel said that there is "far less ideological coherence" in the progressive blogosphere today as opposed to its early days as more of an "echo chamber."
What's more, there are far more bloggers today with high viewership, though there is still a lack of racial, ethnic, and gender diversity, as both Fernholz and Terkel acknowledged.
Fernholz pointed to the rise of expert bloggers with deep knowledge of a specific policy realm, from women's rights and environmental issues to foreign policy and economics. CAP Senior Fellow Ruy Teixeira argued this has allowed expert knowledge to become much more accessible and easily applicable to modern politics—a democratization of knowledge and analysis that is beneficial to progressives.
The blogosphere has in many ways revolutionized modern campaigning as well. Fernholz spoke of how powerful a resource certain blogs have become for raising money for selected progressive candidates. Before the blogosphere, professional fundraisers found it almost impossible to raise money for a candidate outside their district. The blogosphere has in many ways nationalized congressional and state government races.
Some progressive bloggers have caught flack recently for being too critical of President Barack Obama and downplaying the significance of his major legislative accomplishments, such as the passage of health care reform and the recently approved financial regulatory reform. Fernholz acknowledged this trend, and said that at times bloggers do become too passionately critical and forget that the president is on their side and must operate within certain political realities.
On the other hand, both Terkel and Fernholz believe this criticism keeps the Obama administration accountable to the people who elected him and that progressives will continue to argue for their positions on key issues. Both also agreed that progressive bloggers will remain important critics of the often ill-informed and biased reporting of the mainstream media, and they envisioned the line between mainstream journalism and blogging eventually being erased.
Given the range of voices, passion, and ability to organize for progressive causes and candidates, it is clear that the progressive blogosphere will continue to play an influential role in politics for years to come.
Listen to the audio from this event (mp3)
For more on this event please see its event page.
The positions of American Progress, and our policy experts, are independent, and the findings and conclusions presented are those of American Progress alone. A full list of supporters is available here. American Progress would like to acknowledge the many generous supporters who make our work possible.