The Other Big Stimulus
China is serious about spending its way through the global economic downturn, observes Winny Chen. This is good news for the global economy.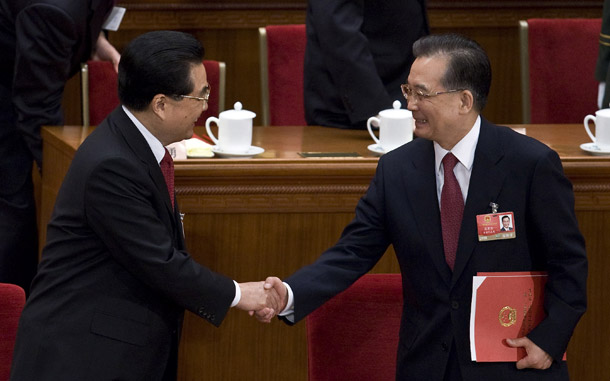 China's most recent economic news—a growth rate of 6.1 in the first quarter of 2009, the lowest in a decade—only reaffirmed the Chinese government's commitment to stimulating its economy through massive government domestic spending and targeted foreign assistance. China's leaders are serious about pulling their country out of the current economic crisis and helping its trading partners in East Asia do so as well. American leaders should applaud these efforts.
At home, China continues to retool its own economy to stimulate growth. The government rolled out a 4 trillion yuan ($586 billion) stimulus package in November for increased infrastructure spending, earthquake relief, and an expanded social safety net. Bank lending has hit a record high, with domestic loans growing 29.8 percent in March from year-earlier levels. Now, sources including the China Securities Journal and the Oriental Morning Post have reported that leaders are planning a second stimulus package that would issue guideline policies and continue to use fiscal and taxation measures to fuel growth, though similar rumors in early March turned out to be false.
Whatever the case may be, macroeconomic indicators show that China's November stimulus package is already having a significant impact. March car sales are up 10.26 percent from a year earlier, according to official data from the China Association of Automobile Manufacturers. So too are housing sales in major cities, spending on property development, and fixed-asset investment. Importantly, the import of raw materials in March, including crude-oil and iron ore, hit record levels in anticipation of greater demand. According to government data, the manufacturing sector in China grew for the first time in six months.
The growth has led to speculation that China may have turned a corner, bottoming out from the global economic freefall of 2008. But bottoming out is not recovery.
China will likely still take a long time to recover, and a number of daunting challenges remain. A Morgan Stanley report in March warned that the November stimulus may have helped maintain gross domestic product growth, but it is unlikely to deliver corporate earnings. Other critics note that the stimulus has funded too many local pet projects, which could in the long run contribute to China's industrial overcapacity, poor rates of return—and future faulty bank loans—and exacerbate China's environmental problems.
Moreover, with global—and particularly American— demand for Chinese exports declining, China must either lower its production levels or increase domestic demand for goods that were once consumed by foreign countries. Currently, China is doing neither. Instead, it has strengthened its export sector by lowering export taxes, constraining wage rises, and reducing interest costs in order to continue exporting its overcapacity to other countries. If this continues, one critic notes, there will certainly be backlash from foreign leaders and their citizens.
These factors are why the stimulus's focus on expanding the nation's social safety net is so important. Expanding the social safety net will directly tackle the primary cause of high savings rate in China and spur domestic consumption, which would offset export declines in the short-term and generate sustainable, balanced growth in the long term. For China, the massive 850 million yuan healthcare plan, alongside better labor practices and pension plans, and more available public goods together constitute a significant step toward establishing the necessary services that Chinese citizens would need to stop stowing away contingency savings at such high rates.
China is also looking to help its neighbors cope with the economic crisis. For starters, China plans to join Japan in contributing the bulk of the funds for the Chiang Mai Initiative, a $120 billion emergency fund dedicated to shoring up consumer demand in the East Asian region. Asian leaders are also talking about broadening regional free-trade agreements, which meant to be the main topic of conversation at the Association of South East Asian Nations summit before the conference was canceled due to protests in Thailand.
China has stepped up to do its part in the international response to the economic crisis. It has pledged $40 billion to the International Monetary Fund, agreed to participate in a far-reaching cleanup of the global banking system, and committed to continue buying U.S. treasuries, which would allow the United States to maintain its stimulus spending so that the Obama administration can tackle today's economic crisis and lay the groundwork for long-term economic recovery and lower federal deficits.
Furthermore, China is also laying the groundwork for a more stable trade and investment relationship with the United States and its other trading partners. China unveiled plans last week to use its currency to settle foreign trade in five major Chinese cities, starting with Hong Kong. The new system will allow companies to avoid risks in foreign exchange fluctuations and transaction costs, and speed up settlements, according to the Bank of China. The move would also make the yuan gradually more useful across Asia and gradually modernize China's currency system.
Still, the most daunting challenge for China remains the collapse of its export industry. China saw its exports fall for the fifth straight month this year, dropping 17.1 percent in March compared to the same month last year. Whether the economy will be able to maintain needed growth in the face of declining demand in Europe and the United States remains the big question. Even with its hefty stimulus spending this year, China will need demand from the rest of the world to sustain its current recovery. That's why it has a vested interest in the buoyancy of its East Asian and western trading partners' economies.
China's recovery and the development of a broad, prosperous middle class in the country will be good for the United States. A more prosperous China and an expanded middle class provide an additional market for U.S. goods and services and will ultimately promote improvements in American living standards—in what the Center for American Progress calls a "virtuous circle" of strengthening global living standards. And the United States can benefit from China's recovery.
The United States leads the world in healthcare innovation, anti-pollution practices and technology, and green technology—all of which will be needed in any meaningful and sustainable recovery plan in China. As our paper "A Global Imperative: A Progressive Approach to U.S.-China Relations in the 21st Century" notes, helping China help itself protect its environment and care for its people is a win-win for the citizens of both countries.
Winny Chen is a Research Associate for the Center's National Security and International Policy team and a co-author of the Center's report, "A Global Imperative: A Progressive Approach to U.S.-China Relations in the 21st Century."
The positions of American Progress, and our policy experts, are independent, and the findings and conclusions presented are those of American Progress alone. A full list of supporters is available here. American Progress would like to acknowledge the many generous supporters who make our work possible.