The Fix Is Over: Mortgage Foreclosure Scandal Offers New Hope for Homeowners
The Fix Is Over: Mortgage Foreclosure Scandal Offers New Hope for Homeowners
Embattled homeowners would be able to rescue their mortgages from foreclosure, writes Pat Garofalo, if federal programs worked better with lenders.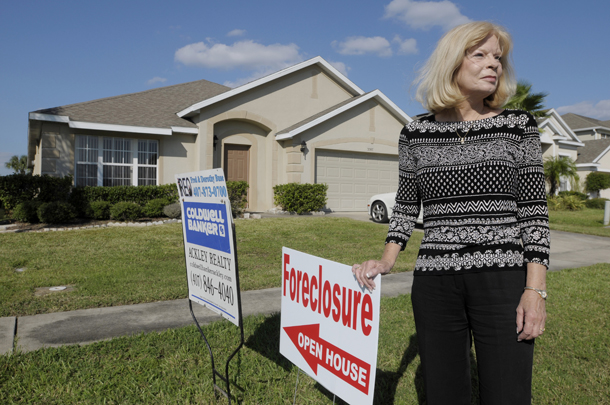 Embattled homeowners who would be able to make their monthly mortgage payments if given a little relief by their lenders may have new cause to hope. The reason: Abysmal processing of mortgage documents in foreclosure proceedings is forcing banks to halt foreclosures in many states, giving policymakers an opportunity to revisit their mortgage-relief programs with a more critical eye.
This all came about after Bank of America became the latest bank to suspend foreclosures, following an official's admission that he signed 7,000 to 8,000 foreclosure filings a month without reading them. BofA joined JP Morgan Chase and Ally Financial in halting foreclosures amid a spate of revelations that foreclosure documents have been processed by so-called "robo-signers," or employees who were approving foreclosures without due process or adequate data verification, in possible violation of the law.
A deposed Chase document signer named Beth Ann Cottrell said that she and eight others approved 18,000 foreclosures a month without any personal knowledge of the documents. A Wells Fargo executive admitted in a deposition that he only checked the dates on the up to 150 foreclosure documents that he signed daily.
In Florida, a recent sample of foreclosure cases before the 12th Judicial Circuit revealed that 20 percent—one in five—of those set for summary judgment involved deficient documents. At least six states are investigating potentially improper foreclosure practices and legal experts told The New York Times that courts "may impose sanctions on lenders or their representatives or may force banks to pay borrowers' legal costs in these cases."
Speaker of the House Nancy Pelosi (D-CA), a cadre of Democratic congressional members, and a bipartisan group of state attorneys general are calling for a wider foreclosure moratorium and investigations into the banks' practices. President Barack Obama also got in on the act, vetoing a bill earlier this week that would have made it more difficult to challenge potentially fraudulent foreclosures.
And now that at least some of those banks (hopefully followed by many others) have deigned to pause, these Wall Street behemoths and federal and local policymakers have an opportunity to reexamine whether they are doing enough to help troubled borrowers stay in their homes.
Since it was launched in April 2009, the Home Affordable Modification Program—the Obama administration's signature foreclosure prevention program—has been a disappointment. While there are design flaws in the program that do need to be addressed, a large part of the problem is that banks have dragged their feet getting borrowers into the program, which bogged borrowers down in repeated rounds of paperwork that were subsequently lost. Bank of America even siphoned borrowers off into its own private modification programs, in potential violation of HAMP, as former CAP Associate Director for Housing and Economics Andrew Jakabovics and I first revealed.
In many cases, borrowers pay their modified mortgage payment for months but have their application for a permanent modification rejected, leaving them no better off (and, in many instances, worse off) than if they had never entered the program. At this point, the administration will not be able to spend the $50 billion that it has allocated for HAMP, and foreclosures have failed to slow.
So what can be done to take advantage of the respite provided by the banks? First, other banks should join in the foreclosure moratorium, including Wells Fargo, which has yet to impose a moratorium despite the testimony of the official outlined above.
Next, modification programs need to be taken out of the hands of those banks who have consistently failed to live up their end of the HAMP bargain. The Center for American Progress proposes allowing housing counselors and other public entities to approve mortgage modifications directly, and if the borrower's servicer doesn't challenge the modification in 90 days, it automatically becomes permanent. Such a step would go a long way toward streamlining the program and getting borrowers who qualify through the maze of bureaucracy in a timely, clear fashion without leaving them in limbo for months on end.
Mortgage mediation programs—in which a bank must meet with a borrower, in the presence of a judge and housing counselors, before finalizing a foreclosure—should also be expanded in cities and states that already have them, or begun in locations where they don't currently exist. These programs, particularly those in Philadelphia and Connecticut, have been successful in keeping troubled homeowners out of foreclosure. It is often in the best financial interest of both the borrower and the servicer to prevent a foreclosure; all that's needed is ensuring that the servicer actually takes time to review the borrower's documents before the foreclosure is finalized.
CAP also proposes modifying the rules for Real Estate Mortgage Investment Conduits, or REMICs, those investment vehicles used to pool and securitize mortgages, in order to accelerate mortgage modifications. REMICs bestow enormous tax breaks to investors; these breaks should be revoked for any residential home mortgage loan holding entity that forecloses on more than a specified percentage of all of its mortgages.
The housing crisis is still affecting millions of Americans across the country. It's time for banks to end their potentially fraudulent practices, and as they sort through their own internal messes, it's time to work on a solution that will really keep homeowners in their homes. There are well-intentioned programs in place to help responsible homeowners, and a number of good ideas that deserve consideration. Now that the fix is over on mortgage foreclosures at many banks, let's fix the problem for good.
Pat Garofalo is a Senior Economics Researcher at the Center for American Progress and a Blogger at the Center for American Progress Action Fund.
The positions of American Progress, and our policy experts, are independent, and the findings and conclusions presented are those of American Progress alone. A full list of supporters is available here. American Progress would like to acknowledge the many generous supporters who make our work possible.
Authors Pat Garofalo
Managing Editor, TalkPoverty