The 'Clock Kid' Incident Is a Small Part of a Bigger Problem
The 'Clock Kid' Incident Is a Small Part of a Bigger Problem
The recent experience of Muslim American high school student Ahmed Mohamed sheds light on the much bigger issue of Islamophobia in the United States today.
Part of a Series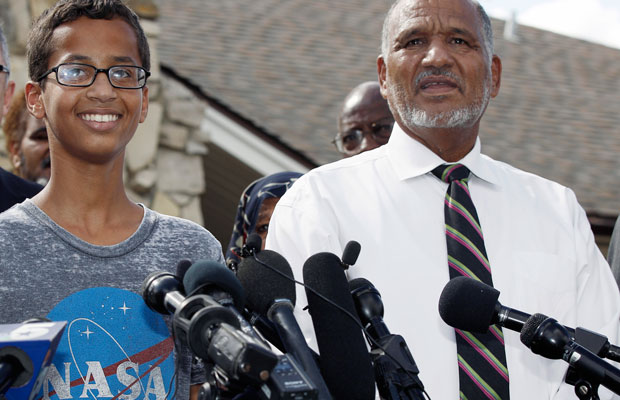 This column contains a correction.
Regular "Race and Beyond" columnist Sam Fulwood III asked Sanam Malik, the Special Assistant for the Center for American Progress' Immigration Policy team, for insights into the rampant Islamophobia in the United States. Malik, an American Muslim, pleads for greater awareness of this nation's many faith traditions and for the exercise of common sense in religious tolerance.
Last week, 14-year-old Texas high school student Ahmed Mohamed brought a homemade digital clock to school hoping to impress his teacher. Instead of receiving praise for his great work, however, he was handcuffed, booked, and falsely charged with bringing a bomb to school. After an intense public outcry, all charges against him were dropped, and he was released. Ahmed is a Muslim American.
Let's be honest: If Ahmed were a non-Muslim white kid, he probably would have won the science fair. This is not an isolated incident but rather a small part of the much bigger issue that is Islamophobia and racism in America. Discrimination and hate crimes against Muslim Americans have skyrocketed since 2001. According to FBI data, 500 anti-Muslim hate crimes were reported in 2001 after 9/11, up from the typical 20 to 30 incidents per year. For the past few years, anti-Muslim hate crimes have made up 13 percent to 14 percent of annual hate crimes—reaching nearly 100 anti-Muslim hate crimes each year from 2011 to 2013. These do not include the hate crimes that go unreported.
While Ahmed received an invitation to visit the White House from President Barack Obama and a personal offer to tour Facebook from Mark Zuckerberg, his experience is not the norm for other victims. Muslim Americans face bias and discrimination in all forms. Earlier this year, for example, a neighbor's triple execution–style homicide of three promising Muslim college students in Chapel Hill, North Carolina, shed light on how extreme anti-Muslim rhetoric can get. Although it has been hard for police to prove whether the crime was racially motivated, the suspect's Facebook profile was filled with anti-religion and anti-Muslim sentiments. In late 2014, a 15-year-old Somali Muslim teenager was run over by an SUV covered in anti-Muslim graffiti, which nearly severed both of his legs and eventually killed him.
Additionally, South Asians of other faiths—particularly Hindus and Sikhs—have been targeted because they were perceived to be Muslim. In 2012, a South Asian man was pushed to his death in front of an oncoming New York subway train by a woman who told police, "I pushed a Muslim off the train tracks because I hate Hindus and Muslims ever since 2001 when they put down the twin towers I've been beating them up."
Despite these hate crimes, Muslim Americans have never shied away from helping others experiencing hardships, something that the mainstream media often fails to report. Recently, for example, after several black churches across the South were deliberately lit on fire, a group of Muslims put together a crowdfunding campaign that raised more than $100,000 to help with rebuilding costs. In addition, Muslims around the world have dedicated time and money to natural disaster cleanups. After Hurricane Katrina, 18 predominantly Muslim countries—including poor countries such as Pakistan and Bangladesh—collectively donated more than $1 billion to relief efforts. Furthermore, thousands of Muslims volunteered onsite, and mosques opened their doors to all people affected by the hurricane. Members of the only surviving mosque in New Orleans transformed it into a health clinic. Mosques in nearby cities such as Baton Rouge, Shreveport, and Houston provided shelter for all survivors.
Racism, discrimination, and the marginalization of minority communities and individuals has been a sad part of American history. Whether in the form of racially motivated hate crimes against black Americans in both the past and the present or the recent crimes against Latinos, racism continues to flourish. Indeed, hate crimes are often the result of influential people's hate speech. In 2012, after Rep. Michele Bachman's (R-MN) anti-Muslim statements and Rep. Peter King's (R-NY)* anti-Muslim hearings, there was an uptick in hate crimes against Muslims, including the Missouri mosque destroyed by arson and the Bangladeshi cab driver in New York who was brutally attacked by a passenger who mistook him for a Muslim. These violent acts show how deeply rooted Islamophobia has become. The media further feeds the anti-Muslim rhetoric by airing stories about religious fanatics who use religion to fulfill their own personal agendas.
Islamophobia is rampant in the United States today. However, we must not punish or hold accountable an entire population of 1.6 billion Muslims for the crimes of a few—a concept of empathy so elementary and logical but yet one that so many people, of all educational backgrounds, fail to comprehend.
As a result of such bigotry, innocent and law-abiding individuals become targets of hate speech and hateful actions. Where does it stop? How many children like Ahmed have to go through life feeling as if they can't pursue their dreams, talents, and passions because of who they are? According to the Pew Research Center, the Muslim American population is expected to reach 6.2 million people by 2030. And with current conditions in the Middle East, more refugees—the majority of whom are Muslims—are expected to migrate to the United States in the years to come. This makes it crucial for the media, policymakers, and influential public figures to educate themselves and be mindful of how their speech and actions portray Muslim Americans.
Hate and prejudice are toxic for all Americans. Although there are many bigots in society, quite a few of whom hold influential positions, there are also millions of compassionate, tolerant people. These are the true Americans: those who know how to differentiate between right and wrong and who don't lump everyone into one category. America was not built on intolerance and hate; rather, it was founded and thrives on its richly diverse population. Just steps from the U.S. Capitol, an 1897 painting inside a significant dome of the world's largest library pays tribute to the intellectual achievements of Muslims alongside those of other minority groups. This makes it evident that the Founding Fathers recognized that the only way to be a successful nation is to respect and accept all of the diverse religions and cultures that make up the fabric of our society.
Sanam Malik is a Special Assistant for the Immigration Policy team at the Center for American Progress.
*Correction, September 23, 2015: This column has been corrected to accurately identify Rep. Peter King (R-NY) as the congressman who held anti-Muslim hearings.
The positions of American Progress, and our policy experts, are independent, and the findings and conclusions presented are those of American Progress alone. A full list of supporters is available here. American Progress would like to acknowledge the many generous supporters who make our work possible.
Authors Sanam Malik
Research Assistant
Explore The Series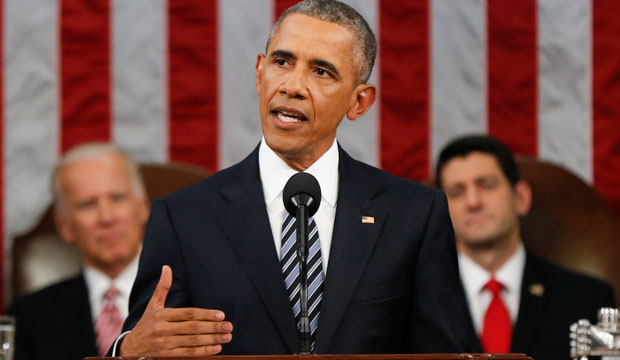 Previous
What Good Is an Apology 32 Years Delayed?
What Good Is an Apology 32 Years Delayed?
Next
Putin Should Not Throw Stones
Putin Should Not Throw Stones