How States Are Combating Federal ACA Sabotage
How States Are Combating Federal ACA Sabotage
As the federal government continues to undermine the health care system, states are taking matters into their own hands.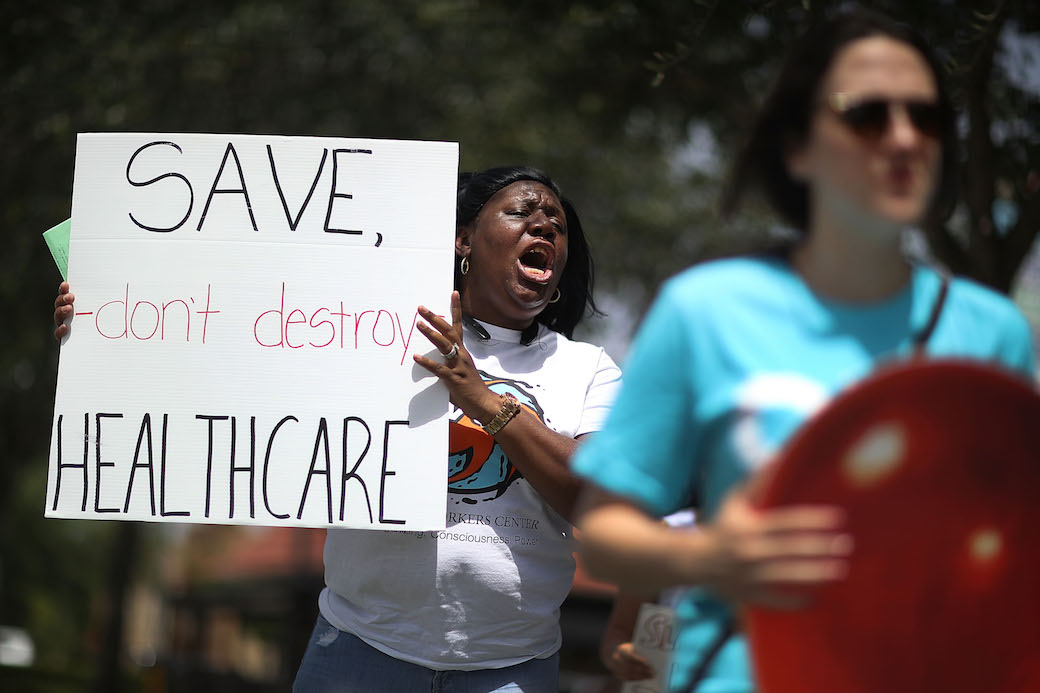 See also: "Interactive: State Actions Taken to Combat Federal ACA Sabotage" by Aditya Krishnaswamy, Rhonda Rogombe, Madeline Twomey, and Mathew Brady
The Trump administration, with help from its Republican allies in Congress, has worked tirelessly to dismantle the Affordable Care Act (ACA)—former President Barack Obama's signature health care law. The administration has eliminated the individual mandate penalty; expanded access to short-term junk plans and association health plans; and halted cost-sharing reduction payments. The Center for American Progress estimates that the average marketplace enrollee will pay about $1,000 more for health insurance next year than they should due to the mandate repeal and the short-term plan rule alone.
The Trump administration's efforts to undermine the ACA have taken many forms. A recent Government Accountability Office (GAO) report highlights the administrations' efforts to decrease enrollment in 2018. In 2017, for instance, the administration shortened the open enrollment period by 50 percent—from 90 days to 45 days—and cut advertising funds by 90 percent, from $100 million to $10 million. More recently, the administration slashed the budget for enrollment assistance, cutting ACA navigator funding by more than 70 percent, from $36 million to $10 million. A longer enrollment period and greater advertising and navigator funding are critical to expanding access to marketplaces and assisting individuals looking to obtain coverage through the complex health care market.
In response to this federal-level sabotage, several states have passed legislation in order to limit its effects on their insurance markets and mitigate the increases in premiums on the ACA exchanges.
In January, CAP released a report that outlined three specific ways states can prevent ongoing ACA sabotage: enacting state-level individual mandates, limiting short-term plans, and establishing state-level reinsurance programs. While not an exhaustive list, these state actions are critical to combating the administration's continued attempts to make health insurance inaccessible and unaffordable, particularly for people with pre-existing conditions and low-income individuals.
An accompanying interactive list tracks actions states have taken to counteract the federal government's sabotage of affordable health care. The interactive will be updated as states continue to implement these policies. Sixteen states have already passed at least one of these measures, and New Jersey has adopted all three initiatives. Many other states have pending legislation to address these policies.
Individual mandates
The ACA requires insurers to offer comprehensive coverage to everyone regardless of health status, gender, or pre-existing conditions. Additionally, it bans insurers from setting premiums based on health status, thus prohibiting them from charging higher premiums to individuals suffering from more serious illnesses. The ACA also prevents insurers from discriminating against women and girls who were previously charged more or denied coverage altogether for a variety of reasons, such as becoming pregnant or having previously had a cesarean birth.
The individual mandate played an important role in reducing premiums because it incentivized younger and healthier people to purchase insurance when they might otherwise have waited until they got sick. Without the mandate, the remaining individuals in the marketplaces are more likely to be sicker and require more costly treatments. Eliminating the mandate inevitably drives up premiums for all of the remaining individuals in the ACA-compliant marketplaces, making coverage significantly less affordable. In December 2017, Congress passed a tax bill that gutted this provision by eliminating the individual mandate penalty—which the Congressional Budget Office had estimated would result in 13 million fewer Americans having coverage by 2025 and a 10 percent increase in premiums for 2019.
Insurers have begun filing their rate requests for 2019, and many of them have pointed to the elimination of the individual mandate penalty as a primary factor in their rate increases. As expected, insurers are assuming that their enrollees next year will be older and less healthy without the individual mandate's penalties.
State-level individual mandates
By implementing individual mandates, the following states have ensured that more people retained ACA-compliant insurance and kept premium costs down.
Massachusetts implemented an individual mandate in 2006 through the Massachusetts health care reform law.
The District of Columbia and New Jersey recently signed legislation to implement individual mandates including penalties beginning in 2019.
Vermont has passed legislation for a state-level mandate to be implemented in 2019, but there are currently no associated penalties for noncompliance.
Since the passage of the tax bill, the District of Columbia, New Jersey, and Vermont have implemented their own mandates, and several other states are considering similar legislation. Revenue accrued from the individual mandate penalty has been used in various ways across states. For example, penalties collected through the Massachusetts individual mandate partially fund outreach efforts to increase coverage for low-income individuals and pay for Medicaid rate increases. While the District of Columbia plans to use a similar tactic when its plan goes into effect in January 2019, New Jersey will use the revenue to fund a state-level reinsurance program.
States should work quickly to establish a mandate that includes penalties at the state level, modeling after states that have already established programs in response to federal sabotage.
Limitations on short-term junk plans
Short-term limited duration plans existed prior to the ACA, but they were designed for people experiencing temporary gaps in health care coverage. Insurers underwrite short-term plans, meaning that applicants with pre-existing conditions can be rejected or charged exorbitant costs. As a result, these junk plans are often cheaper for certain individuals without health conditions. Short-term plans also do not need to cover the ACA's essential health benefits such as prescription drug coverage, maternity services, or mental health services. For this reason, these plans are unattractive to individuals who need or want more comprehensive health insurance.
Obama-era regulations limited the duration of these plans to three months or less and prohibited renewals, as these plans were not intended to be more than stopgaps between comprehensive coverage. More importantly, short-term plans did not constitute the minimum essential coverage required to meet the ACA's individual mandate, so they were not an attractive financial option for many prior to the repeal of the individual mandate penalty.
This August, the Trump administration finalized a rule that allows insurers to sell short-term plans for up to 12 months at a time. Now, individuals who meet underwriting requirements can also renew these plans for up to 36 months. Allowing these junk plans with lower premiums and spotty coverage to be effectively the same duration as more comprehensive plans will inevitably drive more young and healthy individuals out of the ACA marketplaces. Not only does this threaten individuals' health, but it also places them at risk for financial ruin in the event that they get sick, as many of these junk plans provide limited coverage and have excessively high deductibles. The expansion of short-term plans will also raise costs in the health insurance marketplace: As healthy individuals exit the marketplace, premiums will rise and make ACA-compliant plans less accessible to individuals who need or want comprehensive coverage.
Limitations on short-term junk plans
By introducing limits on the length and number of renewals for short-term plans, the following states have helped stem the exit of healthier, younger individuals from their ACA-compliant individual market.
Massachusetts, Hawaii, New Jersey, New York, and Rhode Island all ban or regulate short-term junk plans to the point that they become unavailable, and an additional seven states have either three- or six-month limits with restrictions on renewals. Furthermore, seven states have six-month limits on short-term plans with limited restrictions on renewals. These limits are mostly meaningless because they allow enrollees to continually renew their plans. Because short-term junk plans do not cover basic health care services, limits on these plans are critical to providing quality care and maintaining the stability and affordability of ACA-compliant individual plans. More states need to impose limits on the length of short-term plans to mitigate the risks that the federal government's recent decision to expand their availability has introduced. CAP has drafted model state legislation language that can be used to ban or limit short-term plans.
State-level reinsurance programs
The ACA included a number of different programs designed to stabilize the new marketplaces and keep premiums low, especially during the first years of its implementation. One of these programs, the three-year federal reinsurance program, provided funds to insurers with very high-cost enrollees, meaning insurers did not have to price premiums to account for taking on particularly expensive enrollees. As a result, premiums lowered for all enrollees. Reinsurance is not unique to the ACA; Medicare Part D also applies a reinsurance program: For enrollees, Medicare subsidizes 80 percent of excess drug spending above the catastrophic coverage threshold.
Federal ACA sabotage and the expiration of the federal reinsurance program have made the marketplaces much less predictable, but states can establish their own reinsurance programs to lower premiums in their insurance markets. The ACA allows states to seek State Innovation Waivers under Section 1332, encouraging states to utilize federal funding to seek innovative changes to their health care systems. States can use 1332 waivers to waive certain ACA requirements—as long as coverage remains equally affordable and comprehensive and states continue to provide coverage to the same number of individuals at no increased cost to the federal government. The Centers for Medicare and Medicaid Services (CMS) have approved seven states to use 1332 waivers to implement state-level reinsurance programs.
State-level reinsurance programs
By establishing reinsurance programs through 1332 waivers, the following states have curbed surges in premium costs and maintained the affordability of plans on the individual market.
As insurers have requested initial premium rate changes for 2019, one trend has become clear: Insurers in states with reinsurance programs have requested lower rate hikes than the national trend. For example, Minnesota insurers requested an 8 percent average decrease for 2019 premiums. One Maine health insurance company, Anthem Inc., indicated it will rejoin the ACA exchange because Maine is reviving its reinsurance program. Before the CMS approved Maine's 1332 waiver, Anthem announced a 13.8 percent rate increase if the reinsurance program were not in place for 2019, but indicated that if the state reinsurance program were reinstated, they would request a 8.7 percent rate decrease instead. While states with reinsurance programs experience overall rate decreases or smaller rate increases, the benefits of these programs are offset by the damage that the federal government has done through the expansion of short-term plans and the repeal of the individual mandate.
While there remains a clear need for a national reinsurance program, states can and should establish their own programs in the absence of federal efforts. To date, seven states have established reinsurance programs through 1332 waivers to utilize federal funding to help finance their programs. Modeling after existing waivers, several additional states are considering their own reinsurance programs as a means of lowering premiums for their residents.
Conclusion
As the Trump administration and its allies in Congress continue to sabotage America's health care system, states can and should act to ensure their residents have access to quality, affordable health care. By implementing these reasonable initiatives, states can halt premium hikes and prevent millions of Americans from losing essential health care coverage.
Aditya Krishnaswamy and Rhonda Rogombe are interns for Health Policy at the Center for American Progress. Madeline Twomey is the special assistant for Health Policy at the Center.
The positions of American Progress, and our policy experts, are independent, and the findings and conclusions presented are those of American Progress alone. A full list of supporters is available here. American Progress would like to acknowledge the many generous supporters who make our work possible.
Authors Aditya Krishnaswamy Rhonda Rogombe Madeline Twomey
Research Assistant