The State of the U.S. Labor Market: Pre-September 2019 Jobs Release
Authors' note: CAP uses "Black" and "African American" interchangeably throughout many of our products. We chose to capitalize "Black" in order to reflect that we are discussing a group of people and to be consistent with the capitalization of "African American." 
Tomorrow, the U.S. Bureau of Labor Statistics will release its Employment Situation Summary for the month of September. With increasing uncertainty due to the Trump administration's erratic trade policies—and the recent interest rate cut by the Federal Reserve—September's jobs data will be an important indicator to follow in order to assess the nation's economic health. While top-line numbers remain strong, the situation looks different for many workers who may be overlooked in broad summary statistics, including both older and younger workers as well as workers of color. Economists and policymakers should take this into account when evaluating the health of the labor market following this month's release.
Like many Millennials, members of Generation Z, those born in 1997 or after, might find themselves entering the labor market in a time of economic contraction, with lasting consequences for their future earnings. Even though some of the oldest Gen Zers, ages 16 to 22, have already joined the workforce, economic outcomes for these workers have yet to be studied in depth. As macroeconomic developments unfold, and more and more Gen Zers enter the workforce, it's crucial that the experiences of this generation—of which nearly half are people of color—not go overlooked.
The unemployment rate remains high for young workers
For decades, the unemployment rate for young workers has been much higher than the unemployment rate for older workers of comparable educational attainment, although it generally tracks the overall unemployment rate closely. Although the group of workers who were 16 to 22 years old when the financial crisis occurred saw a dramatic spike in unemployment during the Great Recession, unemployment for Gen Z workers of the same age is now below prerecession levels. Even in a labor market considered by some historically tight, more than 10 percent of Gen Zers are having a hard time finding work. (see Figure 1)
Studying youth unemployment presents some difficulties because of the differences in this group's educational attainment and enrollment rates compared with those of the rest of the population. However, even when comparing young workers with all adults with the same level of education, unemployment has been persistently higher among workers ages 16 to 22. (see Figure 1)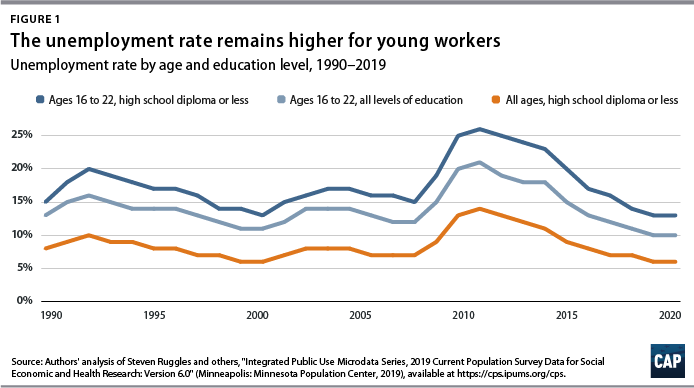 Unemployment among Gen Zers is even higher for people of color, particularly Black workers—just as it is in the broader labor market. The unemployment rate for Black workers younger than age 23 with a high school education or less is twice that of their white counterparts. (see Figure 2) Across all races analyzed, the unemployment rate for Gen Z workers was at least twice that of all workers of the same race and education level.
Younger workers are more likely to work part time for economic reasons
Gen Zers, like Millennials and Gen Xers when they were the same age, find it more difficult than other workers to find full-time jobs. Despite the assumption that young people work part time because of school or because they may not need to fully support themselves, there is clearly a need for full-time opportunities for these workers. This is true even when comparing the Gen Z age group with all workers of the same education level. (see Figure 3)
As school enrollment continues to rise, the labor force participation rate for 16- to 22-year-olds continues to decline
Before the turn of the millennium, labor force participation in the United States was higher for those ages 16 to 22 than for all similarly educated workers of other ages. (see Figure 4) But the labor force participation for this group of young workers declined dramatically from 2000 to 2010 and has since stagnated at around 40 percent. (see Figure 4)
The drop in labor force participation for workers ages 16 to 22 appears to be driven by increased college enrollment and, relatedly, the decreased likelihood of young people in college and high school to enter the workforce. In many ways, this can be seen as good news—especially if it reflects increased access to higher education. But while more workers are going to college, policymakers should ensure that they are getting a fair return on their investment, especially as the college debt burden breaks records. What's more, public support of higher education must rise considerably to ensure that access to education is equitable. Of course, labor force participation data for younger workers may be less reliable if surveys fail to capture the fact that teens and young adults often turn to the informal job market, which includes such jobs as babysitting and mowing lawns.
Recent studies have found that school attendance is the most commonly reported reason that teenagers opt not to work. Two possible factors influencing this decision are increasing academic rigor in high school curricula and heightened emphasis on unpaid extracurriculars in college admissions. While it's encouraging to see young people increasingly prioritize education over working—as education often corresponds with increased earnings—sacrificing work experience may, in some cases, come with trade-offs for future earnings. At any rate, the decline in labor force participation among students is ripe for further research.
Conclusion
More young people are choosing to prioritize their education rather than enter the workforce. This has serious implications, as choosing to pursue an education over work experience may come with risks and trade-offs. For example, the college debt burden continues to swell while the body of research on college food insecurity grows. As anxieties and predictions about the future of work abound, it is crucial that researchers avoid overlooking the young workers who will eventually enter the labor force.
Galen Hendricks and Caius Z. Willingham are research assistants for Economic Policy at the Center for American Progress. Michael Madowitz is an economist at the Center.
Willingham previously published under the name Zoe Willingham.
The positions of American Progress, and our policy experts, are independent, and the findings and conclusions presented are those of American Progress alone. A full list of supporters is available here. American Progress would like to acknowledge the many generous supporters who make our work possible.
Authors Galen Hendricks
Research Associate Caius Z. Willingham
Research Associate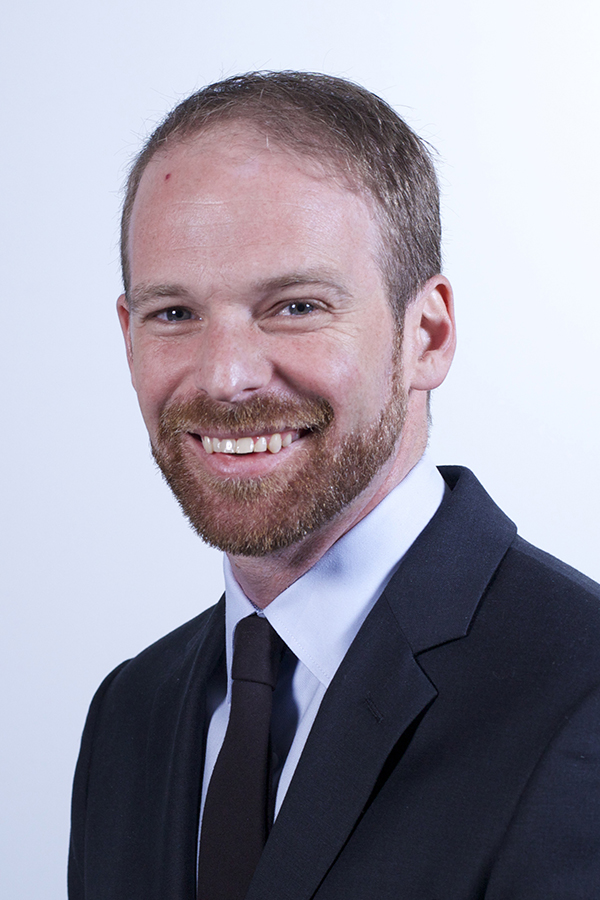 Michael Madowitz
Economist