The State of the U.S. Labor Market: Pre-March 2017 Jobs Release
The State of the U.S. Labor Market: Pre-March 2017 Jobs Release
On Friday, the U.S. Bureau of Labor Statistics will release its Employment Situation Summary for the month of February. Here are some labor market indicators to watch.
Part of a Series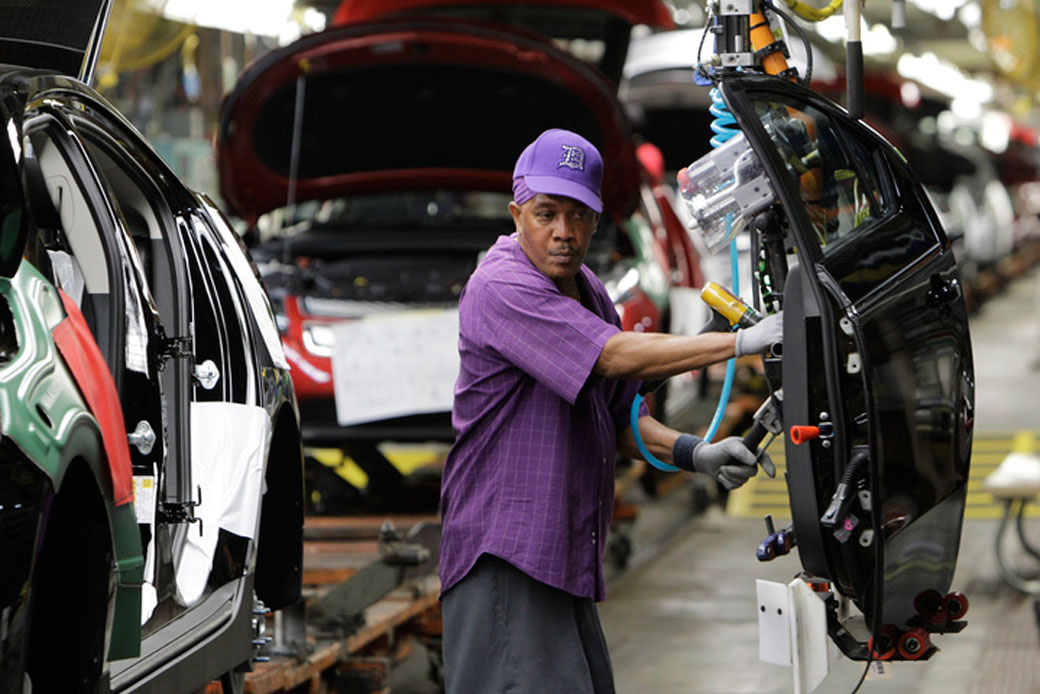 On Friday, the U.S. Bureau of Labor Statistics, or BLS, will release its "Employment Situation Summary" for the month of February. This is the first release that will contain data for the first full month of the Trump administration and reveal whether the economic momentum from the Obama administration has continued. Going forward, these monthly employment releases will provide real-world data on the economy—beyond just the stock market—to measure the Trump administration's progress against campaign promises.
One industry President Donald Trump focused on intensely during the campaign was U.S. manufacturing. He recently met with manufacturing executives, signaling that he will attempt to follow through on his campaign promises to significantly increase manufacturing jobs. February's jobs release—and the releases over the next several months—will demonstrate whether the symbolic meetings and soaring rhetoric are translating into progress at an economywide scale.
In addition to benchmarking the administration's progress in sustaining a strong labor market, these data continue to provide clues about what the Fed will do next with interest rates. In the January 31–February 1 Federal Open Market Committee, or FOMC, meeting, Federal Reserve Board Chair Janet Yellen indicated that the committee plans to raise the interest rate. Additionally, the minutes make clear that the FOMC will pay very close attention to the impact that President Trump's expected economic policies will have on jobs and inflation data.
This column lays out indicators to watch in both evaluating the health of the labor market and holding President Trump accountable to his labor market promises on the campaign trail. Although the headline unemployment rate—otherwise known as U-3—is the most frequently cited indicator of labor market health, other factors can provide a fuller picture of how the economy is performing. The employment rate, the number of people working part time for economic reasons, and the U-6 unemployment rate are some of these factors. Additionally, over the next few months, it will be interesting to follow indicators on employment such as manufacturing and government employment.
Indicators to watch in a Trump era: Employment
President Trump has promised to bring back manufacturing, decrease federal employment, and cut down on government regulation. These commitments draw attention to two indicators: employment in manufacturing and government.
Manufacturing employment has been shrinking as a share of the economy since the 1940s, and absolute manufacturing employment has been in decline since the 2000s; however, it has made somewhat of a comeback since the end of the financial crisis in 2009. After hitting a low of 11.5 million workers in 2010, manufacturing employment increased to 12.3 million in 2015 and minimally increased in 2016. Time will tell whether President Trump can sustain or even accelerate this increase in manufacturing employment.
Since taking office, President Trump has put a freeze on federal hiring, with significant exceptions for defense, drawing the criticism of labor unions. Others have voiced concerns that the hiring freeze will disproportionately affect people of color and veterans. In addition to hurting workers and potentially slowing businesses' interactions with government, a shrinking federal workforce could also lead to further reliance on expensive federal contractors, which would hurt taxpayers. President Barack Obama was the first president to leave office with a smaller combined—federal, state, and local—government workforce than when he started, so it will be interesting to see if President Trump's record on small government will match his rhetoric without creating bottlenecks.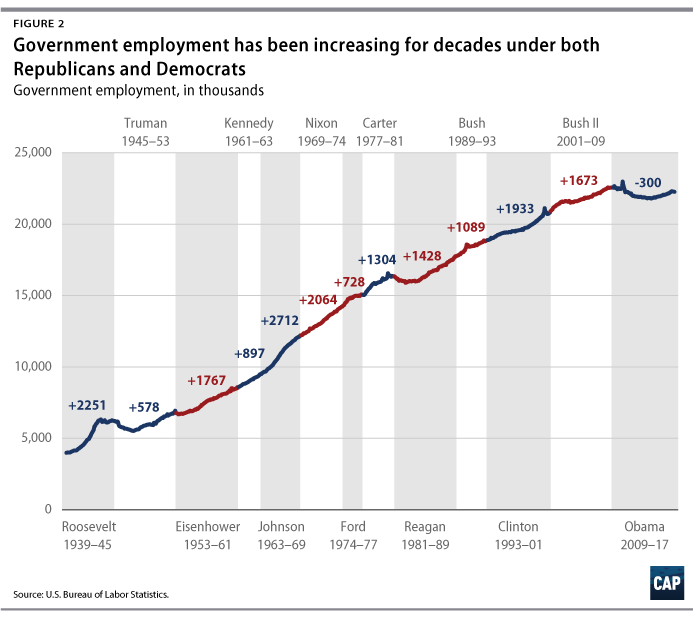 The unemployment rate is at prerecession levels, but other labor market health indicators have yet to recover fully
Although President Trump took office with a growing economy, there is still room for additional growth. As Figure 3 indicates, the unemployment rate is at prerecession levels; however, the employment rate is below prerecession rates, and there is a larger percentage of people outside of the labor market now than in 2006. This likely indicates that many people have exited the labor market due to long-term unemployment and have not yet re-entered. It is good news that the number of long-term unemployed workers has continued to fall, but work remains to bring people back into the workforce, and a recovery that reaches these workers is a key to long-term economic growth.
The number of people working only part time for economic reasons remains very high
The number of workers who are employed only part time for economic reasons—meaning that they are unable to find full-time work despite wanting it—indicates slack in the labor market. If workers are part-time because their hours are cut or because they cannot find a full-time job, that indicates a labor market that is less favorable for all workers. In January 2017, the number of involuntary part-time workers increased slightly to 5.8 million.
U-3 vs. U-6
The U-3 unemployment rate does not capture the people who want jobs but have given up looking for work or the people who would like full-time work but can only find part-time positions. Perhaps the most comprehensive unemployment measure, U-6 alleviates this problem by including marginally attached workers—those who have recently looked for work but are not currently looking—and part-time workers who would prefer full-time work. U-6 is always higher than U-3, but the gap grew much larger than usual during the recession and has remained above or near prerecession records over the course of the recovery.
The unemployment rate has not recovered to prerecession rates for all demographics
The gains from the recovery have been spread unequally between different demographics, and those with historically worse labor market conditions continue to face higher unemployment rates with long-term detrimental effects. While the overall unemployment rate fell from 9.9 percent to 4.7 percent between December 2009 and December 2016, the rate for African Americans only dropped from 16.1 percent to 7.8 percent during the same time frame. Focusing on the groups whose unemployment rates continue to have room for improvement can be a benchmark for the health of the U.S. labor market overall. Expanding their opportunities in the labor market can be a source of future economic growth.
Conclusion
This February employment release will provide the first snapshot of the real economy under the Trump administration. Since the Trump administration is only in its second month, it is unlikely that February's data will show any drastic changes. However, as the months go on, the indicators highlighted above will be key in evaluating President Trump's policies. In order to maintain economic growth, the new administration must take these data seriously in its decision-making. Indicators such as the U-6 unemployment rate and the employment-to-population ratio show that there is still room to grow to meet previous eras of a strong labor market.
The Federal Reserve continues to be an important force in keeping the economy growing sustainably, but monetary policy is likely to be tested by both the economy and changes in policy over the next year. There is still room for the economy to grow, but it will require proactive labor market policy based on good data in order to improve the conditions that American workers face.
Michael Madowitz is an Economist at the Center for American Progress. Annie McGrew and Gregg Gelzinis are Special Assistants for the Economic Policy team at the Center.
The positions of American Progress, and our policy experts, are independent, and the findings and conclusions presented are those of American Progress alone. A full list of supporters is available here. American Progress would like to acknowledge the many generous supporters who make our work possible.
Authors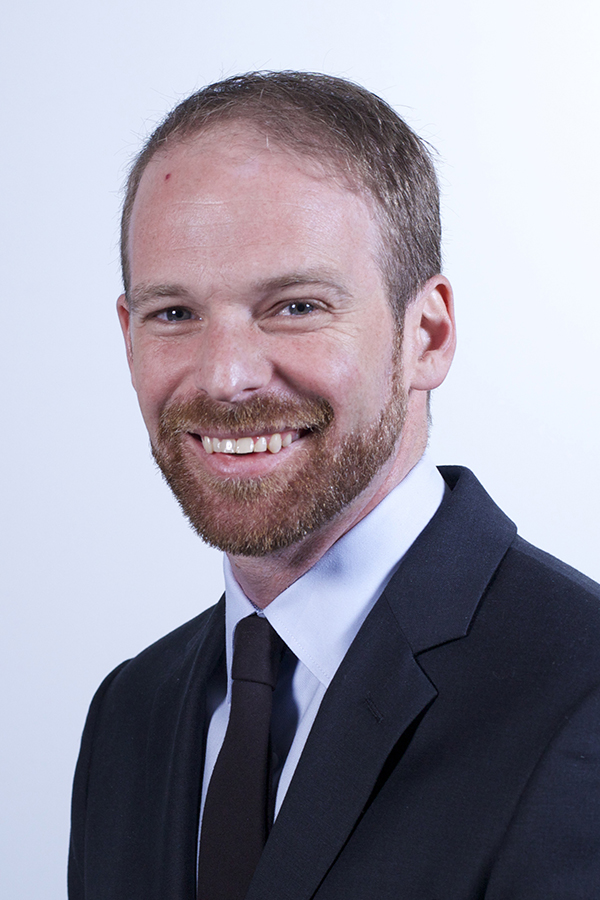 Michael Madowitz
Economist Annie McGrew
Research Assistant Gregg Gelzinis
Associate Director
Explore The Series
Previous
The State of the U.S. Labor Market: Pre-February 2017 Jobs Release
The State of the U.S. Labor Market: Pre-February 2017 Jobs Release
Next
The State of the U.S. Labor Market: Pre-April 2017 Jobs Release
The State of the U.S. Labor Market: Pre-April 2017 Jobs Release