Sexual Violence and the Disability Community Discussion Guide
Sexual Violence and the Disability Community Discussion Guide
A Resource for Those Working at the Nexus of Reproductive Justice and Disability Justice
Conversations around sexual violence must use justice frameworks to center the intersection of gender and disability violence.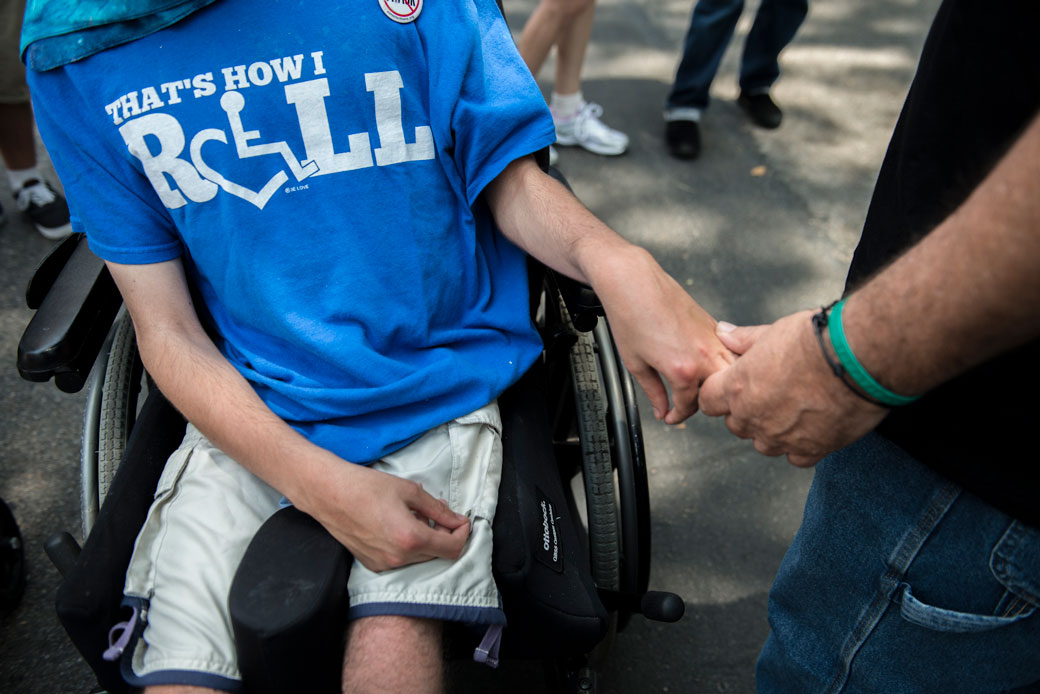 For the companion column, see "Sexual Violence and the Disability Community."
The disability rights and justice movement and the reproductive health, rights, and justice movements must come together for nuanced discussions of the silent epidemic of sexual violence against disabled people.
This guide is part of the Center for American Progress' "Courageous Conversations" work, designed to bring together reproductive justice and disability justice advocates to discuss issues that intersect their work. Because the conversation that surrounds sexual violence is often not grounded in a justice-centered framework, the experiences of marginalized women—including women with disabilities—are also not centered. Given the grounding of this discussion guide in a disability justice and reproductive justice framework, it is essential to discuss the explicit experiences of marginalized women at the intersection of gender and disability violence.
Women who are victims of gender-based violence experience further abuse, including sexism, misogyny, and other forms of bias, when reporting their experiences. Their experiences are often weaponized against them in school, work, and society. The CAP report "Transforming the Culture of Power: Recommendations to Combat Gender-Based Violence" addresses this issue in detail. However, it is critical to acknowledge how ableism and perceptions of physical, intellectual, and mental ability shape who is considered a victim and who is not.
This resource guide provides a framing for conversations at the nexus of these oppressions to make both the reproductive health, rights, and justice and the disability rights and justice spaces more inclusive.
The authors provide a list of discussion prompts, references, and organizations below. They are not intended to be exhaustive, but rather a starting point for groups looking to move the needle in the right direction.
Discussion prompts
Give an example of how the myths surrounding disability contribute to the desexualization of disabled people.
What steps are being taken to ensure that work is survivor-centered and how is the disability community at the table in shaping policy solutions?
How are you going to change your approach to make your work more inclusive of both disability justice and reproductive justice?
Describe the relevance of providing materials and information that reflect the diversity and accessibility needs of your clients or those you are fighting for.
If your work and activism are not inclusive or accessible, how might that have contributed to the engagement of disabled people in what you do? Who is not at the table, and what is your strategy for building trust and collaboration?
Reflection: What attitudes or stereotypes do or did you have surrounding disability and sexuality? How did these attitudes affect your activism or work? How are these attitudes or stereotypes affected by race, gender, LGBTQ identity, immigrant status, or a history of incarceration or institutionalization?
Activity: Research three disability justice activists who are leaders within disability and reproductive work or research three reproductive justice leaders and develop a means to incorporate their work in your practices or activism. This can include hiring them for consulting, paying them to be a speaker at your event, or sharing their work with your colleagues.
References
Organizations
Vilissa Thompson is a senior fellow at the Center for American Progress. Nora Ellmann is a research associate for women's health and rights with the Women's Initiative at the Center. Rebecca Cokley is the former director of the Disability Justice Initiative at the Center. Jamille Fields Allsbrook is the director of women's health and rights with the Women's Initiative at the Center.
The positions of American Progress, and our policy experts, are independent, and the findings and conclusions presented are those of American Progress alone. A full list of supporters is available here. American Progress would like to acknowledge the many generous supporters who make our work possible.
Authors Senior Fellow Nora Ellmann
Research Associate, Women's Health and Rights Rebecca Cokley
Director, Disability Justice Initiative Jamille Fields Allsbrook
Director, Women\'s Initiative