Religious Voices Loud and Clear at Keystone XL Protests
Religious Voices Loud and Clear at Keystone XL Protests
Concerned Congregations Gather to Decry Oil Pipeline
Catherine Woodiwiss reports on how faith groups around the country banded together to condemn a tar sands pipeline from Canada.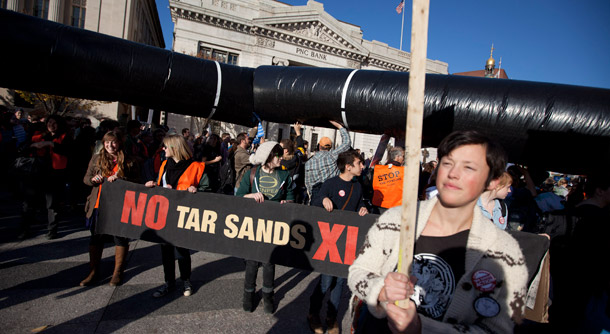 A small tinfoil dove on a wooden pole waved above the orange safety jackets, snappy signs, and a mock pipeline carried by thousands of demonstrators encircling the White House on November 6. Meanwhile, a group of protesters in yellow shirts emblazoned with '"Standing on the Side of Love" gathered around as clusters of youth chanted, "Hey Obama, listen to the Dalai Lama" and "No XL pipeline, I'm gonna let it shine."
As promised in the weeks leading up to the Keystone XL protest at the White House, faith voices had joined the cries against the construction of a controversial oil pipeline from Canada to the Gulf Coast.
And after nearly 12,000 protesters encircled the White House, President Barack Obama's decision on Thursday to support the State Department's request for further review on the pipeline's impact indicates that citizens' environmental concerns are resonating.
Concerns over the pipeline became a line in the sand for climate activists nationwide. After the announcement to delay movement on its construction, many within the environmental community—particularly younger people who brought President Obama into office—are redoubling their efforts to make Keystone XL, a Canadian pipeline intended to carry tar sands-extracted oil through six states and the Ogalalla Aquifer, a primary drinking source for millions of Americans, the platform from which to weigh the president's efforts to move away from the "tyranny of oil," as he once suggested.
People of faith leant their voices to protesting the pipeline since it was first proposed in 2007, starting with Bill McKibben, the face of the Tar Sands Action group and a Methodist Sunday school teacher.
On November 6, an estimated two dozen congregations from the D.C. area were among the protesters. And in August, more than 60 religious leaders—rabbis, Buddhist monks, Catholic priests, and members of green Muslim and Evangelical environmental groups—risked arrest at demonstrations against Keystone XL. Influential faith leaders such as the Dalai Lama and Archbishop Desmond Tutu have called on the president to say no to the pipeline and build a legacy of "energy that sustains the lives and livelihoods of future generations."
The protests also united progressive and conservative faith groups alike, and they highlight the ongoing "green religion" movement that has faith groups seeking real action from Congress and the president on climate and energy.
National action driven by local concerns
Most congregations at the White House protest on November 6 were from Washington D.C., but religious coordinators took their cues from congregations in the Western states that would be affected by the pipeline.
Members of Interfaith Power and Light, a national interfaith organization that educates and supports congregations on green initiatives, participated in a series of "creative actions" leading up to the November 6 protest: a "stroller brigade" protesting the potentially hazardous health effects of the pipeline on children in Kansas, shining flashlights into the governor's home in Nebraska, and blessing water as a central element to all faiths in Texas.
Environmental care is a faith tradition
Beth Norcross, vice chair of Greater Washington Interfaith Power and Light, believes that environmental concerns are squarely in line with religious social traditions.
"It's all interconnected," she said at the rally on Sunday. "You can't work on poverty and ignore the environment."
Rose Berger, a Catholic poet and leading tar sands activist for the Christian social justice network Sojourners, agrees.
"Most environmental groups were motivated by faith and spirituality at their root," she says, so "it's not surprising that faith is involved. Climate change affects the poor first."
In fact, Berger estimates, due to increasing awareness of climate change, "creation care" has become one of the top concerns of many congregations nationwide.
Numbers bear her out: Research from the Pew Forum on Religion and Public Life indicates that nearly half of those who attend worship services hear about environmental concerns from their clergy, and the environment consistently ranks above abortion and gay marriage as a priority for all Christians except white evangelicals.
Putting climate change back in the debate
For Rev. Terrence Ellen of the Unitarian Universalists Association, climate change is of central concern for Unitarian Universalists, a faith tradition long devoted to social justice because it affects marginalized people.
"[Climate change] has an urgent time factor that not all social causes have," Rev. Ellen said in a phone interview last week. "This protest [Keystone] is a way to vigorously insert climate change back into the conversation."
Unfortunately, that conversation is sidelined in a gridlocked Congress. Even so, Rev. Ellen sees the Keystone XL protests as a tremendous opportunity to challenge a seemingly inevitable project.
"For any successful protests, you have to ask, 'What is the problem, who do I complain to, and why now?'" said Rev. Ellen, who was arrested in August's demonstrations. "This 'No XL' protest fits that very well. Congress is kind of hopeless. This is solely in the president's domain, his chance to do something [that will] give us a ray of hope."
This passion makes sense for progressive faith groups. But more surprising is how concern over the pipeline also included traditionally conservative congregations, who otherwise may hesitate to support one of the banner causes of progressive activists.
Unlikely demographics, common ground
The term "pro-life" is taking on broader resonance in some conservative-leaning faith traditions. Evangelicals, normally thought of as right-leaning, are beginning to treat issues such as local sustainability, poverty, and clean energy as holistically pro-life, as seen when a board member of the Evangelical Environmental Network was among those who testified to the State Department in opposition to the pipeline.
Rev. Ellen of UUA agrees that environmental issues can be uniquely unifying among all faith groups. "On LGBT concerns, for example, you often don't get agreement. But 'caring for God's creation' is something everyone gets on board with," he says.
In fact, all major faith traditions include a strong moral concern for the planet. And the urgency of climate scientists' warning about human-driven change is provoking more and more religious groups, including conservatives, to action.
"This is the moral imperative of our time," says Tim Kumfer of the ecumenical Church of the Saviour and an organizer of interfaith involvement in the protests. "To take climate change seriously and address it. Nothing is more important than caring for the planet. This is what faith is all about."
For those who think of climate activism as a concern strictly among younger people of faith, the Keystone demonstrations are illuminating. Joelle Novey, director of Greater Washington Interfaith Power and Light and one of leading voices for interfaith participation in the environment, was moved by the multigenerational protest at the White House.
"This is the first set of [environmental] protests that hasn't been dominated by students. [Everyone] expects 'PowerShift' kids [a biennial national youth climate change summit] to be involved. But grandmothers were moved to be there. What's striking about the pipeline protest has been the significant involvement of 'respectable grownups.'"
What's next for "green religion?"
Despite increasing engagement among faith groups, surveys indicate that religion has less impact on environmental policy opinions than other factors such as science and the media. Yet during these protests, interfaith organizers say, a greater level of cooperation among faith-based and secular environmental groups emerged. One result has been a renewed awareness in progressive circles that for many, faith still acts as a powerful motivator for grassroots action.
The surprising degree of interfaith engagement is another significant development.
"The really great thing is that we didn't work to be interfaith on this. It really just came together about the issue," says Sojourner's Berger. "It is good to be focusing outside of ourselves, bringing each of our energies and best of our traditions; standing together shoulder-to-shoulder, not face-to-face."
Ellen agrees, noting the importance of interfaith cooperation on climate concerns. "Time is too pressing to work quietly within our own faith communities," he says. "We need a genuinely prophetic action to bring the call of the people towards morality and justice."
Considered highly improbable just two weeks ago, the president's delay on November 6 seems to indicate that the protesters are being heard. The long-term "NO XL" strategy will depend largely on what develops further.
Whatever comes next for the pipeline, faith groups will continue public demonstrations for climate change and clean energy—including the upcoming Climate Summit in Durban, South Africa at the end of November, where a joint campaign of Muslims, Christians, Hindus, and Buddhists from Africa and Europe are planning an interfaith rally and prayer service.
In the meantime, Novey is proud of what's been accomplished so far. "I saw that we had 13,000 rsvps for the protest," she said after Sunday's demonstration. "But I didn't believe it until I was there. It was totally exhilarating."
Catherine Woodiwiss is Special Assistant for Faith and Progressive Policy at American Progress. For more on this initiative, please see its project page.
The positions of American Progress, and our policy experts, are independent, and the findings and conclusions presented are those of American Progress alone. A full list of supporters is available here. American Progress would like to acknowledge the many generous supporters who make our work possible.
Authors Catherine Woodiwiss
Special Assistant