Protecting Election Workers and Officials From Threats and Harassment During the Midterms
Protecting Election Workers and Officials From Threats and Harassment During the Midterms
As the 2022 general election gets underway, it's critical that those on the front lines of our democracy—election workers and officials—are able to safely and effectively do their jobs to ensure that voters can cast ballots and that elections are freely and fairly administered.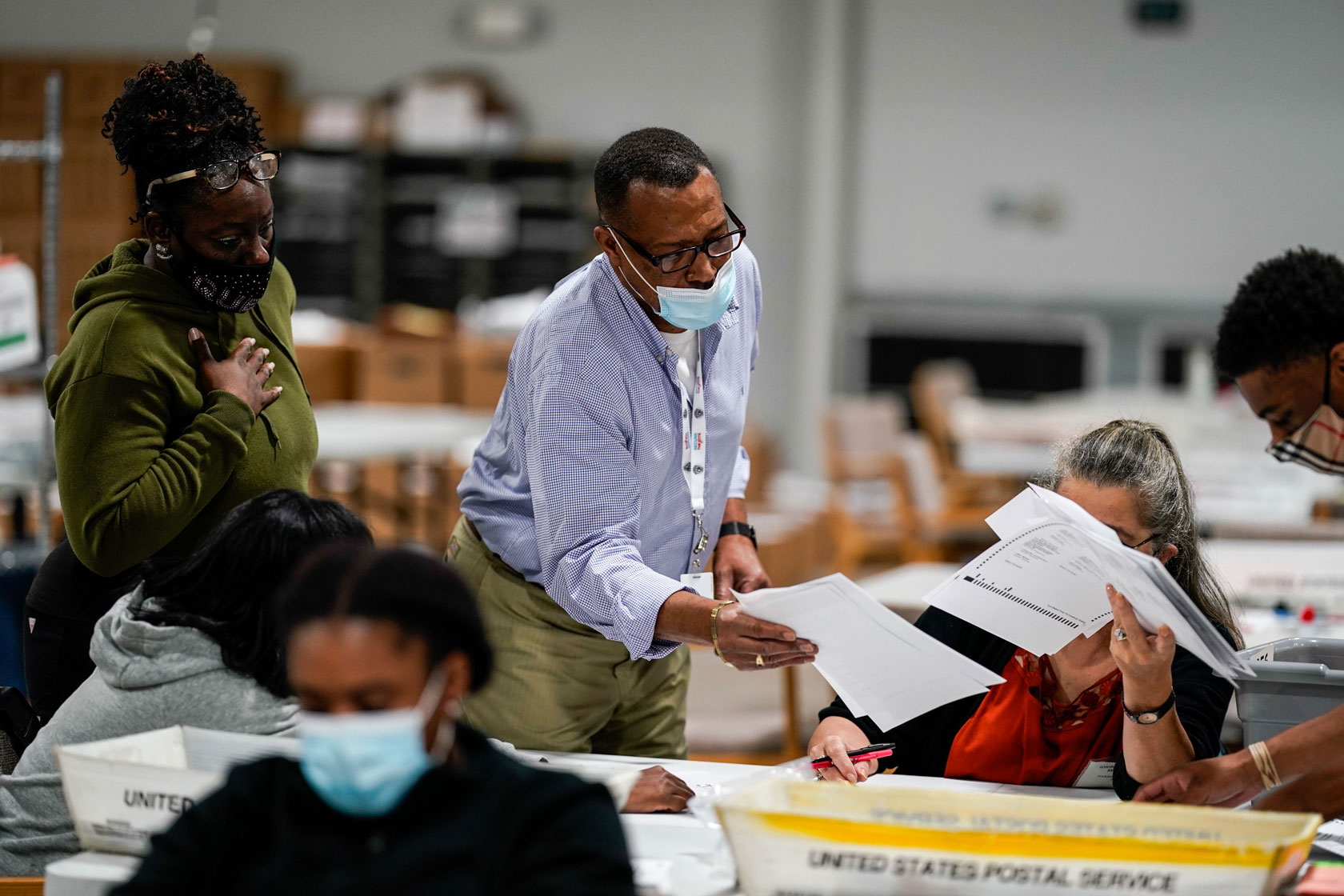 In the wake of an unprecedented coronavirus pandemic during the 2020 election, Americans all across the country stepped up to help run our democracy by serving as poll workers and election workers. Election officials similarly did the impossible when they successfully planned for, administered, and certified elections. But instead of being applauded as heroes of democracy, election officials and workers across the country began to experience what has now been a two-year-long campaign of threats and harassment that has led many to resign or decide not to run for office again. Now, the country is expecting another shortage of election workers for this year's general election.
The threats and harassment faced by election workers and officials have been pervasive, unrelenting, and targeted at Democratic, Republican, and nonpartisan individuals alike. What they all have in common is that they are efforts to undermine our democracy and subvert elections, sprouted from disinformation and lies spread by former President Donald Trump and his allies in an attempt to overturn the 2020 election.
Election workers are the unsung heroes of our democracy, putting in countless hours to ensure that their local elections run smoothly and that every eligible voter can make their voice heard. Colorado Secretary of State Jena Griswold
Over the past two years, federal, state, and local governments have tried to curb threats, offer resources to election workers and officials for mitigating and reporting, and increase protections and security for workers and officials. However, the threats and harassment have not ceased. Worse yet, workers and officials report that they have often felt dismissed by law enforcement and repercussions for perpetrators have been minimal. Now, just a month out from Election Day, election workers and officials still feel unsafe and unsupported, while federal officials warn of the challenges violence against them will pose for a free and fair election.
The federal response to threats against election workers and officials
In July 2021, the U.S. Department of Justice (DOJ) established the Election Threats Task Force to provide a federal resource for reporting and investigating threats. A year later, in August 2022, the task force announced that of the more than 1,000 cases it had reviewed, just a handful of federal cases had been charged and only one sentence had been handed down. Moreover, 58 percent of all potentially criminal threats reviewed were found to be in states where election results were challenged following the 2020 election—including Arizona, Colorado, Georgia, Michigan, Nevada, Pennsylvania, and Wisconsin.
One of the federally charged cases involves a Nevada election worker—a former U.S. Marine in the Republican Nevada Secretary of State's Office—who received threatening calls telling her she was "going to f—— die." Another case involves a Texas man who threatened Georgia election officials by posting a Craigslist message titled "Georgia Patriots it's time to kill." And in the task force's newest case, an Iowa man was arrested for threatening an Arizona election official with the message: "You're gonna die, you piece of [expletive]. We're going to hang you." While these cases are severe and these charges should be seen as a step in the right direction, officials across the country have hundreds of similar stories that will never be properly tracked down or prosecuted.
Many election workers and officials have told their stories to the nation before Congress, including during the January 6 hearings, before the Senate Rules and Judiciary committees, and before the House Committee on Homeland Security. Their testimonies have been heart-wrenching, with some accounts detailing messages that even included threats against their children.
Members of Congress have introduced legislation to increase protections for election officials, including a bipartisan proposal—introduced by members of Sens. Susan Collins (R-ME) and Joe Manchin's (D-WV) Electoral Count Act working group—that would double federal penalties for individuals threatening or intimidating election officials. However, there has been no real indication any of these pieces of legislation will pass this Congress. At the same time, the federal government has tried to provide some avenues for additional funding for improved security by 1) issuing guidance that Edward Byrne Memorial Justice Assistance Grant Program (Byrne JAG) funding can be used to protect workers from violence and 2) expanding allowable uses for election funding under the Help America Vote Act (HAVA) for physical security services and social media threat monitoring.
Yet election experts and officials have expressed skepticism of how effective these steps will be for the following reasons:
The Byrne JAG Program is a large and competitive grant program that likely won't result in significant funding for state offices and the nearly 8,000 local election jurisdictions across the country. Evidence of this has surfaced: In Colorado, which has been a target for threats, the state's grant advisory board—mostly composed of local law enforcement officials—denied the secretary of state's funding request for the upcoming year.
Many election officials aren't willing to sacrifice their limited HAVA funding for election improvements on their personal safety.
Most safety improvements need to be made at the local level, but many local officials have struggled to receive the funding for improvements from their state officials.
All 50 states and five territories have collectively received only $75 million in HAVA funding since the 2020 election, meaning many states received only $1 million for improvements to elections since the onslaught of threats began.
State and local responses to threats against election workers and officials
At the same time, state and local election officials have tried to tackle challenges on their own but have faced many obstacles—predominantly that the threats and harassment they've reported have not been taken seriously by local law enforcement. The trivialization and dismissal of these reports has also deterred others from reporting their own instances of threats and harassment.
Reporters have chronicled in detail the severe threats that have been dismissed by local enforcement as well as cases that haven't even been investigated, including instances where local law enforcement claimed the perpetrators' identities were untraceable or their speech was protected under the First Amendment. In one instance that went uninvestigated, a Vermont man repeatedly called to threaten election officials, including by telling them: "This might be a good time to put a f—— pistol in your f—— mouth and pull the trigger. Your days are f—— numbered." With some effort, these reporters were able to track down numerous individuals who had made threats against officials and openly admitted their actions, including the man from Vermont.
Election officials and workers have also chronicled stories where local law enforcement trivialized their reports, expressed agreement with those making threats about a "stolen election," and even told the person making a report that their solution should be to purchase firearms. Thankfully, however, as previously stated, some arrests and prosecutions have taken place, with election officials expressing deep thanks to law enforcement officials. In addition, attorneys general in a number of states, including Michigan and Wisconsin, have pledged to prosecute individuals harassing or makings threats against election workers and officials.
At the same time, there has been a coordinated effort to recruit election deniers to run for state or local offices in charge of administering elections and to install partisan operatives bent on subverting elections as poll workers and election observers. In fact, the trivialization and dismissal of many reports of threats and violence is emblematic of a larger problem in the law enforcement community, whereby election deniers are specifically targeting and recruiting law enforcement officials, especially sheriffs, to their cause.
The concerns over subversion from within the election community have grown so great that election officials are questioning whether or not they will be able to trust poll workers this election. This problem has been growing since the 2020 election, leading the Cybersecurity and Infrastructure Security Agency (CISA) to issue a first-of-its-kind "Election Infrastructure Insider Threat Mitigation Guide" last year to assist state and local election officials in identifying and responding to individuals trying to interfere in or subvert elections. But the severity of these efforts is coming to a head as Election Day approaches. This is especially evident in states such as Michigan, where Republican officials have reportedly urged poll workers to break election laws that prohibit certain communications and tampering with election equipment.
Officials have also fought for reforms at the state and local level and put in safety precautions on their own. Many election offices have reviewed their security procedures and implemented new measures—including with help from the U.S. Department of Homeland Security. Meanwhile, states such as Oregon, Colorado, and Maine have enacted or increased penalties for threats against election workers; Vermont has made it easier to prosecute those threatening election workers; and California will now permit election workers to keep their addresses confidential.
We must take action to protect and retain dedicated election administrators at the state, county, and local level. Colorado Secretary of State Jena Griswold
Policy recommendations
With early voting underway and Election Day quickly approaching, local, state, and federal officials are bracing themselves for what's to come. Our democracy cannot function without the tireless work of election workers and officials, who routinely work around the clock in both the weeks leading up to and after elections, with some even sleeping on cots in their offices. Every election, these individuals carry out their duties fairly and impartially to ensure their fellow Americans can make their voices heard at the ballot box.
But they can't administer elections on their own. Moreover, the country has traditionally relied heavily on election workers over the age of 61—community members, neighbors, friends, and family members, often volunteering and fulfilling a civic duty to administer elections without political bias.
In the final weeks leading up the November 2022 election, it's important that the following steps are taken to protect the safety of these election workers and officials:
Election jurisdictions should continue to rely on the Department of Homeland Security to make security improvements to both polling places and election facilities, and election officials should take de-escalation trainings.
Election jurisdictions should clearly communicate to election workers safety precautions and applicable laws, including laws for election observers and firearms around election precincts and facilities, as well as voters' rights. This can be included in training materials or as part of the information that organizations promoting election work—such as unions and universities—provide to their members.
The DOJ, FBI, and state election offices should increase public communications and effectively distribute those communications to states and local jurisdictions to ensure election workers and officials are aware of federal and state resources available to them for assistance and reporting incidents. For example, the DOJ recently issued a release on protecting the right to vote.
Election officials and workers must have a clear understanding of laws regulating poll workers, election observers, and voters to ensure they can spot efforts to interfere or subvert the election process and can safely and effectively report instances of threats and harassment.
Ahead of the 2024 federal general election, it's also critical that the following steps be taken:
The federal government should establish a separate and significant source of federal funding for states and jurisdictions to make safety improvements that officials don't have to compete for, so they aren't forced to choose between improvements for voters and their own safety.
Federal law enforcement agencies should increase their work and communication with local law enforcement agencies to ensure they take threats seriously and are appropriately able to offer federal resources to workers and officials making reports.
The DOJ must continue to seriously prosecute federal offenses, and state attorneys general must prosecute state-level offenses for threats against or harassment of election workers and officials.
Election experts and officials—especially those who are former law enforcement or members of the military—should help to educate local law enforcement, including police unions, about election disinformation and the security of elections.
Congress must pass increased protections for election officials and workers, including increased penalties for threats and privacy protections. Meanwhile, states should continue to pass their own laws.
See also
Poll Workers Are Indispensable to the November Election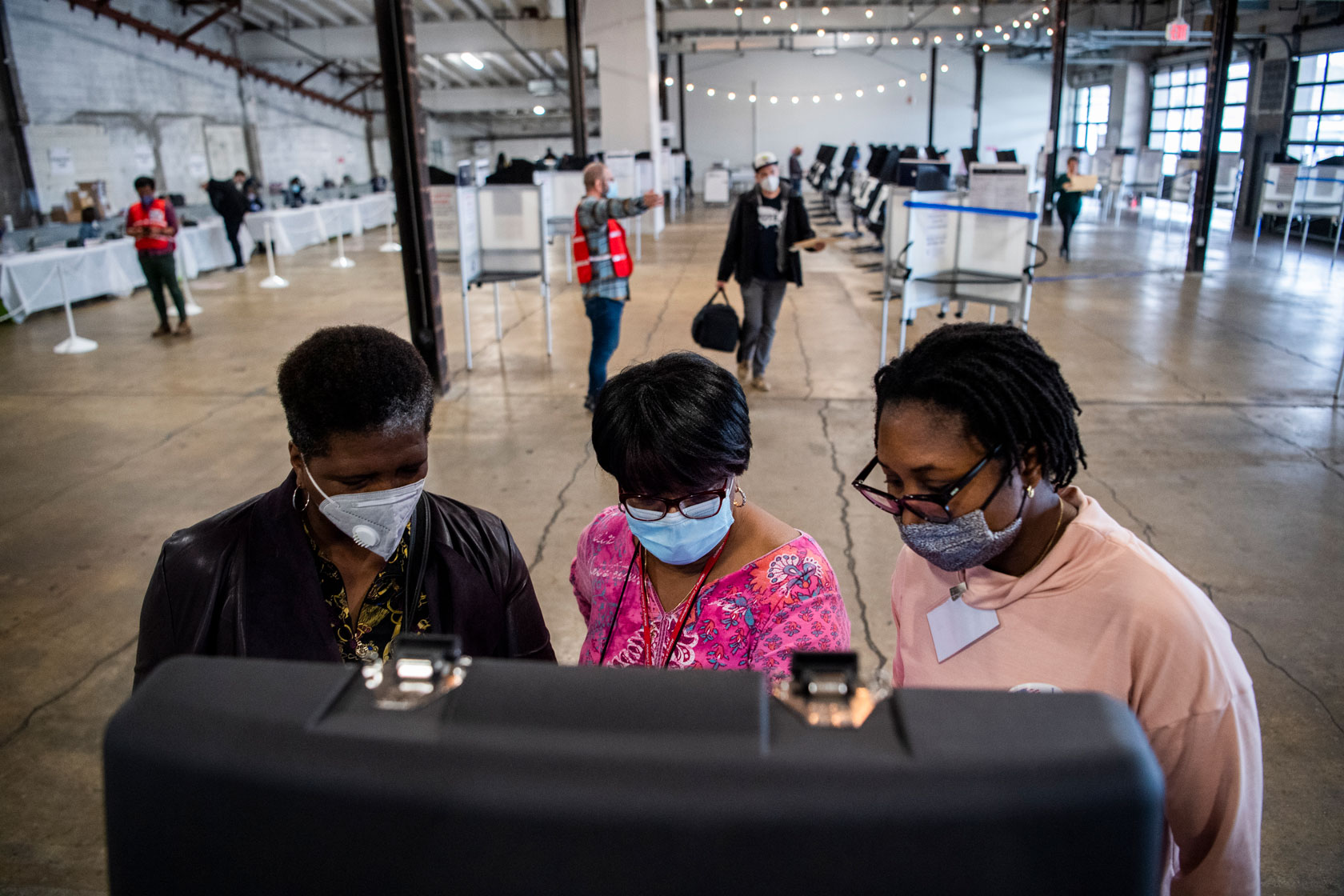 Article
Poll Workers Are Indispensable to the November Election
---
Conclusion
Election workers and officials are Americans on the front lines of democracy. Their vital nature can best be summed up in a statement provided to CAP by Colorado Secretary of State Jena Griswold, who has received many threats herself and has sought to protect officials in her state:*
Election workers are the unsung heroes of our democracy, putting in countless hours to ensure that their local elections run smoothly and that every eligible voter can make their voice heard. Unfortunately, the wave of election disinformation flooding the nation has led to increased threats toward these dedicated public servants. We must take action to protect and retain dedicated election administrators at the state, county, and local level. By protecting our election workers and officials, we safeguard our democracy.
*Author's note: Quote is on file with the author.
The positions of American Progress, and our policy experts, are independent, and the findings and conclusions presented are those of American Progress alone. A full list of supporters is available here. American Progress would like to acknowledge the many generous supporters who make our work possible.
Author
Associate Director
Team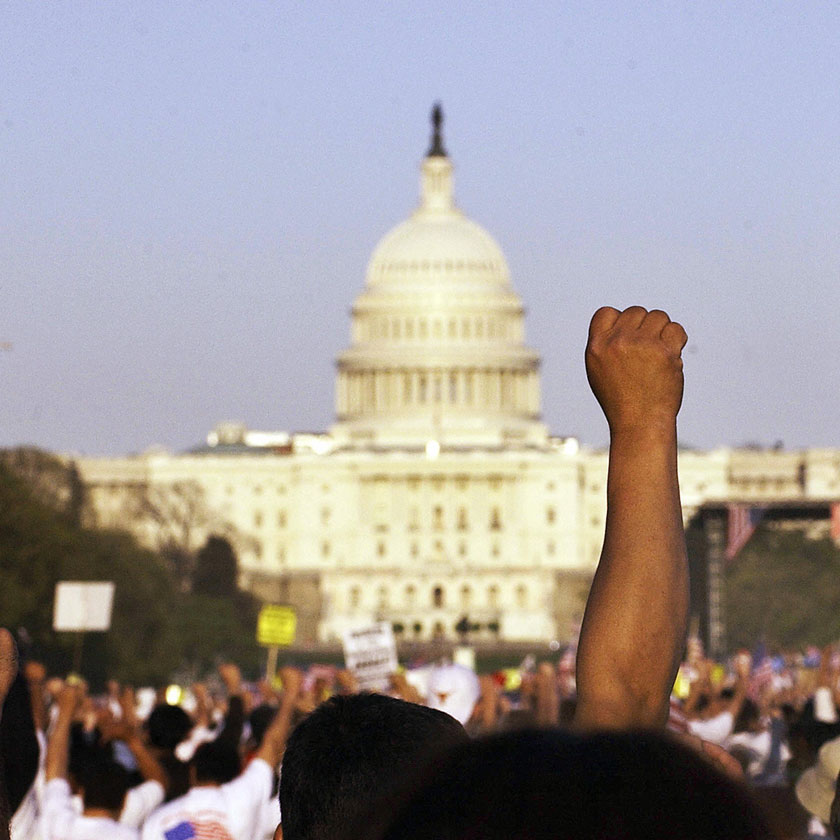 The Democracy Policy team is advancing an agenda to win structural reforms that strengthen the U.S. system and give everyone an equal voice in the democratic process.