Progressive Wins Re-Envision Immigration Enforcement at the Local Level
Progressive Wins Re-Envision Immigration Enforcement at the Local Level
The 2018 midterm election results showed that voters at the local level are increasingly rejecting punitive, harsh immigration enforcement efforts.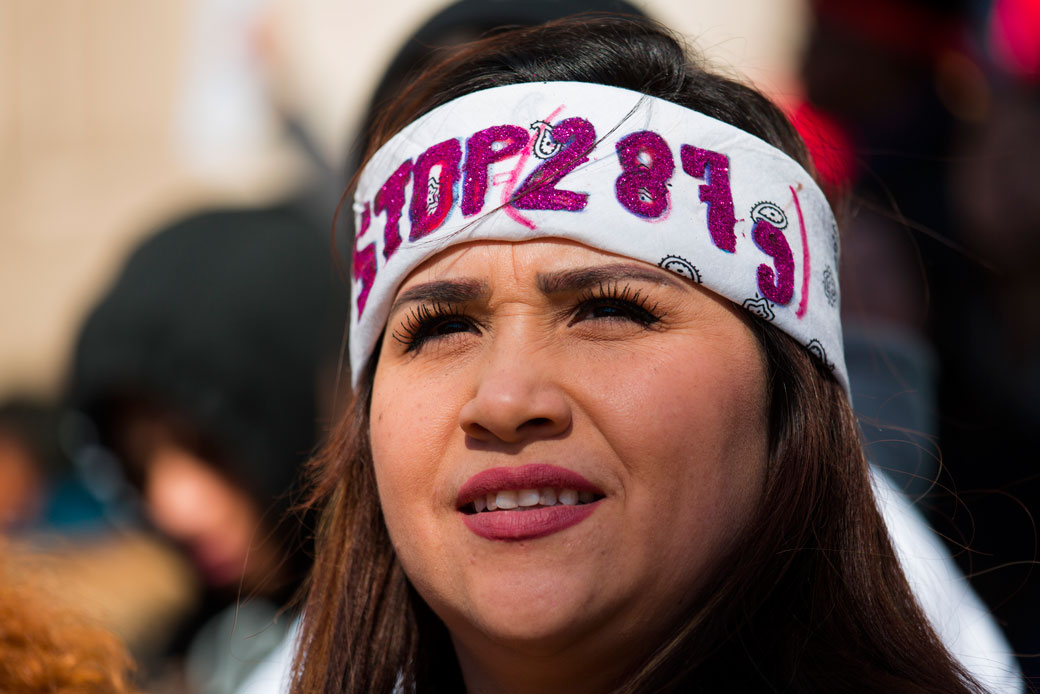 The 2018 midterm election results were filled with historic firsts, including record-breaking participation from young and first-time voters, as well as an unprecedented number of women and members of underrepresented groups elected to public office. A significant amount of post-election media coverage rightly focused on voters' rejection of President Donald Trump's extreme, anti-immigrant rhetoric at the federal level. Yet what went largely unnoticed was that voters at the local level also strongly rebuked Trump's immigration agenda. In races across the country, voters turned to the ballot box to reject local sheriffs who pushed aggressive 287(g) agreements—which deputize local law enforcement as federal immigration agents—and other forms of local cooperation with U.S. Immigration and Customs Enforcement (ICE).
In states such as North Carolina, Maryland, New Mexico, New York, and Minnesota, candidates for top law enforcement positions made local cooperation with federal immigration enforcement a key issue in their campaigns. This issue gained prominence, in part, due to the effective organizing work of groups that represent affected communities, and many of these same groups worked to ensure that voters overwhelmingly rejected policies that entangle local law enforcement with federal immigration enforcement.
In the aftermath of these election victories, policies have begun to change. This column details some of the most powerful examples of the recent effort to re-envision immigration enforcement at the local level, identifying counties in which local elections saw voters push back against harsh immigration enforcement policies.
Candidates in North Carolina advocated against local cooperation with ICE
For more than 12 years, the Mecklenburg County Sheriff's Office (MSCO) participated in the voluntary 287(g) program, which allowed local law enforcement officers to perform immigration enforcement functions in one of North Carolina's largest counties. The program's first proponent, former Sheriff Jim Pendergraph, made it clear that this was meant to target and get rid of immigrants—rather than improve public safety, as ICE publicly touts. When Mecklenburg County first joined the 287(g) program in 2006, Pendergraph said, "We've got millions of illegal immigrants that have no business being here … These people are coming to our country without documents, and they won't even assimilate. … This is about homeland security. This is about the sovereignty of our country." While Pendergraph went on to take a short-lived federal position under the George W. Bush administration leading efforts to ramp up state and local involvement in immigration enforcement, his successors continued 287(g) participation for years. The effects of the MSCO's collaboration were devastating: families torn apart and thousands of people deported—often for traffic violations such as driving without a license.
In 2018, community residents called on Mecklenburg County's incumbent sheriff, Irwin Carmichael, to "terminate the program and [instead] find solutions that promote community safety while protecting immigrant families." Yet Carmichael refused, and even defended his department's participation in the program, arguing that it "doesn't target anyone" and was meant to keep the community safe. His views were widely unpopular, particularly among the Latino community—a key voting constituency that organized and found an ally in challenger Garry McFadden. McFadden soundly defeated Carmichael in the 2018 Democratic primary after promising to end the 287(g) agreement, citing skepticism over its effectiveness in reducing crime and its negative impacts on immigrant communities. In November, he won an uncontested election to become the new sheriff.
Similarly, in Wake County, candidate Gerald M. Baker also ran on an anti-287(g) platform and ended up delivering one of the biggest election upsets in North Carolina, successfully defeating incumbent Sheriff Donnie Harrison, who was running for a fifth term. Harrison supported the 287(g) program, which, from 2013 to 2017—under his tenure—led to 1,483 deportations. In the weeks leading up to Election Day, the American Civil Liberties Union (ACLU) spent $100,000 on radio ads criticizing Harrison for enabling President Trump's anti-immigrant agenda. In fact, during the 2018 election cycle, North Carolina became a central battleground, with the ACLU investing hundreds of thousands of dollars in a nonpartisan campaign to educate voters about candidates' positions on crucial issues, including the 287(g) program.
Meanwhile, in Durham County, incumbent Sheriff Mike Andrews lost his re-election bid to Clarence Birkhead, who publicly promised to stop honoring detainers that ask local jurisdictions to unconstitutionally hold people in custody at ICE's request. Like the aforementioned candidates in North Carolina, Birkhead took a clear position against the use of local resources for federal immigration enforcement purposes, and he eventually sailed to victory.
Anne Arundel County, Maryland, terminated its 287(g) agreement
As of 2018, three Maryland counties were part of the federal government's harmful 287(g) program: Frederick County, Harford County, and Anne Arundel County. Anne Arundel County, Maryland's fifth-most populous county and home to the state capitol, entered the federal 287(g) program in 2017 under the leadership of then-County Executive Steve Schuh. During the 2018 election cycle, Democratic challenger Steuart Pittman questioned Schuh's immigration policies and campaigned against the 287(g) program. Pittman was successful in his bid to unseat Schuh, and he followed through on his commitment to withdraw from the 287(g) program in December 2018, just a few days after being inaugurated as county executive.
While citing a county-issued report on the negative effects of 287(g) in Anne Arundel County, Pittman noted: "While the program may help further the federal immigration policy under President Donald Trump, it does not help county law enforcement keep criminals off Anne Arundel County streets." Pittman did, however, keep a jail contract through which ICE paid the county $118 per day to house immigrant detainees; he promised to instead use that money to provide legal help for detainees. In retaliation for Pittman's withdrawal from the 287(g) program, ICE recently ended this jail partnership.
Hennepin County, Minnesota, voted in favor of fostering community trust
In Hennepin County, Minnesota, another longtime incumbent was defeated by a progressive candidate who challenged the role of local law enforcement. Challenger Dave "Hutch" Hutchinson narrowly defeated incumbent Sheriff Rich Stanek, in part by making it clear that his goal was to build trust and "make sure that people, even who are undocumented, are still comfortable coming to the police." Whereas Stanek defended his policy of assisting ICE in identifying foreign-born inmates and granting the agency full access to local jails, Hutchinson asserted that immigration enforcement was a federal matter, saying "that's not our job as public safety."
Los Angeles, California, voters elected a pro-immigrant candidate
In Los Angeles County, California, voters removed Sheriff Jim McDonnell and elected Alex Villanueva, making him the first challenger in more than 100 years to unseat an incumbent sheriff in the county. Villanueva made McDonnell's immigration enforcement policies a top campaign issue, vowing to get rid of ICE in county jails. On the campaign trail, Villanueva addressed concerns over ICE's access to Los Angeles County jails under Sheriff McDonnell's oversight, promising not to allow county jails to be a "pipeline to deportation." In 2017, the Service Employees International Union and the National Day Laborer Organizing Network filed a lawsuit against McDonnell seeking information about his department's interaction with the Trump administration with regard to lobbying against a pro-immigrant bill that proposed limits on state and local law enforcement's cooperation with the federal government on immigration. Whereas McDonnell continuously refused to end his department's cooperation with ICE, Villanueva's more progressive approach to immigration enforcement eventually helped pave the path to victory.
Conclusion
Counties and local governments have played an important role in protecting immigrant communities against the federal government's aggressive detention and deportation efforts during the Trump era. The 2018 midterm election results are proof that local politics remains key for community resistance and progressive initiatives; moreover, lawmakers who help advance President Trump's vision for immigration risk losing the support of the communities they are tasked with serving and protecting.
Much work is still needed to combat ICE's continued efforts to retaliate against communities that have successfully limited their cooperation in federal immigration enforcement efforts. Looking forward, recent local efforts to strategically organize provide valuable lessons on how cities and counties can lead on immigration and thus curb the direct impact of ICE's expansion. By organizing community residents and taking their demands to the ballot boxes, communities have created a new pathway for progressive, pro-immigrant initiatives—such as the disentanglement of ICE from local policing.
Claudia Flores is the immigration campaign manager at the Center for American Progress.
The positions of American Progress, and our policy experts, are independent, and the findings and conclusions presented are those of American Progress alone. A full list of supporters is available here. American Progress would like to acknowledge the many generous supporters who make our work possible.
Authors Claudia Flores
Former Associate Director, Policy and Strategy