More Action on Climate Change
More Action on Climate Change
CAP's Comments to the EPA on Its Proposed Carbon Pollution Standard
Now is the time for the Environmental Protection Agency to finalize the proposed carbon pollution standard for new power plants and commence work on reductions for existing plants, write Daniel J. Weiss and Jorge Madrid.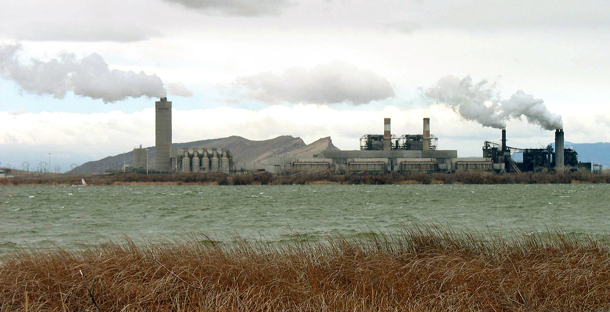 Yesterday the public comment period ended for the Environmental Protection Agency's proposed carbon pollution standard for new, unbuilt power plants. This is the first limit on carbon pollution ever proposed for a stationary, industrial source. This process began on April 2, 2007, when the Supreme Court ruled in Massachusetts v. EPA that "greenhouse gases fit well within the Clean Air Act's capacious definition of 'air pollutant.'" Based on this decision, the Environmental Protection Agency has the authority and responsibility to set limits on carbon pollution from mobile and stationary sources.
After the Supreme Court ruling, the first step in the process required the EPA to determine whether carbon pollution "endangers the public health and welfare." In 2008 then-EPA Administrator Stephen Johnson made such a determination. He wrote President George W. Bush that an endangerment finding was warranted under the science and the law:
Your Administration is compelled to act on this issue under existing law.
That case [Massachusetts v. EPA] combined with the latest science of climate change requires the Agency to propose a positive endangerment finding … the state of the latest climate change science does not permit a negative finding, nor does 'it permit a credible finding that we need to wait for more research.
Then-Administrator Johnson also told the president that the EPA must regulate carbon pollution from power plants and other sources. President Bush declined to act but that did not alter the legal or scientific reasons compelling action.
After President Bush's inaction, it fell to the Obama administration to review the science and make the endangerment finding. After nearly a year of review, EPA Administrator Lisa Jackson followed science and the law by issuing an endangerment finding for carbon and other pollutants. It observed that air pollution "endanger[ed] both the public health and the public welfare of current and future generations."
On April 13, 2012, the EPA culminated years of work by proposing to limit carbon pollution from new coal-fired power plants. New plants that generate electricity from natural gas would likely meet the new standard without additional controls. New coal-fired power plants, however, would have to reduce their carbon pollution by 40 percent to 60 percent, which may make building these proposed coal plants uneconomical.
There is still time to make your voice heard: Urge the EPA to clean up our air now
Take action here for clean air!
Although the official comment period is over, you can still submit a comment in support of the EPA's proposed carbon pollution standard, and urge reductions from existing power plants and other sources, too. Feel free to thank EPA Administrator Lisa Jackson for her leadership.
Coal companies and many large utility companies are challenging the carbon pollution standard for new power plants. To build support for the EPA's proposal, the Center for American Progress Action Fund—CAP's sister organization—joined a campaign urging Americans to submit their public comments to the EPA. These comments urged the EPA to finalize the proposed carbon pollution standard and establish a pollution reduction standard for existing power plants and other large industrial sources.
All told, there were more than 2 million comments submitted to the EPA that urged these actions. This is a record for any previous EPA regulatory proposal. Now it's up to the EPA to finalize the proposed carbon pollution standard for new power plants, and then commence work on reductions for existing plants.
CAP's official comment submission
Dear Administrator Jackson:
The Center for American Progress writes in support of strong rules for reducing carbon pollution from new coal-fired power plants. We favor the proposed "Carbon Pollution Standard" that would slow the growth of the major pollutant responsible for global climate change, which threatens the health and safety of all Americans. This new standard will have far-reaching positive public health outcomes and finally put a limit on emissions from the single largest carbon pollution source in America: burning coal to generate electricity.[1]
So far, more than 2 million public comments have been submitted by Americans who support the proposed rule, the largest number of comments ever submitted to the EPA during a public comment period on any proposed regulation.[2] We urge the EPA to finalize the Carbon Pollution Standard and implement the public health protections that protect our children, families, and communities from pollution and the threat of unchecked climate change. After the promulgation of this rule, it is imperative that the EPA establish limits on industrial carbon pollution from existing power plants, oil refineries, and other major emitters.
Carbon rule will help mitigate the climate risk
Climate change is one of the gravest threats posed to humans. It is essential that the United States and other nations significantly reduce their industrial carbon and other pollutants responsible for it. We are already experiencing many of the harmful consequences of climate change that scientists have warned us about, including warming temperatures, severe drought, massive rainfall and floods, and other extreme weather events.
In 2010 the National Academy of Sciences determined that global warming is real and human induced:
There is a strong, credible body of evidence, based on multiple lines of research, documenting that climate is changing and that these changes are in large part caused by human activities. While much remains to be learned, the core phenomenon, scientific questions, and hypotheses have been examined thoroughly and have stood firm in the face of serious scientific debate and careful evaluation of alternative explanations.[3] [emphasis added]
The U.S. Global Change Research Program, primarily written under President George W. Bush, also determined that "global warming is unequivocal and primarily human-induced."[4]
It further states that climate-related impacts are visible now and will continue to grow.
Unfortunately, extremely hot and dry temperatures are already the "new normal" according to experts from the National Ocean and Atmospheric Administration, or NOAA.[5] Last year was the second-hottest and second-driest summer on record. This year set temperature records for the warmest spring in the lower 48 states since NOAA began keeping records in 1895.[6] Climate change is making these conditions more frequent and severe. Under an unchecked climate change scenario in which we continue to spew carbon and other greenhouse gases without limits, Stanford University scientists forecast permanently hotter summers:
According to our projections, large areas of the globe are likely to warm up so quickly that, by the middle of this century, even the coolest summers will be hotter than the hottest summers of the past 50 years.[7]
As global warming continues, droughts are projected in the Southwest that will likely reduce perennial vegetation and result in increased dust storms. Dust bowls, extreme weather, and food insecurity will all result. Last year Texas suffered through the worst drought in its history.[8] As of the end of this May, Texas, Arizona, Colorado, New Mexico, and Georgia all had areas in the grip of a severe and extreme drought.[9] Just this past weekend, on June 24, 11,000 people were forced from their homes because of wildfires in Colorado.[10] These are all climate change events predicted by scientists.
The climate change risks are real. That is why 33 retired U.S. generals and admirals in 2010 called for a comprehensive climate and energy legislation since climate change is a threat to U.S. security, warning that "climate change and energy are two key issues that will play a significant role in shaping the future security environment."[11]
Carbon pollution standard will protect public health
By contributing to climate change, carbon pollution increases temperatures and amplify the ill-health effects of ground-level ozone (smog) and other pollutants. Smog and other air pollutants worsen asthma symptoms and other respiratory illnesses.[12] A 2011 study in the New York Academy of Sciences by the late Dr. Paul Epstein of Harvard Medical School and others projects that the "best estimates from literature" of the "climate damages from [coal] combustion emissions" is $62 billion annually.[13]
The EPA's own Endangerment Finding for carbon and other greenhouse gas pollutants noted that air pollution "endanger[ed] both the public health and the public welfare of current and future generations."[14] The United States will also experience an increase in regional ozone pollution due to higher temperatures and poor air circulation.
These health concerned are shared by more than 120 health organizations including the American Academy of Pediatrics, American Lung Association, American Medical Association, American Nurses Association, American Public Health Association, American Thoracic Society, and others who favor reductions in carbon pollution to protect public health. These organizations identified a number of serious health harms from climate change:
Climate change is a serious public health issue. As temperatures rise, more Americans will be exposed to conditions that can result in illness and death due to respiratory illness, heat- and weather-related stress and disease carried by insects. These health issues are likely to have the greatest impact on our most vulnerable communities, including children, older adults, those with serious health conditions and the most economically disadvantaged.[15]
The new carbon limits will be the first step in reducing the serious health threats posed by unchecked carbon pollution.
Carbon pollution standard has economic benefits
The carbon pollution standard would provide economic benefits by encouraging investment in the clean energy sector. An analysis by the Brookings Institute determined that this sector grew at twice the rate of the overall economy during the peak of the recession (2008–2010).[16]
In practice, the proposed carbon pollution standard could make the construction of most new coal-fired power plants uneconomical. The typical new coal-fired power plant would have to reduce its carbon pollution by 40 percent to 60 percent. Generating electricity from coal with this pollution reduction level may only be possible with expensive carbon-capture-and-storage technology that can add as much as 30 percent to operation costs.[17] And this new technology is not yet close to commercial viability.
The carbon pollution standard would help level the energy playing field by creating an incentive for investors, utilities, and decision makers to invest in new renewable energy projects such as wind and solar, whose fuels are completely free, clean, and unlimited. Along the way, the United States can build new industries, jobs, and technical capacity to protect the recovering economy from further—and likely inevitable—fossil-fuel price hikes.
Renewable energy, paired with investments in energy efficiency, can help meet future demand for electricity. And the potential impact on jobs is promising: According to a University of Massachusetts analysis, every $1 million spent on clean energy technology creates 16.7 jobs, compared to those same dollars creating only 5.3 jobs in the fossil-fuel sector.[18]
We should not shy away from this grand challenge of reimagining and re-engineering a future in which new competitive and groundbreaking technology replaces old, inefficient, and dirty modes of electricity generation. This is where Americans have historically shown their true spirit of innovation and problem solving.
Next steps
CAP applauds the EPA's first-ever proposal to limit carbon pollution from new coal-fired power plants—but the hard work is only beginning.
The first steps for the EPA are to finalize the carbon pollution standard, along with the proposed carbon pollution limits for motor vehicles that were proposed in November 2011.[19] We urge the EPA to listen public health professionals, scientists, and millions of Americans who have voiced their support for these reductions, and not the special interests in the fossil fuel industry who seek to continue to pollute.
We urge the EPA to ensure that the final carbon pollution standard for power plants does not enable new power plants to operate for a long time without achieving some reduction in carbon pollution. In addition, the EPA must hold polluters accountable by strictly enforcing these pollution limits. Power plants dump more than 2 billion tons of carbon and other toxic pollutants into the air each year—nearly 13,000 pounds for every man, woman, and child in the United States.[20] This pollution must be reduced to stave off the worst effects of climate change.
While regulating new plants is an important first step, CAP urges the EPA to propose rules for existing power plants and other sources of air pollution. Such reductions are essential to reduce the extreme temperatures and other conditions from climate change that will increase respiratory illnesses and cause other public health harms.
Conclusion
CAP joins an overwhelming chorus of voices who support cleaner air and healthier communities. Limiting carbon pollution from new power plants will be the first step in mitigating climate change, which poses grave risk to all Americans.
This essential standard will also encourage investment in clean energy and energy efficiency, which will create jobs, foster competition, and boost domestic manufacturing. In addition to reducing emissions, the United States should continue to invest in the development and production of clean and renewable alternatives to fulfill our energy needs.
With the carbon pollution standard and the adoption of additional pollution reductions, we can look forward to a healthier, more prosperous, and more sustainable future.
Thank you for this opportunity to comment on the proposed standard.
Sincerely,
Daniel J. Weiss
Senior Fellow and Director of Climate Strategy
Jorge Madrid
Research Associate
See also:
Endnotes
[1] "Coal-fired power plants emit more CO2—about one-third of the U.S. total—than any other source, including surface transportation," available at http://www.ucsusa.org/assets/images/gw/US-CO2-emissions-by-source-faq.PNG.
[2] Alliance of Nurses for Healthy Environments and others, "More Than 2 Million Comments Supporting EPA Protections Against Carbon Pollution and Climate Change Collected," Press release, June 21, 2012, available at http://www.usclimatenetwork.org/resource-database/more-than-two-million-comments-supporting-epa-protections-against-carbon-pollution-and-climate-change/.
[3] National Research Council, Advancing the Science of Climate Change (Washington: The National Academies Press, 2010), available at http://www.nap.edu/openbook.php?record_id=12782&page=1.
[4] U.S. Global Change Research Program, "2009 Global Climate Change Impacts in the United States" (2009), available at http://www.globalchange.gov/publications/reports/scientific-assessments.
[5] "NOAA's 1981-2010 Climate Normals," available at http://www.ncdc.noaa.gov/oa/climate/normals/Normals-Webcast-061311.pdf.
[6] Andrew Freedman, "Four Major U.S. Heat Records Fall In Stunning NOAA Report," Think Progress, June 8, 2012, available at http://thinkprogress.org/climate/2012/06/08/496265/four-major-us-heat-records-fall-in-stunning-noaa-report/.
[7] Woods Institute for the Environment at Stanford University, "Stanford climate scientists forecast permanently hotter summers," Press release, June 6, 2011, available at http://www.eurekalert.org/pub_releases/2011-06/su-sc060611.php.
[8] PBS NewsHour, "Worst Drought in Texas History Ravages Crops, Livestock," August 31, 2011, available at http://www.pbs.org/newshour/bb/weather/july-dec11/texasdrought_08-31.html.
[9] "U.S. Drought Monitor," available at http://www1.ncdc.noaa.gov/pub/data/cmb/images/fire/2012/05/total_dm_120529.png.
[10] Keith Coffman, "Colorado fire near Pikes Peak forces 11,000 from homes," Reuters, June 25, 2012, available at http://www.reuters.com/article/2012/06/25/usa-wildfires-idUSL2E8HO4C720120625.
[11] Quadrennial Defense Review Report (Department of Defense, 2010), available at http://www.defense.gov/qdr/qdr%20as%20of%2029jan10%201600.PDF.
[12] "Climate Change and the Health of Children," available at http://yosemite.epa.gov/ochp/ochpweb.nsf/content/climate.htm.
[13] Paul R. Epstein and others, "Full cost accounting for the life cycle of coal," Annals of the New York Academy of Sciences (2011): 73–98, available at http://solar.gwu.edu/index_files/Resources_files/epstein_full%20cost%20of%20coal.pdf.
[14] Environmental Protection Agency, "Endangerment and Cause or Contribute Findings for Greenhouse Gases Under Section 202(a) of the Clean Air Act; Final Rule," Federal Register 74 (239) (2009): 66496–66546, available at http://epa.gov/climatechange/Downloads/endangerment/Federal_Register-EPA-HQ-OAR-2009-0171-Dec.15-09.pdf#page=29.
[15] American Public Health Association, "Most at Risk If EPA is Shackled: Infants, Seniors, Poor Americans; Health Organizations from 36 States Speak Out," Press release, September 28, 2010, available at http://www.apha.org/about/news/pressreleases/2010/epa+group+letter+release.htm.
[16] Marl Muro, Jonathan Rothwell, and Devashree Saha, "Sizing the Clean Economy" (Washington: Brookings Institute, 2011), available at http://www.brookings.edu/~/media/Series/resources/0713_clean_economy.pdf.
[17] Ken Berlin and Robert M. Sussman, "Global Warming and the Future of Coal" (Washington: Center for American Progress, 2007), available at http://americanprogress.org/issues/2007/05/coal_report.html.
[18] Robert Pollin, James Heintz, and Heidi Garrett-Peltier, "The Economic Benefits of Investing in Clean Energy" (Washington: Political Economy Research Institute, 2009), available at http://www.peri.umass.edu/fileadmin/pdf/other_publication_types/green_economics/economic_benefits/economic_benefits.PDF.
[19] National Highway Traffic Safety Administration, "We Can't Wait: Obama Administration Proposes Historic Fuel Economy Standards to Reduce Dependence on Oil, Save Consumers Money at the Pump," Press release, November 16, 2011, available at http://www.nhtsa.gov/About+NHTSA/Press+Releases/2011/We+Can't+Wait:+Obama+Administration+Proposes+Historic+Fuel+Economy+Standards+to+Reduce+Dependence+on+Oil,+Save+Consumers+Money+at+the+Pump.
[20] Environmental Protection Agency, "Energy," available at http://www.epa.gov/climatechange/emissions/downloads12/US-GHG-Inventory-2012-Chapter-3-Energy.pdf.
The positions of American Progress, and our policy experts, are independent, and the findings and conclusions presented are those of American Progress alone. A full list of supporters is available here. American Progress would like to acknowledge the many generous supporters who make our work possible.
Authors Daniel J. Weiss
Senior Fellow Jorge Madrid
Research Associate & Policy Analyst