Let's Rise to the Challenge on Labor Standards
Let's Rise to the Challenge on Labor Standards
Obama Administration Takes Action on Labor Standards in Trade Agreements
International labor standards are an imperative that allows us all to compete on an even playing field, and enforcement efforts should be applauded, writes Sabina Dewan.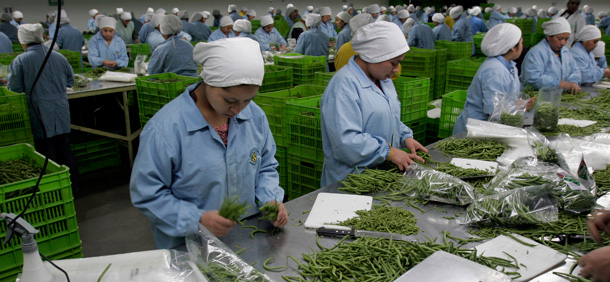 U.S. Labor Secretary Hilda Solis and Trade Representative Ron Kirk sent a message on Friday that the Obama administration is serious about enforcing the labor provisions in our trade agreements. They announced that the administration plans to pursue consultations with the Guatemalan government under the labor chapter of the Dominican Republic-Central America-United States Free Trade Agreement, or CAFTA-DR. This is the first time ever that the United States has brought a labor case against a trade agreement partner, and it comes after an extensive Labor Department investigation that found violations of worker's rights to organize and bargain collectively, as well as poor workplace conditions.
Effective enforcement of labor standards is not only a moral imperative but also an economic imperative. Our own economic progress depends on making sure that our trading partners abide by the labor laws on their books. Enforcement ensures that American workers can compete on a level playing field; that developing countries continue to develop in a just and sustainable way, opening up more markets for American goods and services; and that corporations and the public sector can share the burden of raising labor standards.
Ensuring the enforcement of labor standards helps create a more even playing field so that countries with lower levels of development than our own cannot leverage poor labor standards as a competitive strategy. Assuming that developing countries can only achieve economic growth and development by leveraging poor labor standards is both wrong and unsustainable. In fact, the adoption and implementation of labor standards can help developing countries move up the development trajectory.
Making sure that workers operate in acceptable conditions, with appropriate protections and compensation, and with the right to organize and bargain collectively helps raise living standards in developing countries. And those advances rebound to benefit our own economy. Better standards of living increase consumption power, and in the long run that creates new markets for our own products and services.
This enforcement is a shared responsibility between the public and private sectors. When there is an absence of effective government enforcement of labor laws, the private sector must shoulder a larger share of the burden. So, the private sector should support the formation of effective labor institutions and the effective enforcement of labor laws in our trading-partner countries. In this way, as Executive Vice President of Limited Brands Sam Fried noted, "globalization can be a race to the top."
Secretary Solis and Ambassador Kirk's announcements on Friday are a very significant step in the right direction. Trade incentives are a powerful instrument for promoting labor laws, from institution and enforcement to compliance. This initial step to pursue consultations provides the Guatemalan government with an opportunity to comply with the labor provisions in the CAFTA-DR agreement.
The Obama administration is taking the inclusion and enforcement of labor standards in our trade agreements to new, much anticipated, heights—from President Obama's promises on the campaign trail and Ambassador Kirk's speech on trade enforcement at the steel plant in Pittsburgh, to Secretary Solis's announcement on Friday. Including labor standards in our trade agreements and requiring our trading partners to comply with them gives the United States an opportunity to apply trade policy in service of a global race to the top on labor standards that rebounds to benefit our own economy. We should rise to the challenge.
Sabina Dewan is Associate Director of International Economic Policy at the Center for American Progress.
The positions of American Progress, and our policy experts, are independent, and the findings and conclusions presented are those of American Progress alone. A full list of supporters is available here. American Progress would like to acknowledge the many generous supporters who make our work possible.
Authors Sabina Dewan
Senior Fellow