It's Easy Being Green: The Big Green Easy
It's Easy Being Green: The Big Green Easy
Five years after Katrina, several organizations are helping New Orleans residents rebuild their homes smarter and greener.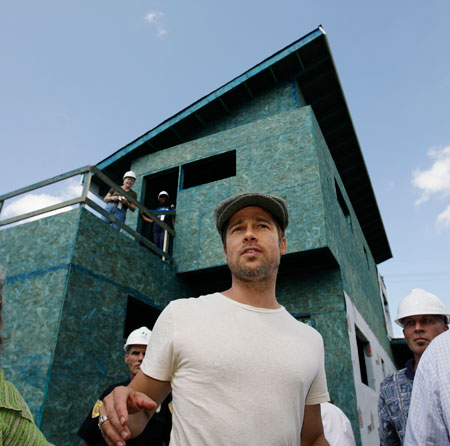 Read more articles from the "It's Easy Being Green" series
When Hurricane Katrina hit New Orleans five years ago, the devastation was heartbreaking. Residents lost homes, schools, and churches, and in some cases entire neighborhoods were destroyed. The city was in ruins by the time the water finally receded, leaving the task of rebuilding to those whose homes and livelihoods had been swept away by the massive storm. The Crescent City slowly but surely crept back to life, and in the process, New Orleans 2.0 is becoming better, stronger, and greener.
There are a number of organizations working to help New Orleans think smarter and greener as residents rebuild their homes, keeping in mind that installing rooftop solar panels or backyard wind turbines isn't realistic for most people, and that simple is better.
Go Green NOLA encourages homebuilders to think small, since smaller homes use less energy. The group also makes suggestions such as installing windows and insulation systems with special attention to local weather and climate—think: humidity, and lots of it—and using shade trees and other landscaping to help beat back the southern sun. The organization's web site has a number of resources to help residents make the right choices for the environment.
Global Green USA's Build it Back Green program has helped set the standard for green redevelopment in the Big Easy. The group provides information and technical assistance to New Orleans homeowners and small rental property owners who have received Road Home Grants so that they can rebuild in an affordable and sustainable manner. They offer resources ranging from product information and how-to tips on sustainable insulation, lighting, and water and sewage systems, to lists of vendors and contractors who are green friendly. They even have a resource center where people can go to see samples of environmentally friendly building materials or get one-on-one green building consultations.
Finally, no article about the green rebuilding of New Orleans would be complete without mention of the city's hunkiest advocate: Brad Pitt. The actor founded Make it Right after touring the still totally deserted Lower Ninth Ward two years after Katrina hit. He pledged to help build 150 green and storm resistant homes in the neighborhood.
Twenty-one acclaimed architects have donated their designs for single-family homes and duplexes, and the U.S. Green Building Council calls the area the largest, greenest neighborhood of single-family homes in the country. In addition to helping the 150 families who move into new homes, Make it Right is testing and implementing new construction techniques, technologies, and materials that will make green, storm resistant homes affordable and broadly available to working families across the country.
New Orleans still has a long way to go to in the rebuilding process, but with the help of organizations like these and others, the city stands a real chance of making a strong—and green—comeback.
The positions of American Progress, and our policy experts, are independent, and the findings and conclusions presented are those of American Progress alone. A full list of supporters is available here. American Progress would like to acknowledge the many generous supporters who make our work possible.