It's Easy Being Green: Seasonal Eats
It's Easy Being Green: Seasonal Eats
By choosing food that's in season we can maximize nutritional value, minimize global food shipments, and build a future on local and sustainable practices.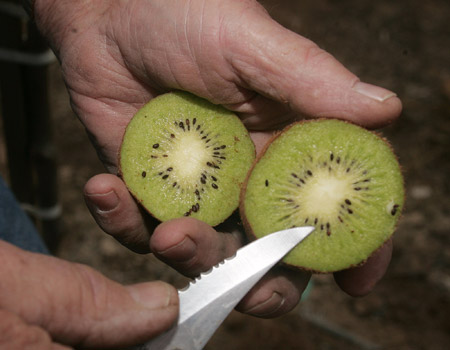 Read more articles from the "It's Easy Being Green" series
Have a craving for strawberries in the winter? Winter squash in the summer? No problem. The cornucopia of plastic-sealed produce on supermarket shelves remains virtually unchanged from spring to winter. Over the past 50 years the human race experienced something unknown to our ancestors: The ability to find and purchase any type of food regardless of season or region. But what are we giving up by giving in to our out-of-season food cravings?
In the modern food business convenience and accessibility often win out over nutritional value. Plants receive nutrients through their stems, so picking the plant terminates this flow of vitamins. To satisfy consumer demand for out-of-season food, produce must be shipped from wherever it's currently growing. Fruit and vegetables are thus harvested before they are ripe and when they would have peak nutritional value—and are shipped long distances, losing valuable nutrients day by day.
The kiwi, for example, is New Zealand's national fruit. However, Italy, now the world's largest kiwi supplier, keeps New Zealand and the rest of the Southern Hemisphere supplied with kiwis during their winter months when the kiwis would otherwise be out of season. Italy also happens to be a large supplier of kiwis to the United States. The fruit travels up to a month in refrigerated crates before reaching its various destinations. And the fuel used to ship thousands of tons of food every day pollutes the air and depletes valuable resources.
Consumers can break these unnatural and unsustainable consumption habits by eating seasonally and going local. Shopping at farmers' markets, for instance, ensures that you are buying food that is in season where you live and has not traveled more than a few miles.
Technology has made it impossible to plead ignorance to the seasonal patterns of produce. On the Natural Resources Defense Council's website you can search by region and month to find out what is growing near you. Or if you're on the go, an iPhone app will tell you what's in season, where to find it, and how to cook it.
Changing your cooking to accommodate the ingredients available poses a creative challenge and makes sure your meals uphold variety throughout the year. Countless websites organize their recipes by season or ingredient, and blogs focusing on local food are also great places to find meals to match the season.
Eating seasonally doesn't mean you have to entirely give up summer fruits and vegetables in the winter, either. Many fruits and vegetables are easily canned and remain delicious for months after harvest. In the summer you can also freeze the local fruit you buy and defrost it once it's out of season.
The prevailing consumer attitude has come to expect food to be universally available year round, but this availability clearly has its costs. If we can become more conscious about choosing our produce it will bring us one step closer to a future of sustainable agriculture.
Read more articles from the "It's Easy Being Green" series
See also:
The positions of American Progress, and our policy experts, are independent, and the findings and conclusions presented are those of American Progress alone. A full list of supporters is available here. American Progress would like to acknowledge the many generous supporters who make our work possible.