It's Easy Being Green: Save Money, Save Emissions—Work from Home
It's Easy Being Green: Save Money, Save Emissions—Work from Home
Part-time telecommuting can reduce carbon emissions, ease highway congestion, and improve worker productivity.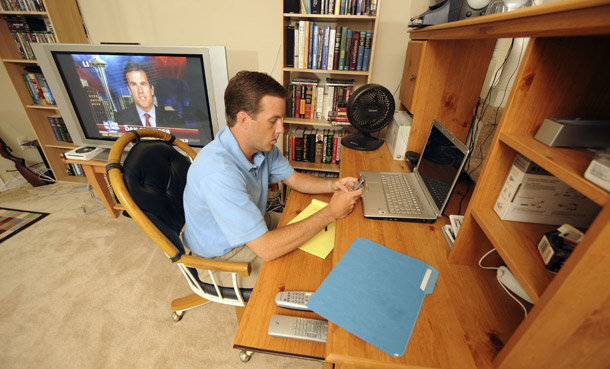 The commuter lifestyle is on its way out, and it's taking some 26 billion pounds of carbon dioxide pollution with it. Telecommuting, or working from home, is a practice that could be the answer to ever-increasing gasoline prices and help the environment at the same time. If employees who could telecommute did so at least two days a week, their fuel consumption and cost would decrease by 40 percent—and that's just one of the benefits.
Telecommuting is a work arrangement that allows for flexibility in hours and location. It provides more time with family members, and replaces productivity time that is normally lost in commutes. Technology plays a part as well; virtual private networks and videoconferencing are shrinking the gap between the workplace and home.
Many U.S. workers have been forced to move away from city centers in pursuit of a more affordable house and lifestyle, but they now face extraordinarily high transportation costs. Nearly half of all commuters travel more than 20 miles round trip to and from work every day, and with the average price of gas at more than $4 per gallon, it can cost hundreds of dollars to commute every week.
In addition, traffic congestion continues to worsen in American cities of every size. Not only do commuters spend 4.2 billion hours in traffic each year, this idling wastes 2.9 billion gallons of fuel—enough to fill 58 fully loaded supertankers.
As early as 1996, a Massachusetts study found that telecommuters were as productive if not more so than their non-telecommuting colleagues. They were also happier, more dedicated employees who were better able to balance work and family. Telecommuters also reduced vehicular air pollution, highway congestion, and fuel use to boot.
Already, 45 million Americans telecommute at least one day a week. The trend is on the rise—nationally, the number of Americans telecommuting at least once a month has grown by 10 percent in the last two years. Roughly 20 percent of the workforce is engaged in some type of telecommuting work. In Connecticut, for example, the number of part-time telecommuters has jumped 86 percent since 2001. In Maricopa County in Arizona, more than 20 percent of the state workforce now participates in a teleworking program. As a result, 5.25 million miles are not driven, 175,000 pounds of air pollution are avoided, and 181,000 hours of driving time are saved.
On top of that, an estimated 1.35 billion gallons of gasoline would be conserved yearly if every U.S. worker who has the ability to telecommute did so 1.6 days per week, according to the American Electronics Association, and 26 billion pounds of carbon dioxide wouldn't be released into the environment, reports the Environmental Protection Agency.
Telecommuting provides an alternative to long, congested commutes as well as other emerging ideas. On August 4, Utah will become the first state to institute a four-day work week—a change that will affect the majority of state employees. Utah is the first U.S. state that has demanded a three-day weekend in order to reduce the state's carbon footprint, increase energy efficiency, improve customer service, and provide workers more flexibility.
Predictions suggest that the number of telecommuters will rise to an estimated 100 million American workers by 2010 because of increased access to wireless and broadband connections and the appeal of a better work-life balance. And with telecommuting, the worker can reduce carbon emissions one day at home at a time. Working from home used to be the exclusive territory of writers, artists, and the self-employed. But these trends indicate that many more Americans may be joining their ranks. After all, if we continue down this path the office could become a relic of the 20th century.
To read more about the Center's policies on energy, the environment, and the economy please see:
The positions of American Progress, and our policy experts, are independent, and the findings and conclusions presented are those of American Progress alone. A full list of supporters is available here. American Progress would like to acknowledge the many generous supporters who make our work possible.