It's Easy Being Green: Green My Ride
It's Easy Being Green: Green My Ride
Not all of us have hybrids, but we can green what we have with these six simple steps.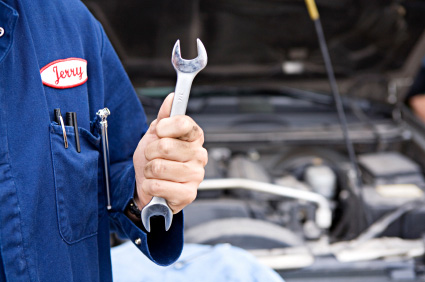 Read more articles from the "It's Easy Being Green" series
Many of us don't have hybrids or super-fuel-efficient cars. But that doesn't mean we can't green the ride we've got. Below are six ideas for doing just that, and several of them are a triple whammy: They're good for your car, good for the planet, and good for your wallet.
Go farther on a gallon. You can boost the fuel efficiency of your car by as much as 25 percent by braking less, driving the speed limit, dropping unnecessary weight in the car, and inflating tires to their maximum allowable pressure.
Use less air conditioning. This one's tough to stick to in the summer, but using air conditioning hurts fuel efficiency. A Consumer Reports test on a Honda Accord showed that using air conditioning while driving at 65 miles per hour reduced the vehicle's gas mileage by more than 3 miles per gallon. Wall Street Journal columnist Jonathan Welsh suggests closing the windows and sunroof on the highway because opening them often causes enough drag to offset any savings from turning off the air conditioner. Using the car's vents might circulate enough air to keep you comfortable on days when the weather isn't particularly hot or when the car's interior hasn't been preheated by sitting in the sun.
Take care of your car. Make sure your car gets regular tune-ups and maintenance, such as oil changes. A healthy car will burn less gas and require fewer trips to the shop for repairs.
Avoid idling. Your car gets zero miles per gallon when it's idling. When Consumer Reports let a Buick Lucerne idle for 10 minutes while warming up, it burned about an eighth of a gallon of gas. A smaller engine would probably burn less, but idling still adds up over time. Turn off your engine if you expect to sit for more than about 30 seconds.
Freshen the air without chemicals. Ruth Logan at Examiner.com reports that car deodorizers have allergens that can cause some people to experience headaches or eye irritation. The fresheners also contain toxic chemicals such as petroleum distillates, which can irritate or damage your lungs; phthalates, which can interfere with hormone production; and benzene compounds, which have been found to be carcinogenic, according to the Children's Environmental Health Network, a nonprofit safety organization.
Switch to cleaner cleaning products. When it's time to wax the hood or polish the hubcaps, look for greener or natural alternatives. Many car-cleaning products likely contain ammonia, volatile organic compounds, nonphenolethoxolates, and abrasive detergents.
Following these tips won't magically turn your car into a hybrid, but it will reduce fuel use, protect your health, and help your car perform better. And if you're feeling adventurous, you can always look into converting your car into an electric vehicle.
The positions of American Progress, and our policy experts, are independent, and the findings and conclusions presented are those of American Progress alone. A full list of supporters is available here. American Progress would like to acknowledge the many generous supporters who make our work possible.