It's Easy Being Green: Forty Shades of Green
It's Easy Being Green: Forty Shades of Green
A group of 40 cities works together to combat global warming, proving it's easy being green on a global level, too.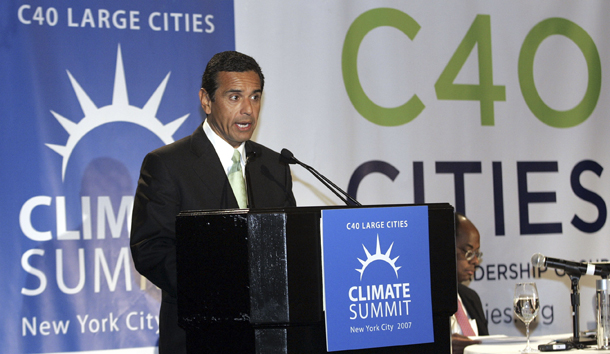 Read more articles from the "It's Easy Being Green" series
There are many ways to combat climate change on an individual or small-scale level but sometimes large group efforts bring necessary exposure to this important, yet contentious global issue. Take the C40 Climate Leadership Group for example. Focusing on reducing carbon emissions, this group of 40 cities is tackling global warming and climate change one green initiative at a time.
Worldwide, cities make up more than half of the world's population and consume 75 percent of the world's energy, while producing 80 percent of the world's greenhouse gases. As such a large part of the problem, cities are also an integral part of the solution. Representatives from cities in 18 countries looking to collaborate on dealing with climate change and global warming created the C40 in 2005 in London.
Made up of 20 cities from developed nations and 20 cities from developing nations, C40 aims to reduce carbon levels in participating cities by 30 percent from 2005 levels by the year 2050. C40 explains three main ways that cities can act responsibly:
Increase energy efficiency of infrastructure.
Use resources effectively.
Produce clean energy at a district level and source clean energy from large-scale suppliers.
C40's shared global purpose provides pathways for cities to share leadership, information, and innovation; the potential impact of their collective effort is immeasurable and 100 percent necessary when we still encounter climate change roadblocks and skeptics.
Jay Carson, a former aide for both Bill and Hillary Clinton, who now works with C40, explains what makes C40's climate change implementation on a city-by-city level so important: "As it's become clearer that there's not going to be much action at the federal level, the importance of C40 grows. … it's in the implementation that happens at the city level where we're going to see the most action on climate change in the near future."
The federal government could learn a lesson—or 40—from these cities. Passing clean energy and global warming legislation made up one-quarter of President Obama's domestic to-do list during his campaign. Clean energy legislation died this fall in the Senate despite the president's agenda. The state of the economy, high unemployment, and unprecedented obstruction in the Senate all contributed to this failed effort.
Though Republicans may have won the House in this year's midterm elections, there is still room for cooperation on climate change and the president has already stated his belief in the potential for bipartisan cooperation. The C40 cities provide an excellent example of reasonable, successful initiatives to look to for inspiration, many of which are already taking place on U.S. soil. Let's take a look.
Weatherization. One initiative from the "Buildings" category of C40's best practices (a categorical list of successful C40 programs) is Houston's weatherization program. Weatherizing is a way to lower the heat transfer (the flow of thermal energy from one place to another) in a certain environment. In places like Texas that have milder winters and warm temperatures, the focus is on keeping cool air from escaping out of buildings. This makes sure that less cold air is needed to cool down buildings and fewer emissions are released. Houston implemented this program in 2005 and is on track to renovate 4,000 buildings a year.
Boiler "tune-up." Boilers in Chicago account for 75 percent of the city's annual gas consumption so city engineers decided to make sure that boilers consume the correct amount of oxygen to run at peak capacity. Efficiently operating boilers consume less energy and release fewer emissions, saving the city $1.65 million in gas bills and reducing carbon emissions by almost 8,000 tons a year. This boiler "tune-up" program landed Chicago on C40's best practices list for energy.
Solar-powered public trash. Philadelphia installed 500 solar-powered trash compactors in its downtown area in the summer of 2009. Solar-powered trash compactors can hold 150 to 200 gallons of waste whereas traditional trash cans only hold 10 to 12 gallons. This new initiative has significantly cut down on the number of trash pick-up times from 19 times per week to just five times per week and it landed Philly a spot on the C40's best practices list for waste.
Cities all around the world take climate change seriously and have pledged to do what they can to for the future of the planet, and the significant changes made by C40 initiatives are making an extreme difference on this extreme problem.
If you'd like to see just how green your hometown is, check out the list of participating cities.
The positions of American Progress, and our policy experts, are independent, and the findings and conclusions presented are those of American Progress alone. A full list of supporters is available here. American Progress would like to acknowledge the many generous supporters who make our work possible.