Increasing Competitiveness Through Clean Energy
Increasing Competitiveness Through Clean Energy
Testimony Before the Senate Committee on Environment and Public Works
CAP Action President John D. Podesta testifies before the Senate Committee on Environment and Public Works on the Clean Energy Jobs and American Power Act.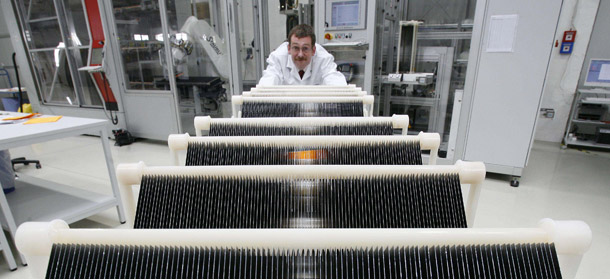 CAP Action's John Podesta testifies before the Senate Committee on Environment and Public Works. Read the full testimony.
Madam Chairman and members of the committee, thank you for inviting me to testify before you this afternoon. I am very pleased to have this time to share my thoughts on the Clean Energy Jobs and American Power Act, S. 1733, and its power to boost our economy's competitiveness.
The Senate global warming debate has focused on pollution limits and timetables, carbon markets and allocations. But we have lost sight of our principal objective: building a robust and prosperous clean energy economy. Moving beyond fossil fuel pollution will involve exciting work, new opportunities, new products and innovation, and stronger communities. Our current national discussion about constraints, limits, and the costs of transition overshadows the economic opportunity of clean energy investments. It is as if, on the cusp of the Internet and telecommunications revolution, debate centered only on the cost of digging trenches to lay fiber optic cable.
Many of our economic competitors see investments in clean energy technologies as key to their long-term sustainable economic growth. Germany, Spain, Japan, China, and even India are building the foundation for a prosperous low-carbon future. Many leaders in the American business community realize the competitive threat to the United States if we do not join other nations by investing in our clean-energy sector. Venture capitalist John Doerr and General Electric CEO Jeff Immelt warn, "There is still time for us to lead this global race, although that window is closing. We need low-carbon policies to exploit America's strengths—innovation and entrepreneurs."
To gain the lead in the clean-energy race—as we have done in other sectors—we need to reduce our global warming pollution as the Clean Energy Jobs and American Power Act requires. The bill puts a price on carbon pollution that recognizes the harms and costs of global warming, and it would level the playing field between the prices of dirty and cleaner energy sources. The Clean Energy Jobs Act, combined with companion measures before the Senate, would create a clean-energy investment program that would cut greenhouse gas pollution, spur clean-energy technology innovation, create new jobs, and increase American energy independence.
Read the full testimony. (CAP Action)
The positions of American Progress, and our policy experts, are independent, and the findings and conclusions presented are those of American Progress alone. A full list of supporters is available here. American Progress would like to acknowledge the many generous supporters who make our work possible.
Authors Founder