Hunger, Obesity, and Nutrition: Observations from the Field in Pittsburgh
Hunger, Obesity, and Nutrition: Observations from the Field in Pittsburgh
Recent research in Pittsburgh demonstrates how communities with disparate access to healthy and affordable foods for all are setting up their residents for poor health outcomes.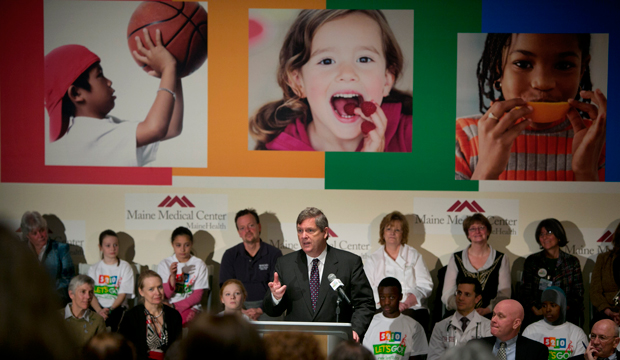 A panel at CAP tomorrow will examine the interrelation between hunger, obesity, and nutrition, a trifecta that impacts millions of Americans and merits significant public policy attention. Residents of cities such as Pittsburgh must travel considerably long distances to use their Supplemental Nutritional Assistance Program, or SNAP—formerly known as food stamps—benefits to purchase healthy foods frequently unavailable to them in their own communities. The unavailability of healthy foods in turn puts these residents at risk of obesity.
When considering the impact of obesity on the nation's future, the value of U.S. Department of Agriculture programs and federal and state efforts such as the Healthy Food Financing Initiative is quite clear. Local solutions—such as expanding the number of community gardens to improve vacant community spaces and provide local sources for fresh produce, and ensuring that individuals and families can use SNAP benefits at farmers' markets selling fresh produce—are important as well.
Research recently sponsored by the Emerson National Hunger Fellows Program and Just Harvest in Pittsburgh combines the USDA's two indicators of food access—neighborhood poverty and distance—with a number of other critical indicators to develop a more inclusive and locally relevant list of "food desert" communities, the poor rural and urban communities lacking access to fresh fruits and vegetables. Assessments of SNAP retailers in more than 20 towns and neighborhoods in Allegheny County and Pittsburgh offer a clear picture of what types of food are available to area residents. Of the 74 stores assessed in food deserts, only 13 retailers offer a mostly limited selection of fresh produce. And of the 21 communities visited, only three had a grocery store.
In most of the assessed communities, more than 90 percent of the local grocery dollars are "leaked" into other distant, and often more affluent, communities. This means that vulnerable low-income families and individuals without vehicles or reliable access to public transportation must shell out additional cash for transportation to a grocery store. This unique surcharge on the poor, known locally in Pittsburgh as a "jitney," cuts into valuable dollars that could be spent on more costly healthy foods or other vital household needs such as rent and energy bills.
Many residents regularly travel more than a mile or as much as 3.5 miles to access a nearby grocery store. Elderly residents and young parents frequently speak of their difficultly in accessing fresh foods and indicate clear dissatisfaction with the lack of walkable access to healthy food retail. Additionally, some communities in Allegheny County lack direct public transportation access to grocery stores. Residents of Clairton, Pennsylvania, for example—a heavily impoverished and low-vehicle-ownership community—must cross a dangerous highway to transfer between the two buses providing the most direct access to a grocery store. And to get to the nearest supermarket, they have to catch a bus and walk nearly a mile from the bus stop to the store.
As pointed out in multiple studies and two recent articles in The New York Times and Los Angeles Times, many experts disagree as to whether a causal link exists between food deserts and the likelihood of residents being obese or overweight. There is not and may never be a definitive answer to this important research challenge. The experience in places such as Pittsburgh, however, makes it perfectly clear that communities with disparate access to healthy and affordable foods for all are setting up their residents for poor health outcomes.
The current focus of national-level food-desert measures on distance and poverty in neighborhoods as opposed to individual experiences overlooks important barriers and conditions that impede food access for many. Although the Hill District and Homewood are subjects of one of the largest studies of food deserts to date and are notoriously known in Pittsburgh for the lack of fresh food and for the distances residents must regularly travel for grocery shopping, the USDA currently does not recognize either community as a food desert. While both communities are located within a mile of grocery stores, as the crow flies, anyone who has ever spent some time in Pittsburgh knows that within that mile are burdensome elevation shifts, often of several hundred feet. Unfortunately, the USDA metric used to locate food deserts leaves out important locally relevant indicators of food access such as topography, transportation accessibility, and rates of vehicle ownership. To more effectively inform future policies and target resources to people and neighborhoods with the most critical needs, the USDA should continue to revisit its approach to measuring food deserts to account for important local factors that affect food access.
Infrastructure barriers similar to those found in parts of Pittsburgh and in towns such as Clairton undoubtedly contribute to some local residents' inability to maintain a healthy diet. If these families and individuals lack the resources or time necessary to travel to distant grocery stores, they are left to cope with dollar-store diets. While very few neighborhoods are left entirely without food sources, the stores in low-income communities and communities of color often offer mostly processed and preserved foods and limited fresh and nutritionally dense foods.
In recognition of the challenges these barriers pose to healthy food access, the USDA recently announced implementation of a SNAP nutrition education grants program. This initiative will provide full federal support to states for local organizations and SNAP retailers to promote nutrition education and increase the number of healthy options available to low-income residents.
There are also a number of indigenous solutions in the Pittsburgh area that could benefit significantly from support for healthy food initiatives and interventions from sources such as the USDA. Last year Just Harvest successfully advocated for the city to accept Electronic Benefit Transfer, or EBT, at each of the seven Citi Parks farmers markets. And the Loaves and Fishes buying club, an initiative developed by dedicated community members such as Rev. Les Boone, delivers fresh foods to residents of Hazelwood, a local food desert severely burdened by a lack of access. What's more, the city of Pittsburgh is building upon a growing local urban agriculture movement by launching several edible gardens in low-income communities throughout the city.
In February 2011 CAP made the case for state action food plans that would enable states to identify food system needs and undertake such efforts to maximize the economic and nutritional impact of school meals and supplemental nutrition assistance. With federal funding and increased flexibility to support nutrition education efforts, states such as Pennsylvania can work with municipalities to develop initiatives that increase and incentivize EBT redemption at farmers markets and healthy food retailers, support homegrown models such as Loaves and Fishes, and allow even more community gardens to blossom.
In a visit to his hometown in 2008, Secretary of Agriculture Tom Vilsack recalled his own struggles of being tormented about his weight as a child growing up in Pittsburgh and how it presaged his lifelong battle with weight control. Today just blocks from where Secretary Vilsack grew up, new generations of Americans still encounter conditions that perpetuate obesity and poor health. The rapid increases in hunger and obesity affect us all and pose a threat to the future prosperity of the nation as a whole.
Although there may never be agreement on whether food deserts are a direct cause of obesity, Pittsburgh offers an instructive lesson: Access to affordable healthy food should be more than just a privilege for some; it should be a right for all. People have no chance to improve their health outcomes if they lack access to the resources that make better healthier choices possible.
Zach Murray is a Bill Emerson National Hunger Fellow with the Poverty and Prosperity program and Progress 2050 project at the Center for American Progress.
The positions of American Progress, and our policy experts, are independent, and the findings and conclusions presented are those of American Progress alone. A full list of supporters is available here. American Progress would like to acknowledge the many generous supporters who make our work possible.