Economy's New Jobs Strain to Deliver Middle-Class Wages
Part of a Series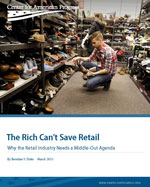 This column was originally published on MarketWatch.
Employment growth continued on its too-slow-but-steady trend in May, when U.S. employers added 217,000 jobs, according to new data released today from the Bureau of Labor Statistics, or BLS. The headline unemployment rate remained unchanged at 6.3 percent.
May marks the first time that the U.S. labor market surpassed its pre-recession level of employment—last seen in December 2007—making this the longest march to employment recovery in the postwar era. Over the past year, job growth averaged 198,000 new jobs per month, according to BLS data. While the economy continues adding jobs, these new jobs are too few to deal with the deep problem of unemployment and too often fail to deliver middle-class wages.
But simply recovering to the earlier employment peak says little about the health of the U.S. labor market, given population and potential labor-force growth in the more than six intervening years. In this time, the U.S. civilian population increased by nearly 14.5 million people, although the labor force grew by just 1.7 million new jobs, according to BLS data. This gap in labor-force participation goes beyond the 9.8 million people counted as unemployed in May, reflecting a sizable pool of millions more workers, an estimated 7.3 million people, who remain in disguised unemployment or underemployment—that is to say, working in jobs that do not fully utilize their skills or force involuntary part-time employment
High unemployment continued to disproportionately affect specific demographic groups within the U.S. economy. Unemployment for African Americans remained basically unchanged at 11.5 percent, but unemployment for Latinos increased to 7.7 percent from 7.3 percent in April. Over the past 12 months, unemployment for Asian Americans increased 1 percentage point to 5.3 percent, bucking the national trend.
Younger workers also faced elevated unemployment, which increased 0.5 percentage points to 11.1 percent in May. Still, difficult labor-market conditions continue to deter widespread re-entry to the labor market. Over the past year, the number of workers participating in the labor force grew by only 4,000 people. Notably, Congress's act to cut off 3 million people from unemployment insurance benefits for the long-term unemployed has not pushed people back into the labor force.
One reason for workers' discouraged outlooks may be the quality of jobs on offer in the labor market. Across the economy, low-wage industries have been leading job growth in the recovery from the Great Recession. Figure 1 shows the relative contribution of a number of industry groupings to overall U.S. jobs growth since the labor-market bottom in February 2010, including the speed of growth and the average industry wage for nonsupervisory workers—a measure that tracks closely to the average wage for the bottom 90 percent of workers and the national median wage.
Although employers added jobs in a broad range of industries, the bulk of new jobs added are found in a handful of industries known for low wages—accommodation and food services, temporary help services, retail trade, and long-term health care. These low-wage jobs together account for two-fifths of all new jobs added. Looking at where new jobs are being created is useful to see how the structure of the U.S. economy is changing overall as it expands. Significantly, employment in temporary help jobs has grown by 45 percent in the recovery and accounted for 10 percent of overall employment gains, as employers have waded tepidly back into hiring decisions. Employment in accommodation and food services—where many of our economy's minimum-wage jobs exist—grew 13 percent and accounted for 17 percent of total new employment.
The manufacturing sector added just 10,000 jobs in May and 7 percent of all jobs in the recovery. Although typically a high-wage industry, deunionization, globalization pressures, and a spate of two-tiered contracts have conspired to push average wages in manufacturing down below the national average wage. In other industries, namely mining and logging, higher-wage employment is growing fast, but from a very small base, and thus is making a very small contribution to overall employment recovery.
For the economy overall, average hourly wages increased five cents to $24.38 in today's BLS report. Over the past year, wages have grown 2.1 percent before inflation, while inflation has increased by 2 percent, thus real wages are essentially holding steady.
The foremost obstacle to accelerating job creation remains the lack of demand in the economy—where consumers aren't consuming enough, businesses aren't investing enough, foreign trade is lopsided, and the public sector is retrenching. In a political climate where Congress can't even agree to re-up unemployment insurance benefits when so many job seekers still can't find work, one has to wonder what is it going to take to create an economy where new jobs deliver middle-class opportunities to workers in the United States?
Adam S. Hersh is a Senior Economist at the Center for American Progress.
The positions of American Progress, and our policy experts, are independent, and the findings and conclusions presented are those of American Progress alone. A full list of supporters is available here. American Progress would like to acknowledge the many generous supporters who make our work possible.
Authors Adam Hersh
Senior Economist